Grinder
Get flash to fully experience Pearltrees
1.1. General 1.1.1. So its called "The Grinder" then? Yes. " The Grinder" is preferred over just plain "Grinder". 1.1.2.
What's new in The Grinder 3? This section summarises the changes between The Grinder 2 and The Grinder 3. If you're not familiar with The Grinder 2, skim read this and move on to Getting Started . Jython The most significant change that The Grinder 3 introduces is a Jython scripting engine that is used to execute test scripts.
Copyright 2003 by Tejas Software Consulting - All rights reserved. Contents Overview -- Maturity -- Project activity -- Platforms -- Support -- Documentation -- Installation -- Implementation -- Performance -- Similar tools -- Limitations -- Observations -- Appendix A: sample grinder.properties -- Appendix B: httpscript.py -- Appendix C: httpscript_tests.py
from java.lang import System from java.util import Properties from javax.jms import MessageListener, Session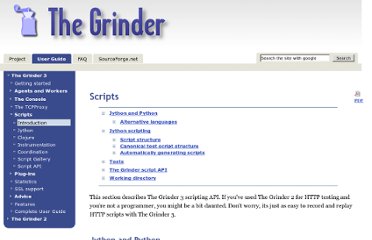 This section describes The Grinder 3 scripting API. If you've used The Grinder 2 for HTTP testing and you're not a programmer, you might be a bit daunted. Don't worry, its just as easy to record and replay HTTP scripts with The Grinder 3.
Note This section takes a top down approach to The Grinder. If you are happy figuring things out for yourself and want to get your hands dirty, you might like to read How do I start The Grinder? and then jump to the Script Gallery .
import string import random from java.lang import String
Oracle
Performance test tools (53 found) Allmon Description:
What is The Grinder? The Grinder is a Java TM load testing framework that makes it easy to run a distributed test using many load injector machines. It is freely available under a BSD-style open-source license . The latest news, downloads, and mailing list archives can be found on SourceForge.net .