Googleio
Um, Did Google Just Quietly Launch A Web-Based iTunes Competitor. Today at Google I/O, Vic Gundotra introduced Froyo, aka Android 2.2.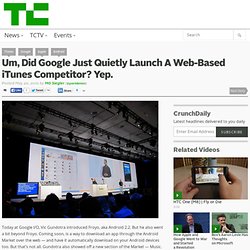 But he also went a bit beyond Froyo. Coming soon, is a way to download an app through the Android Market over the web — and have it automatically download on your Android devices too. But that's not all. Gundotra also showed off a new section of the Market — Music. Yes, an iTunes competitor on the web from Google. Google Buys Simplify Media To Power Music Syncing For New iTunes. Google just announced that it bought Simplify Media, a startup that offers software that lets you share your iTunes music across platforms, including the web.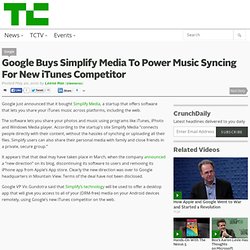 The software lets you share your photos and music using programs like iTunes, iPhoto and Windows Media player. According to the startup's site Simplify Media "connects people directly with their content, without the hassles of synching or uploading all their files. Simplify users can also share their personal media with family and close friends in a private, secure group."
Chrome Web Store. Robert Scoble (bertagni) Google I/O Activity - Buzzzy.com. Live From The Google I/O Keynote. Google's biggest developer conference is kicking off, and it's starting with a 90 minute keynote that's sure to bring some major news.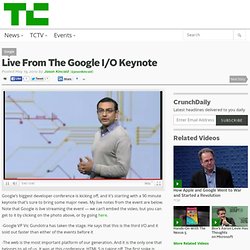 My live notes from the event are below. Note that Google is live streaming the event — we can't embed the video, but you can get to it by clicking on the photo above, or by going here. -Google VP Vic Gundotra has taken the stage.
Froyo Android 2.2
Froyo For Android: Tethering, Enterprise-Friendly, Handles More. Right now at Google I/O engineering VP Vic Gundotra is going over all the new features of Android's newest release, dubbed Froyo.
It is chock full of updates, including WiFi tethering (told ya), Microsoft Exchange support, APIs for enterprise device management, faster Javascript performance, auto-updating apps, and a new way to send data from a computer to an Android phone. The Send-To-Android feature is particularly elegant. It is part of a new device messaging API. When someone sends a map or article link to your phone, for instance, instead of sending you the link via email or SMS, it actually launches the map or Webpage being sent. Gundotra showed this feature using a TechCrunch article (thank you). YouChannel: YouTube Leanback.
YouTube's Director of Product Management, Hunter Walk unveiled YouTube Leanback, a personalized channel that you can access on Google TV and the web.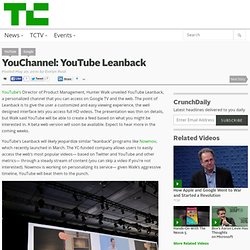 The point of Leanback is to give the user a customized and easy viewing experience, the well designed interface lets you access full HD videos. The presentation was thin on details, but Walk said YouTube will be able to create a feed based on what you might be interested in. A beta web version will soon be available. Guide to Google TV's Ecosystem [Video] At this week's Google I/O Conference, the company carefully articulated its vision of the world.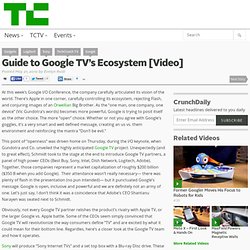 There's Apple in one corner, carefully controlling its ecosystem, rejecting Flash, and conjuring images of an Orwellian Big Brother. As the "one man, one company, one device" (Vic Gundotra's words) becomes more powerful, Google is trying to posit itself as the other choice. The more "open" choice. Whether or not you agree with Google's goggles, it's a very smart and well defined message, creating an us vs. them environment and reinforcing the mantra "Don't be evil." Google Voice Now Open to All Students. Google just announced that it will now make Google Voice - the company's free VoIP telephony and voicemail transcription service - available to all students with a valid .edu email address.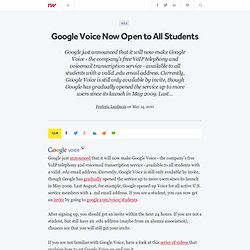 Currently, Google Voice is still only available by invite, though Google has gradually opened the service up to more users since its launch in May 2009. Last August, for example, Google opened up Voice for all active U.S. service members with a .mil email address. If you are a student, you can now get an invite by going to google.com/voice/students. After signing up, you should get an invite within the next 24 hours. Skype on the iPhone Goes 3G … Finally - Gadgetwise Blog - NYTime. Skype, a leading provider of inexpensive phone calls over the Internet, has finally completed a long-awaited move to make its service available over AT&T's 3G network.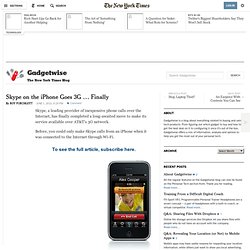 Before, you could only make Skype calls from an iPhone when it was connected to the Internet through Wi-Fi. Now people can make low-cost Skype calls any time their phone has a connection, whether it is to AT&T's 3G network or through Wi-Fi. AT&T had announced that it would allow phone calls over the Internet, known as voice over Internet protocol, or VoIP, phoning as far back as October of 2009. But Apple first had to make some changes in terms of service to allow that to happen.
---