Googleio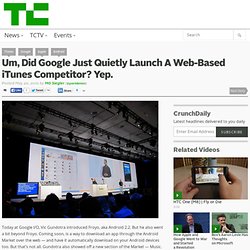 Um, Did Google Just Quietly Launch A Web-Based iTunes Competitor
Today at Google I/O, Vic Gundotra introduced Froyo, aka Android 2.2. But he also went a bit beyond Froyo.
Google Buys Simplify Media To Power Music Syncing For New iTunes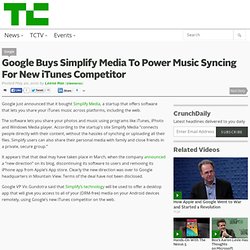 Google just announced that it bought Simplify Media, a startup that offers software that lets you share your iTunes music across platforms, including the web.
Robert Scoble (bertagni) on Twitter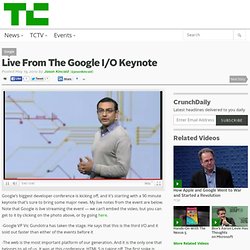 Live From The Google I/O Keynote
Google's biggest developer conference is kicking off, and it's starting with a 90 minute keynote that's sure to bring some major news.
Schedules
Froyo For Android: Tethering, Enterprise-Friendly, Handles More
Right now at Google I/O engineering VP Vic Gundotra is going over all the new features of Android's newest release, dubbed Froyo. It is chock full of updates, including WiFi tethering (told ya), Microsoft Exchange support, APIs for enterprise device management, faster Javascript performance, auto-updating apps, and a new way to send data from a computer to an Android phone.
YouChannel: YouTube Leanback
YouTube's Director of Product Management, Hunter Walk unveiled YouTube Leanback, a personalized channel that you can access on Google TV and the web.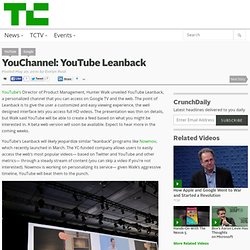 Guide to Google TV's Ecosystem [Video]
At this week's Google I/O Conference, the company carefully articulated its vision of the world.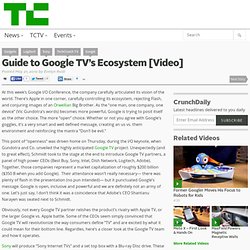 Google just announced that it will now make Google Voice - the company's free VoIP telephony and voicemail transcription service - available to all students with a valid .edu email address. Currently, Google Voice is still only available by invite, though Google has gradually opened the service up to more users since its launch in May 2009. Last August, for example, Google opened up Voice for all active U.S. service members with a .mil email address.
Google Voice Now Open to All Students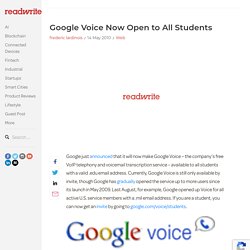 Skype, a leading provider of inexpensive phone calls over the Internet, has finally completed a long-awaited move to make its service available over AT&T's 3G network.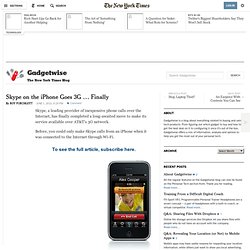 Skype on the iPhone Goes 3G … Finally - Gadgetwise Blog - NYTime