Google - Motorola
No, of course I don't want to be in the big, crappy, low-margin hardware business. But I had no choice. A very interesting move by Google this morning, buying handset hardware maker Motorola for $12.5 billion. Google deserves credit for a big, bold move. But let's be real: This deal could end up being a disaster.
THE TRUTH ABOUT THE GOOGLE-MOTOROLA DEAL: It Could End Up Being A Disaster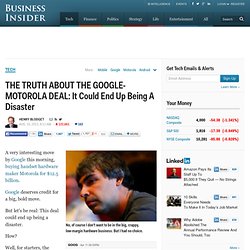 Will hardware makers trust Google after Motorola buy? — Mobile Technology News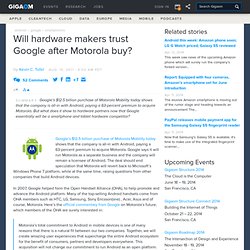 Google's $12.5 billion purchase of Motorola Mobility today shows that the company is all-in with Android, paying a 63-percent premium to acquire Motorola. Google says it will run Motorola as a separate business and the company will remain a licensee of Android. The deal should end speculation that Motorola will revert back to Microsoft's Windows Phone 7 platform, while at the same time, raising questions from other companies that build Android devices.
Google may not have had much of a choice when it came to buying Motorola Mobility for $12.5 billion. If it didn't, someone else would have and that would have put the company in an even bigger patent hole. Our sources say that Motorola was in acquisition talks with several parties, including Microsoft for quite some time.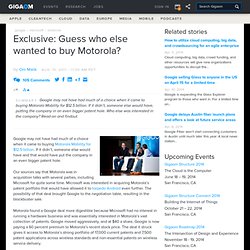 Exclusive: Guess who else wanted to buy Motorola?