GoodCMS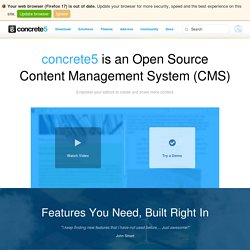 A simple and powerful content management system. Site Editors When your website is built with concrete5, you easily change content from anywhere in the world. Learn More Developers concrete5 is a free open source content management system written in PHP.
Drupal and Joomla to Lose Market Share to concrete5 Web CMS?
If you were to believe all the hype surrounding concrete5, an open source Web content management system, then a remarkable new system has just gone on General Availability (GA). While its usually a good idea to give every company a hearing and every piece of software a trial run, generally PR emanating from a company about their own product should be taken with even the tiniest pinch of salt. Especially when they are claiming to be better than Drupal and Joomla, two of the most well known open source web content management systems.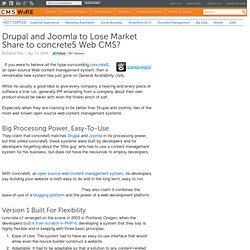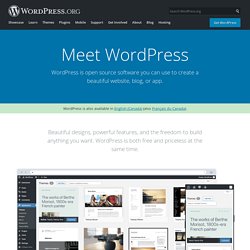 WordPress is web software you can use to create a beautiful website or blog. We like to say that WordPress is both free and priceless at the same time. The core software is built by hundreds of community volunteers, and when you're ready for more there are thousands of plugins and themes available to transform your site into almost anything you can imagine.
Welcome to | django CMS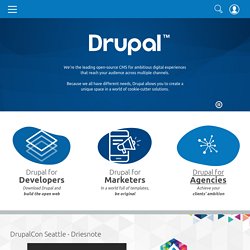 infojunkie committed Add date to ebook formatter + fix MIME... sammarks15 committed Fix old references from entity_menu_links Ben Howes committed Merge pull request #2 from ZoetropeImaging/7... Ben Howes committed added example of templating Ben Howes committed updated README with display formatter info