Eric Schmidt
Google's Eric Schmidt predicts the future of computing - and he plans to be involved. Everything You Need To Know About Larry Page, Google's New CEO. Google Source: Page's Ascent Could Threaten Google Sales Boss Nikesh Arora. Meet Google's New Global Sales Boss, Nikesh Arora. Google Eyes Mobile As The Key To 2011: Tech News and Analysis « Google is driven by search and has dreams of driverless cars, fiber to the home networks and other innovations.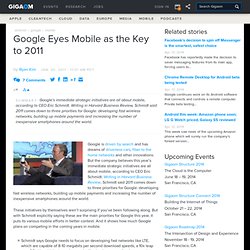 But the company believes this year's immediate strategic initiatives are all about mobile, according to CEO Eric Schmidt. Writing in Harvard Business Review, Schmidt said 2011 comes down to three priorities for Google: developing fast wireless networks, building up mobile payments and increasing the number of inexpensive smartphones around the world. These initiatives by themselves aren't surprising if you've been following along. But with Schmidt explicitly saying these are the main priorities for Google this year, it puts its various mobile efforts in better context. Google CEO Eric Schmidt to step down, co-founder Larry Page to take over [Updated] | Technology | Los Angeles Times. Google's Eric Schmidt is stepping aside as chief executive in April, and co-founder Larry Page is taking over, the company said before its earnings statement Thursday.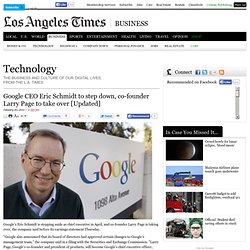 "Google also announced that its board of directors had approved certain changes to Google's management team," the company said in a filing with the Securities and Exchange Commission. "Larry Page, Google's co-founder and president of products, will become Google's chief executive officer, effective April 4, 2011. "Eric Schmidt, Google's current chief executive officer, will continue as the chairman of the board of directors and will serve as Google's executive chairman. " As executive chairman, Google said, Schmidt will act as an advisor to Page and Sergey Brin, Google's other co-founder and president of technology. The New York Times. News Desk: Why Is Eric Schmidt Stepping Down at Google?
Was Eric Schmidt pushed or did he jump?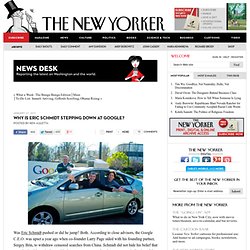 Both. According to close advisors, the Google C.E.O. was upset a year ago when co-founder Larry Page sided with his founding partner, Sergey Brin, to withdraw censored searches from China. Schmidt did not hide his belief that Google should stay in the world's largest consumer marketplace. It was an indication of the nature of the relationship Schmidt had with the founders that he—as Brian Cashman of the Yankees did this week—acknowledged that the decision was made above his head.
---