Eric Schmidt
Google's Eric Schmidt predicts the future of computing - and he plans to be involved
Everything You Need To Know About Larry Page, Google's New CEO
Google Source: Page's Ascent Could Threaten Google Sales Boss Nikesh Arora
Meet Google's New Global Sales Boss, Nikesh Arora
Google Eyes Mobile As The Key To 2011: Tech News and Analysis «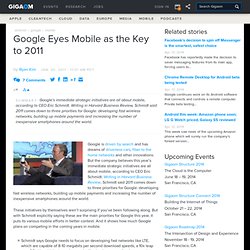 Google is driven by search and has dreams of driverless cars, fiber to the home networks and other innovations.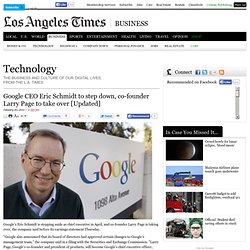 Google CEO Eric Schmidt to step down, co-founder Larry Page to take over [Updated] | Technology | Los Angeles Times
Google's Eric Schmidt is stepping aside as chief executive in April, and co-founder Larry Page is taking over, the company said before its earnings statement Thursday.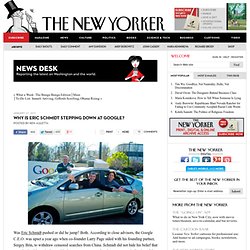 News Desk: Why Is Eric Schmidt Stepping Down at Google?
Was Eric Schmidt pushed or did he jump?