Wordpress
Get flash to fully experience Pearltrees
Update: I have written a post about where you can find free WordPress themes.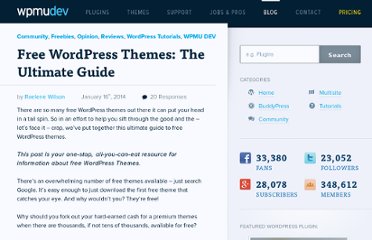 Child Themes Languages : English • 日本語 • 한국어 • Français • Português do Brasil • Русский • Slovenčina • ไทย • 中文(简体) • ( Add your language ) A WordPress child theme is a theme that inherits the functionality of another theme, called the parent theme, and allows you to modify, or add to, the functionality of that parent theme.
Following on from my recently article about WordPress security plugins there are a number of ways you can shore up your security by using a few choice snippets and hacks. Please do ensure you backup before making any changes to your files, the .htaccess if broken can cause your blog to stop working completely!
Posted on May 13th, 2010 at 10:04 am by Michael VanDeMar under blogthropology , coding , customer service , Wordpress , WTF
11th January, 2010 Tom Kenny Tutorials
How to execute SQL queries
Site optimization regardless of platform will always be of some benefit to your site, Google recently decided to penalize sites that were slow loading, which will do no favors for SEO and SERPs.
continue from part 3. You still can refer to this link when you are doing it. Let's continue then.
Update: We've created a second edition of this article, with updated code samples and coverage of the latest theme development techniques. Check it out at WordPress Theme Development Tools . It's part of The ThemeShaper WordPress Theme Tutorial: 2nd Edition .