Chowning
Richard Chowning
Mara Group. Untry Profiles - Guides to Culture, Etiquette, Customs and Protocol. Understanding other people's languages, cultures, etiquettes and taboos is of great value to the traveller or visiting business person.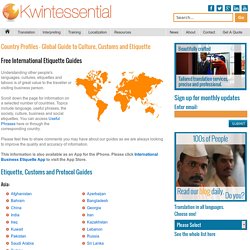 Scroll down the page for information on a selected number of countries. Topics include language, useful phrases, the society, culture, business and social etiquettes. You can access Useful Phrases here or through the corresponding country. Please feel free to share comments you may have about our guides as we are always looking to improve the quality and accuracy of information. This information is also available as an App for the iPhone.
Africa. Aid/development. Pearltrees videos. Getting started.
---