Interactive whiteboard
Boogie Board LCD Writing Tablets
Identified Special Needs Challenges:Apraxia, Autism, Developmental Delay, Sensory Integration Disorder, Speech & Language Delay"We loved that this boggie board was recommended for fine motor skills. Our son loves to practice his writing and we love that it strengthens his fine motor skills!! " Identified Special Needs Challenges:ADD/ADHD, Hearing Impairment, Learning Disabilities, Speech & Language Delay "We use this as an alternative to paper lists, calendars or dry-erase boards. The simple lines and no clutter center is easier to read from and there are no messy markers to police. You can slide the stylus holder over the erase button so sneaky little kids don't erase your lists too soon.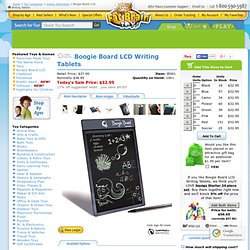 The Magic Key - Code Calling Game
Between the Lions . Synonym Sam's Lab | PBS KIDS!
Between the Lions . Alphabet Soup | PBS KIDS!