Anonymous
Official List Of Words Feds Monitor On Social Networking Sites
Alexander HigginsActivist Post The Feds have been forced to release their social network monitoring manual, which contains the list of words the government watches on social media and news sites. Earlier the Huffington Post reported on the Feds have been forced to give up their list of words they monitor on Facebook, Twitter, and comments being posted on news articles, so I compiled that list below.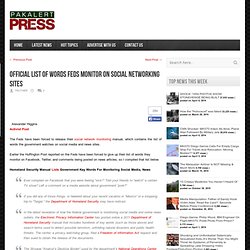 Internet Freedom Fighters The Peoples Liberation Front was formed in Cambridge, Mass. in 1985. Founded on the principle that electronic communications networks belong to the people, our original focus was the telephone network. By exploiting weaknesses in the PBX system, the PLF was able to create toll free numbers at will - and access the long distance networks. This access was then given to other allied underground groups to assist them in the global fight for freedom. In 1986, the PLF began distributing hundreds of "chingers", a device that would allow anyone to access any payphone for free.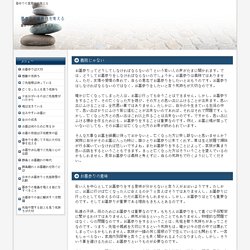 Peoples Liberation Front
In its latest strike on the biotech conglomerate Monsanto, hacking group Anonymouspublished an outdated database of the company's information and emails, CNET reports. "Your continued attack on the worlds [sic] food supply, as well as the health of those who eat it, has earned you our full attention," wrote Anonymous, under the banner 'AntiSec'. "Your crimes against humanity are too many to name on one page," it added. Anonymous says its onslaught was brought on by Monsanto's lawsuits against 9,000 organic dairy farmers who stated on their labels that they didn't use growth hormones.
Anonymous Hacked Into Monsanto's Database In Retaliation For Lawsuits Against Organic Farmers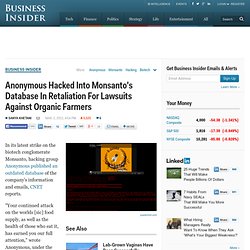 DDOS - Tutorial
How to secure your computer and surf fully Anonymous BLACK-HAT STYLE