Anonymous
Official List Of Words Feds Monitor On Social Networking Sites. Alexander HigginsActivist Post The Feds have been forced to release their social network monitoring manual, which contains the list of words the government watches on social media and news sites.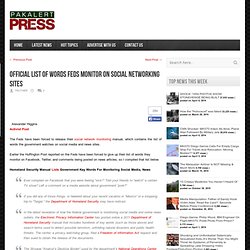 Earlier the Huffington Post reported on the Feds have been forced to give up their list of words they monitor on Facebook, Twitter, and comments being posted on news articles, so I compiled that list below. Peoples Liberation Front.
Anonymous Hacked Into Monsanto's Database In Retaliation For Lawsuits Against Organic Farmers. Hacks.Dox. DDOS - Tutorial. How to secure your computer and surf fully Anonymous BLACK-HAT STYLE.
---