Big Data
54 Free Social Media Monitoring Tools [Update2012] If you want to know what's happening in the social web you need social media monitoring tools.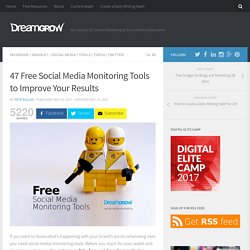 Before you reach for your wallet and start to spend money try out some of the free social media monitoring services. This way you will get an understanding of what is available and if you need any paid services. This time we have collected 69 Free social media monitoring tools. Future - Technology - Next generation military robots have minds of their own. A number of robots in development for the military are being given increasing amounts of autonomy.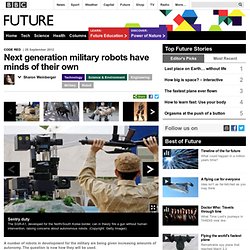 The question is now how they will be used. Think of advanced robotics, and it is easy to let your mind wander to the sentient beings depicted in Blade Runner, or the soulless, autonomous assassins in the Terminator franchise. But, despite widespread press about armed drones hunting down terrorists and insurgents in Afghanistan and Pakistan and the increasing use of ground robots to fight roadside bombs, the truth is that most military robots are still pretty dumb.
Build a Culture around Data for Analytics. Bhattacharya-karyar_paper.pdf (application/pdf Object) Transforming Noise into Signal: Isolating Social Business Results. One of the biggest obstacles I see that businesses engaging in social media have today is clearly understanding the effect their efforts — particularly in externally facing processes such as marketing — are actually having.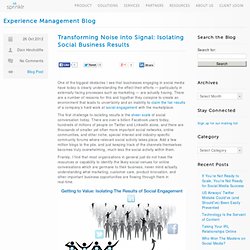 There are a number of reasons for this and together they conspire to create an environment that leads to uncertainty and an inability to claim the fair results of a company's hard work at social engagement with the marketplace. The first challenge to isolating results is the sheer scale of social conversation today. There are over a billion Facebook users today, hundreds of millions of people on Twitter and LinkedIn alone, and there are thousands of smaller yet often more important social networks, online communities, and other niche, special interest and industry-specific community forums where relevant social activity takes place. Linked-data-connecting-and-exploiting-big-data-(v1.0).pdf (application/pdf Object) How google is using linked data today and vision for tomorrow. How Linked Lifecycle Data can transform your systems engineering environment.
Background: The web of documents Everyone who has ever used a browser is familiar with the World Wide Web that we've been enjoying for many years.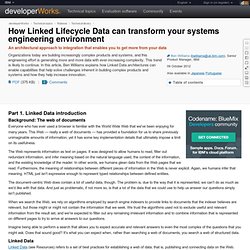 This Web — really a web of documents — has provided a foundation for us to share previously unimaginable amounts of information, yet it has some key implementation details that ultimately impose a limit on its usefulness. Does Big Data Need Bigger Data Quality and Data Management? By Virginia Prevosto and Peter Marotta Running faster won't get you to the right place if you don't know where you're going.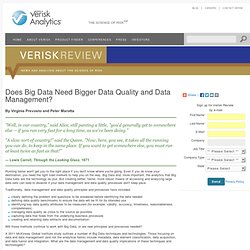 Even if you do know your destination, you need the right road markers to help you on the way. Big Data and, more important, the analytics that Big Data fuels are the technology du jour. But creating better, faster, more robust means of accessing and analyzing large data sets can lead to disaster if your data management and data quality processes don't keep pace. How to Repair Your Data - Thomas C. Redman. By Thomas C.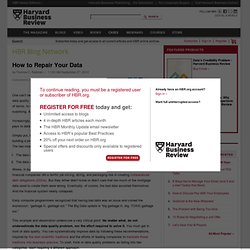 Redman | 11:00 AM September 27, 2012 One can't help being impressed with the effort biologists, physicists, and other scientists devote to data quality. From careful design of experiments and data collection processes, to explicit definition of terms, to comprehensive efforts to ensure the data are correct, no effort is spared.
Search Engine Rationalization
Union-metrics-case-study.pdf (application/pdf Object) Beyond Big Data: Q&A with Alistair Croll. You write extensively about big data (and wrote a book on web monitoring).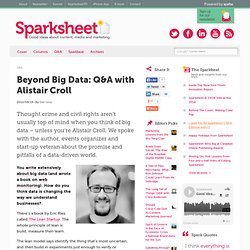 How do you think data is changing the way we understand businesses? There's a book by Eric Ries called The Lean Startup. The whole principle of lean is build, measure then learn. The lean model says identify the thing that's most uncertain, and then build in experiments just enough to verify or repudiate that uncertainty and then iterate. And the way you do that measuring part is data. BuzzFeed's Social Media Editor on Why Twitter is the New Press Scrum. This post is part of the Social Media Editor Series, featuring interviews with social media editors from news organizations about what they do and where they see social media in journalism going.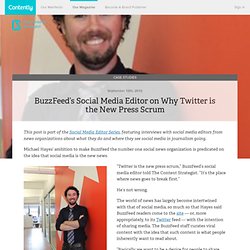 Michael Hayes' ambition to make BuzzFeed the number one social news organization is predicated on the idea that social media is the new news. "Twitter is the new press scrum," BuzzFeed's social media editor told The Content Strategist. "It's the place where news goes to break first." He's not wrong. The world of news has largely become intertwined with that of social media, so much so that Hayes said BuzzFeed readers come to the site — or, more appropriately, to its Twitter feed — with the intention of sharing media.
Monitoring Protests and Unrest - Recorded Future Webcast. Big Data Solution Offering. From MIKE2.0 Methodology Introduction The Big Data Solution Offering provides an approach for storing, managing and accessing data of very high volumes, variety or complexity.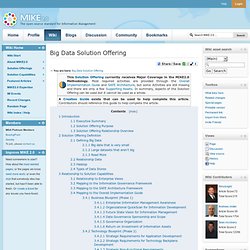 BI still dependent on IT. There's never been a better time for IT to step up and show what tech can do to drive the business.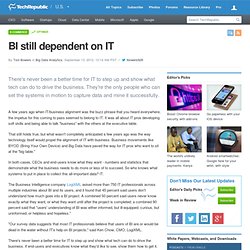 They're the only people who can set the systems in motion to capture data and mine it successfully. A few years ago when IT/business alignment was the buzz phrase that you heard everywhere, the impetus for this coming to pass seemed to belong to IT. It was all about IT pros developing soft skills and being able to talk "business" with the others at the executive table. That still holds true, but what wasn't completely anticipated a few years ago was the way technology itself would propel the alignment of IT with business. Business movements like BYOD (Bring Your Own Device) and Big Data have paved the way for IT pros who want to sit at the "big table. " LDAP Directories: The Forgotten NoSQL - Engine Yard Blog. When most Rails developers encounter LDAP, it's usually for user authentication. And most of the time, there's no choice, they're working under a dictate that requires them to use it.
Usually, this means Active Directory, but very occasionally something like OpenLDAP or the Sun Java Systems Directory Server. It's hard to imagine now, but there was once great excitement about the potential for LDAP based directory servers to become more than just authentication servers and morph into general purpose datastores. LDAP directories promised a single, scalable, high performance data store that could be queried for common information across multiple applications.
Five legitimate use cases for NoSQL databases. NoSQL may be one of the most overhyped technology trends in the past couple of years, and a growing number of companies that left their relational databases behind for a NoSQL fling are rethinking their decisions. Yet organizations continue to adopt NoSQL solutions and investors are still eager to pour money into vendors behind the most popular of them. Are they crazy, or has some of the NoSQL skepticism been overdone? Big Data Market Size And Vendor Revenues. By Jeff Kelly with David Vellante and David Floyer This is the 2011 report, originally published on February 15, 2012. See Big Data Vendor Revenue and Market Forecast 2012-2017 for the 2012 update. The Big Data market is on the verge of a rapid growth spurt that will see it top the $50 billion mark worldwide within the next five years. As of early 2012, the Big Data market stands at just over $5 billion based on related software, hardware, and services revenue. Increased interest in and awareness of the power of Big Data and related analytic capabilities to gain competitive advantage and to improve operational efficiencies, coupled with developments in the technologies and services that make Big Data a practical reality, will result in a super-charged CAGR of 58% between now and 2016.
HP "All in on Big Data." More Acquisitions Ahead? HP has watched Big Data develop over several years and believes that it will cause major disruption in the storage and systems market, says Manoj Goyal, Senior Director of Data Management Solutions in HP's Enterprise Group. As a result, "HP is all in on Big Data," he said in an interview in The SiliconAngle Cube at HP Discover 2012 (full video below). It is working to develop a complete ecosystem around Hadoop that includes hardware, middleware, software, and services to "make Big Data more accessible to customers."
And, he said, "While HP does not make its M&A plans public, we are always looking for partners and ways to fill in gaps. Over time big things will happen." HP, he said, is solving the "Big Data consumption problem. Big Data Manifesto | Hadoop, Business Analytics and Beyond. A Big Data Manifesto from the Wikibon Community Providing effective business analytics tools and technologies to the enterprise is a top priority of CIOs and for good reason. Effective business analytics – from basic reporting to advanced data mining and predictive analytics — allows data analysts and business users alike to extract insights from corporate data that, when translated into action, deliver higher levels of efficiency and profitability to the enterprise. Underlying every business analytics practice is data. Traditionally, this meant structured data created and stored by enterprises themselves, such as customer data housed in CRM applications, operational data stored in ERP systems or financial data tallied in accounting databases.
EnablingAnalysis_Synygy_Summer08.pdf (application/pdf Object) Says Big Data Makes Organizations Smarter, But Open Data Makes Them Richer. Web 2.0. Memetics. Susan Blackmore - Memetic Evolution. Memes on the Net. Quotes-kdd09.pdf (application/pdf Object) Fredmcclimans.com. Study: Social media is 'brain candy' - Vote for the best company in Austin's business competition. What is Web Science? - Web Science Trust. Wide-Open Search - Computerworld. BigQuery. 2011-04.pdf (application/pdf Object) Twitter's Redesigned Discover Tab Is Watching You. Big Data: Open to Definition « opencollaborarchy. Understanding Big Data « opencollaborarchy. The 7 steps in Big Data delivery. Why Big Data Needs To Be Functional. How Recorded Future Works To Unlock The Predictive Power Of The Web.
How to Fix Location-Based People Discovery. Decomposing Twitter (Database Perspective) 5 QUESTIONS with Gnip Inc. CEO Jud Valeski. 10 Ways to Discover Social Media Content. Google's Knowledge Graph Has An Error 20% Of The Time. Jasper Soft eBook Five Levels of Embedded Bi PDF 16098. State Street's Chief Scientist on How to Tame Big Data Using Semantics. Social CRM: Learning the Social CRM Data-Management Ropes.
---