Vidz
Reggaeton Latino, Chambonea. Oye Mi Canto
The Origins Of Meme.
SCADshorts: Pencil Face
Scènes de jeu - Metal Gear Solid - Kojima brise l'écran
Ultimate Ping Pong
Le JT de Télé Bien !
Mario Must Die TAS 100% in 45:46.68
How to hack gmail,yahoo,aol,msn accounts
Super R-TYPE no miss, no item clear 1of3
When I'm Bored
MC - Glinglin - Nadine / Balan ATV
Eden
Tout Conte Fait
Claycat's THE RAID
L'ACCORDEUR vost on Vimeo
Super Mario - 3D Chalk Art (Time Lapse)
GEEKAPELLA #4 - Guile Theme Acapella (Street Fighter II)
History of the Minecraft Universe
Hezarfen - 3D Animation [2011]
8-Bit Google Maps
Bits: Luigi Wears Red
Titanic SUPER 3D
Silent Star Wars
French Toast, short animation movie
Mortys
Mon Ami Charly
Oedipe
Mytho Logique
In Memoriam
Tong
Blur Studio Gentleman's Duel - 3D short animation film
Voici « Logorama » , un court-métrage d'animation réalisé par H5 , réalisé tel un droit de réponse, sans aucune autorisation des firmes concernées. Logorama est une course poursuite effrénée dans une ville de marques construite sur le modèle urbain américain . L'idée provient d' Hervé de Crécy (le frère d'Etienne, dj), François Allaux et Ludovic Houplain , des graphistes français issus de l'industrie du disque.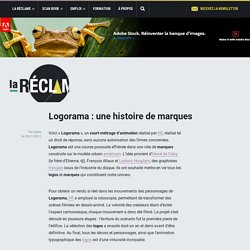 LOGORAMA : HISTOIRE DE MARQUES, COURT MÉTRAGE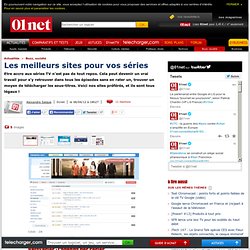 Les meilleurs sites pour vos séries
Une question simple, mais une réponse sans doute compliquée. Actuellement NRJ12 passe la Saison 2 de Stargate Universe, juste avant NRJ12 avait commencée à passer la Saison 1, mais les deux saisons se sont entrechoquées, j'allais dire comme d'habitude. Alors qu'en première partie de soirée, les premiers épisodes de la Saison 2 étaient diffusés, plus tard le soir, voir dans la nuit les derniers épisodes de la saison 1 étaient diffusés, MAIS évidemment les No 15/20 et 19/20 de la première saison ne l'ont pas été, dans le pêle-mêle généralisé. Alors, puisque en plus ces épisodes n'étaient pas disponibles sur la TV de rattrapage de NRJ12, comment les voir en toute légalité ? Alors, je dis merci à NRJ12 de diffuser la saison 2 de Stargate Universe, mais alors que toutes les chaines de TV arrêtent de faire n'importe quoi avec les épisodes des séries.