Enviroment
PLASTIC IS FOREVER. OIL IS NOT. PETA Kills Animals | PetaKillsAnimals.com. Mental_floss Blog » Killer Home Decor. Have you ever had visions of living like The Addams Family?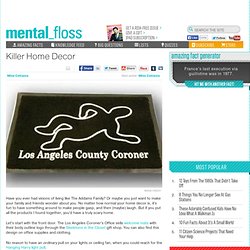 Or maybe you just want to make your family and friends wonder about you. No matter how normal your home decor is, it's fun to have something around to make people gasp, and then (maybe) laugh. But if you put all the products I found together, you'd have a truly scary home. Let's start with the front door. Kiss the Grid Goodbye: Power Your Home with a Bloom Box! | Green. Fuel cells have been a tantilizing technolgy for decades - powering space vehicles, but always a little out of reach for domestic or commercial use.
I worked with Greenopolis Partner Plug Power for years - working to provide clean on site energy from hydrogen powered fuel cells. Now there's the Bloom Box. Horsetail Firefall. 10 Home Improvements Worthy of Tax Credits | BuildDirect Blog. 1.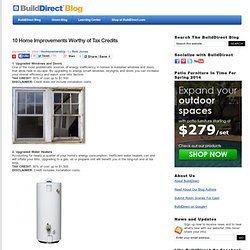 Upgraded Windows and Doors One of the most problematic sources of energy inefficiency in homes is outdated windows and doors that allow heat to escape. By upgrading to energy smart windows, skylights and doors you can increase your overall efficiency and watch your bills decline.TAX CREDIT: 30% of cost up to $1,500.DISCLAIMER: Credit does not include installation costs. 2.
---