Consulta
Ventas
Wikipedia. Project management software. History[edit] In the early days, project management software ran on big mainframe computers and was used only in large projects.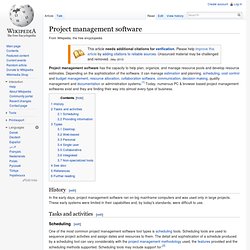 These early systems were limited in their capabilities and, by today's standards, were difficult to use. Tasks and activities[edit] Enterprise resource planning. Enterprise resource planning (ERP) is business management software—usually a suite of integrated applications—that a company can use to store and manage data from every stage of business, including: Product planning, cost and developmentManufacturingMarketing and salesInventory managementShipping and payment ERP provides an integrated real-time view of core business processes, using common databases maintained by a database management system.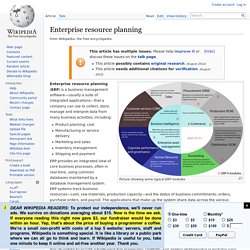 ERP systems track business resources—cash, raw materials, production capacity—and the status of business commitments: orders, purchase orders, and payroll. The applications that make up the system share data across the various departments (manufacturing, purchasing, sales, accounting, etc.) that entered the data. ERP facilitates information flow between all business functions, and manages connections to outside stakeholders.[1] Customer relationship management. Infografía de Customer Relationship Management.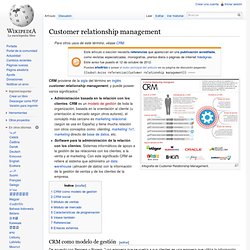 CRM proviene de la sigla del término en inglés customer relationship management, y puede poseer varios significados:[1] Administración basada en la relación con los clientes. CRM es un modelo de gestión de toda la organización, basada en la orientación al cliente (u orientación al mercado según otros autores), el concepto más cercano es marketing relacional (según se usa en España) y tiene mucha relación con otros conceptos como: clienting, marketing 1x1, marketing directo de base de datos, etc.Software para la administración de la relación con los clientes. Sistemas informáticos de apoyo a la gestión de las relaciones con los clientes, a la venta y al marketing. Software de administración de proyectos. El software de administración de proyectos es un término utilizado en la ingeniería de software que cubre varios tipos de software, entre ellos el utilizado para la planificación de proyectos, manejo y control de presupuesto, asignación de recursos, software para colaboración, software para comunicación, manejo de la calidad y documentación o administración de sistemas, los cuales son usados para manejar la complejidad que conlleva un proyecto grande.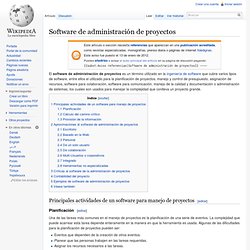 Principales actividades de un software para manejo de proyectos[editar] Planificación[editar] Una de las tareas más comunes en el manejo de proyectos es la planificación de una serie de eventos. La complejidad que puede acarrear esta tarea depende enteramente en la manera en que la herramienta es usada. Algunas de las dificultades para la planificación de proyectos pueden ser:
---