Consulta
Project management software has a capacity to help plan, organize, and manage resource pools and develop resource estimates. Depending the sophistication of the software, resource including estimation and planning, scheduling , cost control and budget management , resource allocation , collaboration software , communication , decision-making , quality management and documentation or administration systems. Today, numerous PC-based project management software packages exist, and they are finding their way into almost every type of business. In the early days, however, project management software ran on big mainframe computers and was used only in the large projects.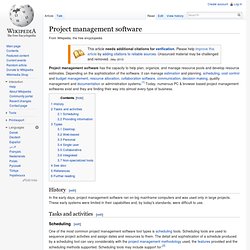 Project management software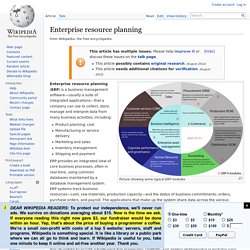 Enterprise resource planning ( ERP ) systems integrate internal and external management of information across an entire organization—embracing finance / accounting , manufacturing , sales and service, customer relationship management , etc. ERP systems automate this activity with an integrated software application.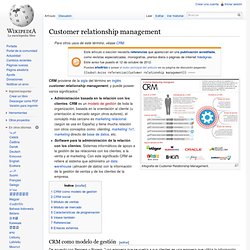 Customer relationship management
Infografía de Customer Relationship Management. CRM (de la sigla del término en inglés «customer relationship management»), puede poseer varios significados: [ 1 ] La administración basada en la relación con los clientes . CRM es un modelo de gestión de toda la organización, basada en la orientación al cliente (u orientación al mercado según otros autores), el concepto más cercano es marketing relacional (según se usa en España) y tiene mucha relación con otros conceptos como: clienting , marketing 1x1 , marketing directo de base de datos , etcétera. Software para la administración de la relación con los clientes .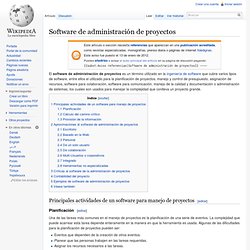 El software de administración de proyectos es un término utilizado en la ingeniería de software que cubre varios tipos de software, entre ellos el utilizado para la planificación de proyectos, manejo y control de presupuesto, asignación de recursos, software para colaboración, software para comunicación, manejo de la calidad y documentación o administración de sistemas, los cuales son usados para manejar la complejidad que conlleva un proyecto grande. [ editar ] Principales actividades de un software para manejo de proyectos [ editar ] Planificación Una de las tareas más comunes en el manejo de proyectos es la planificación de una serie de eventos. La complejidad que puede acarrear esta tarea depende enteramente en la manera en que la herramienta es usada. Algunas de las dificultades para la planificación de proyectos pueden ser:
Software de administración de proyectos