Library
Free books resources. Minecraft in the classroom. Online resources. Librarian humor. For Books' Sake. Ideas for lock-in event. Plagiarism. To add to Destiny. 19 Wonderful Vintage School Library Posters. Vintage Ads for Libraries and Reading. Donating = loving Brain Pickings remains ad-free and takes hundreds of hours a month to research and write, and thousands of dollars to sustain.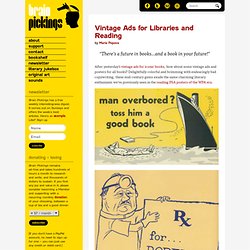 If you find any joy and value in it, please consider becoming a Member and supporting with a recurring monthly donation of your choosing, between a cup of tea and a good dinner: 19 Wonderful Vintage School Library Posters. YA Programming Behind the Scenes: Breakfast of Books. This is Stacy Lienemann reporting for my first in a series of posts on teen programs.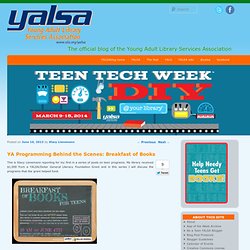 My library received $1,000 from a YALSA/Dollar General Literacy Foundation Grant and in this series I will discuss the programs that the grant helped fund. Breakfast of Books was the kick-off program for our summer YA programs. I hoarded two months worth of new books (I did not include series sequels as I did not want to be murdered in the library's YA section) and have spent the past three months (thanks to NetGalley and YA publishers) reading nonstop. During the program I booktalked all our new books while the teens enjoyed nummy breakfast foods and first dibs on the books.
The idea for the program came from Joan Light (Reference and Teen Librarian for Montrose Regional Public Library) who hosts a Sneak Peek Breakfast Book Talk. What does a school library look like in the digital age? | Teacher Network | Guardian Professional. Principal Tricia Kelleher wants her school library to become a beacon of learning like the iconic Vatican Library.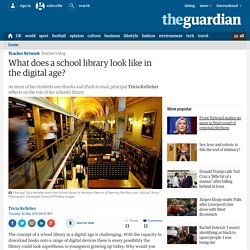 Photograph: Christophe Simon/AFP/Getty Images The concept of a school library in a digital age is challenging. With the capacity to download books onto a range of digital devices there is every possibility the library could look superfluous to youngsters growing up today. Kodable Teaches Kids To Code Before They Learn To Read. Preschool and kindergarten are recommended times for kids to learn a new language, while they're still in the process of learning their first one.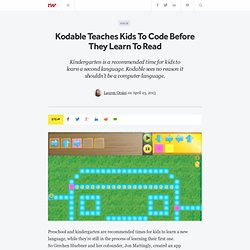 So Grechen Huebner and her cofounder, Jon Mattingly, created an app that teaches kids to program - before they've even learned how to read. The idea behind the iPad app, Kodable, is just that simple: create an app to make programming a child's second language as early as possible in the child's life. Kodable is designed for children between the ages of five and seven, but Huebner said it's been tested and enjoyed by kids as young as three. "One of my favorite moments was when this three-year-old boy was playing it and literally screaming, he was so excited," she said.
No Rich Child Left Behind. Javier Jaén Here's a fact that may not surprise you: the children of the rich perform better in school, on average, than children from middle-class or poor families.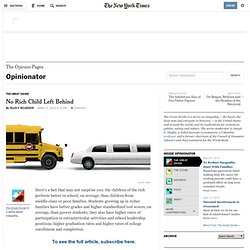 Students growing up in richer families have better grades and higher standardized test scores, on average, than poorer students; they also have higher rates of participation in extracurricular activities and school leadership positions, higher graduation rates and higher rates of college enrollment and completion. Whether you think it deeply unjust, lamentable but inevitable, or obvious and unproblematic, this is hardly news. It is true in most societies and has been true in the United States for at least as long as we have thought to ask the question and had sufficient data to verify the answer.
What is news is that in the United States over the last few decades these differences in educational success between high- and lower-income students have grown substantially. Whitney Joiner: 7 Ways to Better Understand Your Tween Girl's Drama. By Whitney Joiner for Bookish Drama.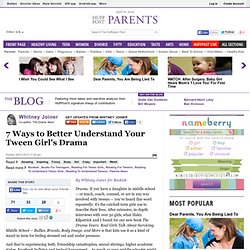 If you have a daughter in middle school -- or teach, coach, counsel, or are in any way involved with tweens -- you've heard this word repeatedly: it's the catchall term girls use to describe their lives. Monarchlibrary - OrderInTheLibrary. Untitled. September/October 2007 Arlen Kimmelman "The whole concept for my [Masters] thesis arose because my administration requested circulation counts as a measure of my 'success.'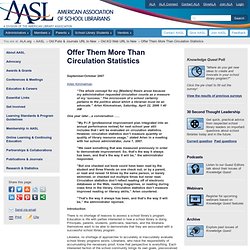 The microcosm of a school certainly pertains to the politics about which a librarian must be an advocate." Arlen Kimmelman, Saturday, April 22, 2006 1:40 AM. Library Research Service| School Libraries | School Library Impact Studies. Library Research Service School Libraries & Student Achievement (2013) This 1-page infographic presents highlights from all of LRS's school library impact studies.
Two versions of the infographic are available: – One is optimized for online viewing – And, the second is optimized for printing If you view the infographic PDF file in Firefox PDF viewer, it may not render properly. For best viewing and printing, click on the "open in different viewer" button in the top right corner of your browser, and select the option to open the file with Adobe Reader. The PDF file is optimized for printing on legal size paper. Ebook economics: Are libraries screwed? « The Thingology Blog. "Kindling" by Flickr user oskay The advance of ebooks will no doubt bring much good.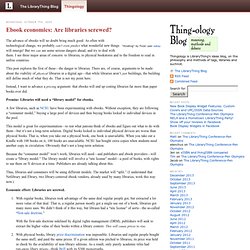 As often with technological change, we probably can't even predict what wonderful new things will emerge! But we can see some serious dangers ahead, and try to deal with them. School Librarians. SLMPE Rubric : School Library Services : EdTech : P-12. Word School Library Media Program Evaluation rubric (HTML) Research shows that one of the chief characteristics of a high performing school is a quality Library Media Program.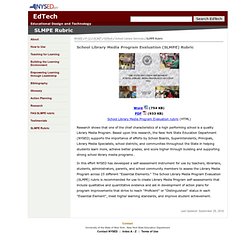 Based upon this research, the New York State Education Department (NYSED) supports the importance of efforts by School Boards, Superintendents, Principals, Library Media Specialists, school districts, and communities throughout the State in helping students learn more, achieve better grades, and score higher through building and supporting strong school library media programs . The School Library Media Specialist: Library Media Program: Introduction. Collect data about what is going on in the media center space and in collaborations with teachers and students; use that data to make decisions about time, space and money.
After conducting a survey, we found that many of our electronic databases aren't used effectively. Our collection mapping provided interesting insights into the strengths and weaknesses of our collection. Our focus group indicated an interest in a graphic novels club. The above insights were gathered from students and teachers.
---