DIY
Solar Food Dehydrator (Dryer) Dry your fruit, vegetables, and other goods with your own sun powered dehydrator.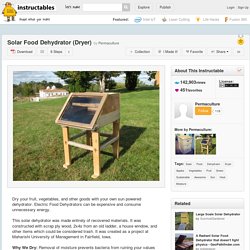 Electric Food Dehydrators can be expensive and consume unnecessary energy. This solar dehydrator was made entirely of recovered materials. How to build a Solar Panel - Home. Welcome to The Sietch - Projects Build Your Own Solar Battery Charger. First we need an old window, I got mine from a construction site.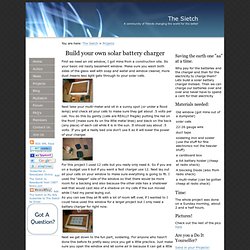 Its your basic old nasty basement window. Make sure you wash both sides of the glass well with soap and water and window cleaner, more dust means less light gets through to your solar cells. Next take your multi-meter and sit in a sunny spot (or under a flood lamp) and check all your cells to make sure they get about .5 volts per cell. You do this by gently (cells are REALLY fragile) putting the red on the front (make sure its on the little metal lines) and black on the back (any place) of each cell while it is in the sun. How to Make Inexpensive DIY Home-Built Solar Panels with Damaged Solar Cells from Ebay. Mike Davis is an astronomer.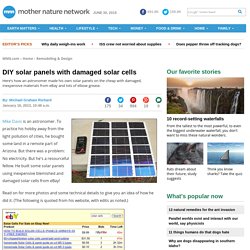 To practice his hobby away from the light pollution of cities, he bought some land in a remote part of Arizona. But there was a problem: No electricity. But he's a resourceful fellow. He built some solar panels using inexpensive blemished and damaged solar cells from eBay! BuildItSolar: Solar energy projects for Do It Yourselfers to save money and reduce pollution. Free e-books. Note: Many books in the public domain may be freely accessed from the headings below.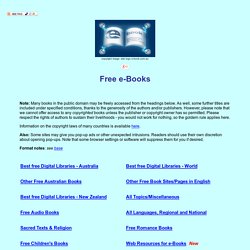 As well, some further titles are included under specified conditions, thanks to the generosity of the authors and/or publishers. However, please note that we cannot offer access to any copyrighted books unless the publisher or copyright owner has so permitted.
---