Food
HERSHEY'S | Chocolate Chips and Raspberry Bars
Skinny Figgy Bars
I hope you enjoy this "rerun" of a recipe I associate closely with Christmas. It's my low-fat, veganized interpretation of the fig-filled cookies my husband's grandmother always made for Christmas. D looked forward to those cookies every year, and once he married a vegan, his grandmother often made a special egg-free batch just for us. Sadly, she's no longer with us, but I think of her whenever I make these fig bars. I made an impulse buy the other day, one of those "rings" of dried figs. I've been missing fresh figs all summer, so when I saw these dried figs in the store, I bought them without thinking.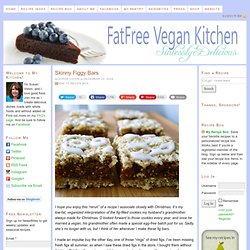 Vegan Sugar Cookies Recipe
Low Fat Oatmeal Banana Bread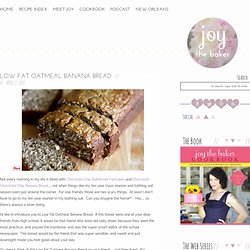 Not every morning in my life is filled with Chocolate Chip Buttermilk Pancakes and Chocolate Chocolate Chip Banana Bread… not when things like my ten year class reunion and bathing suit season loom just around the corner. For real friends, those are two scary things. At least I don't have to go to my ten year reunion in my bathing suit. Can you imagine the horror!? Yea… so there's always a silver lining.
Baked Spiced Chickpeas - Secret Recipe Club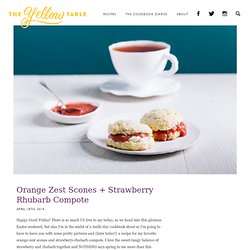 The Yellow Table: Healthy Living: 30-Minute Black Bean Soup
I've been giving a lot of thought lately to how I want to live this year. And the word that keeps popping into my head is community. I am craving deep community and authentic, life-giving friendships. It's not that I need new friends – I'd just love to see the ones I have more often! Life in NYC moves so ridiculously fast that if I'm not intentional, weeks and months can go by and I don't see many of the people I hold most dear. So in the spirit the yellow table, I've decided to reinstate a tradition I started in Nashville many years ago: the mid-week dinner party.
The Yellow Table: Healthy Living: Fall Quinoa Salad
The Yellow Table: Healthy Living: Tomato Chickpea Curry with Kale
The Yellow Table: Tuscan White Bean Soup With Swiss Chard