Food
HERSHEY'S | Chocolate Chips and Raspberry Bars
Skinny Figgy Bars
I hope you enjoy this "rerun" of a recipe I associate closely with Christmas. It's my low-fat, veganized interpretation of the fig-filled cookies my husband's grandmother always made for Christmas. D looked forward to those cookies every year, and once he married a vegan, his grandmother often made a special egg-free batch just for us. Sadly, she's no longer with us, but I think of her whenever I make these fig bars. I made an impulse buy the other day, one of those "rings" of dried figs. I've been missing fresh figs all summer, so when I saw these dried figs in the store, I bought them without thinking.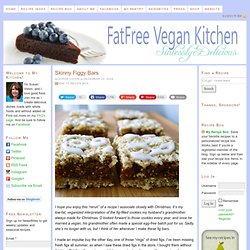 Vegan Sugar Cookies Recipe
Low Fat Oatmeal Banana Bread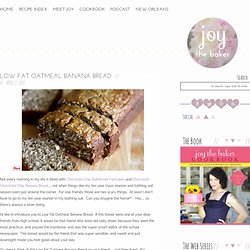 Not every morning in my life is filled with Chocolate Chip Buttermilk Pancakes and Chocolate Chocolate Chip Banana Bread … not when things like my ten year class reunion and bathing suit season loom just around the corner. For real friends, those are two scary things. At least I don't have to go to my ten year reunion in my bathing suit. Can you imagine the horror!? Yea… so there's always a silver lining.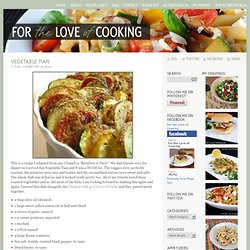 This is a recipe I adapted from one I found in "Barefoot in Paris" . We had friends over for dinner so I served this Vegetable Tian and it was a HUGE hit. The veggies were perfectly roasted, the potatoes were nice and tender and the caramelized onions were sweet and salty. The whole dish was delicious and it looked really pretty too. All of my friends loved these roasted vegetables and so did most of the kids.
Baked Spiced Chickpeas - Secret Recipe Club
The Yellow Table: Healthy Living: 30-Minute Black Bean Soup
I love black beans. As in LOVE. I could eat them every day: with rice, in tacos and quesadillas, in salads (with mangoes and cilantro), and–my favorite way–in this deliciously spicy soup. Lucky for me, black beans are incredibly healthy–they're full of protein (a 1-cup serving has 15 grams) and packed with fiber. This weekend I was craving black bean soup, but only had 30 minutes to throw it together before we headed over to a friend's house for a potluck dinner.
The Yellow Table: Healthy Living: Fall Quinoa Salad
Quinoa Salad with Fennel & Pomegranate Healthy Living: Quinoa Salad with Fennel & Pomegranate Hello friends! I hope everyone has enjoyed their holidays thoroughly. If you've noticed I haven't posted for the past week, it's because we've been trekking across the eastern half of the country visiting family.
The Yellow Table: Healthy Living: Tomato Chickpea Curry with Kale
The Yellow Table: Tuscan White Bean Soup With Swiss Chard
I love days like today. Blue sky, crisp, cool early fall days where the air feels clean (even in NYC) and you need a scarf to stay warm. Sweater-and-boots weather, as my friend Chrissy says.