Tricks
Ross Nanotechnologys NeverWet superhydrophobic spray.flv - StumbleUpon. Natural Hallucinogen - Video - StumbleUpon. Suspending Water Without a Cup Trick. Best Card Trick Ever. Laser Magician Video. Awesome everyday trick shots. Learn how to throw lethal playing cards. If you watch the following video, you will be able to see one of the world's leading card-throwing experts practicing his craft.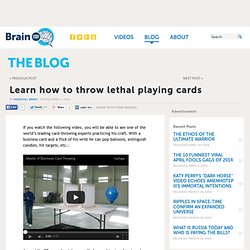 With a business card and a flick of his wrist he can pop balloons, extinguish candles, hit targets, etc.: Around the 50-second point, you will also see him impale a tomato with a business card. How to Make an Empty Can Full Again Video. How it looks?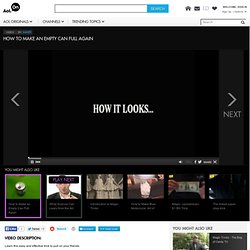 How it's done? What you need; Can of soda, piece of paper, black texta, pair of scissors. Trim paper to best fit the can mouth, insert a hole behind the can's mouth.
---