Effets de texte
30 Creative Photoshop Text Effects Tutorials
toshop.free.fr
Smashing Apps has been featured at Wordpress Showcase. If you like Smashing Apps and would like to share your love with us so you can click here to rate us.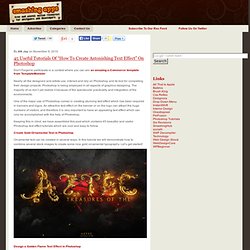 45 Useful Tutorials Of "How To Create Astonishing Text Effect" On Photoshop
Le texte est un élément de base dans les maquettes et les créations graphiques. Le bon choix des polices et des couleurs requiert de l'expérience et un gout artistique développé pour arriver à des résultats surprenants. L'utilisation de Photoshop et l'ensemble des outils puissants pour texte qu'il propose permet de créer des effets de texte magnifiques.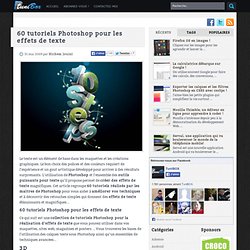 Brushed Silver Reflective Text Effect
Here we're going to show you how to create the image below – an elegant brushed silver text effect immersed in an abstract reflective watery scene. Step #1 First you will need to download the two textures below and convert them into photoshop patterns for later.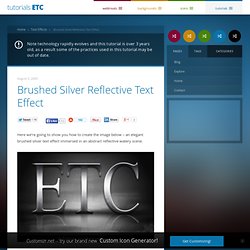 Quantum Petshop Text Tutorials, Frost. Make your text look like its frozen ice.
Next you'll add some pretty basic layer styles by double clicking the layer in the layer window (Layer>Layer Style>Blending Options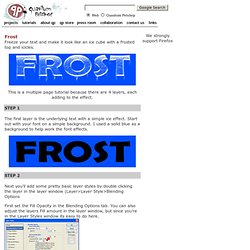 Yummy Cookies Typography in Photoshop
I woke up this morning thinking about an idea for a tutorial, then I remembered that last week I saw a really nice text effect that the characters were made of bread if I am not making any mistake.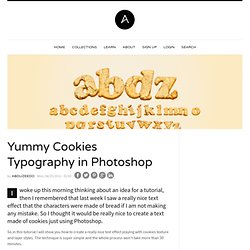 50 Essential Photoshop Text Effect Tutorials
Last month I published a collection of 45 Photoshop Tutorials for Better Navigation, which quickly became one of the most popular posts on this blog. Due to the response, I spent some time finding more great Photoshop tutorials. Here are 50 of the best tutorials for working with text.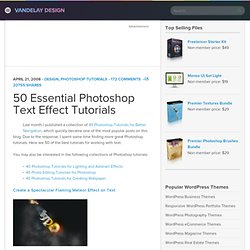 Text Effects | Photoshop,Illustrator,3d and graphic design tutorials at GraphicTutorials.net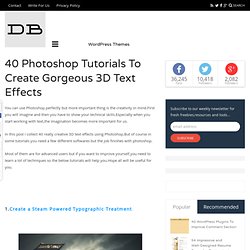 40 Photoshop Tutorials To Create Gorgeous 3D Text Effects | DesignBeep
Designbeep is a design blog dedicated to web developers,bloggers,designers and freelancers.Our aim is to share everything about web design,graphic design,tutorials and inspirational articles and more. wow… those are some great tutorials. I typically like to keep my websites light on the graphics but these make me want to jazz things up some.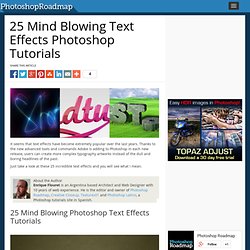 It seems that text effects have become extremely popular over the last years. Thanks to the new advanced tools and commands Adobe is adding to Photoshop in each new release, users can create more complex typography artworks instead of the dull and boring headlines of the past.
Text Effects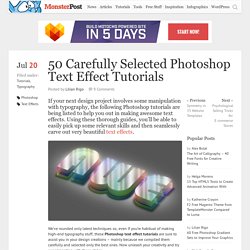 Template Monster Blog 50 Carefully Selected Photoshop Text Effect Tutorials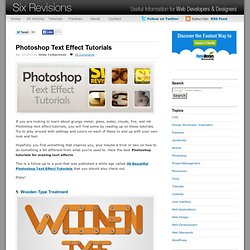 Photoshop Text Effect Tutorials
If you are looking to learn about grungy metal, glass, water, clouds, fire, wet ink Photoshop text effect tutorials, you will find some by reading up on these tutorials. Try to play around with settings and colors on each of these to end up with your own look and feel.
Text Effects
VIP EXCLUSIVE PHOTOSHOP TUTORIAL – ADVANCED PHOTO RETOUCH TECHNIQUES VIA IMAGE ADJUSTMENT LAYERS 30 ABSOLUTELY MIND-BOGGLING EXAMPLES OF CONCEPTUAL PHOTO MANIPULATION CREATE UNIQUE 3D GRASS AND STONE TEXT EFFECT IN PHOTOSHOP CS6 EXTENDED CREATE AWESOME PLANET EXPLOSION EFFECT IN PHOTOSHOP VIP MEMBER EXCLUSIVE TUTORIAL – CREATING A EDGY, COLOURFUL FASHION PHOTO-MANIPULATED ARTWORK Create Unique Abstract Photo Manipulation in Photoshop with Human, Rock and City Stocks VIP EXCLUSIVE PHOTOSHOP TUTORIAL – ADVANCED PHOTO RETOUCH TECHNIQUES VIA IMAGE ADJUSTMENT LAYERS 30 ABSOLUTELY MIND-BOGGLING EXAMPLES OF CONCEPTUAL PHOTO MANIPULATION