programming
Get flash to fully experience Pearltrees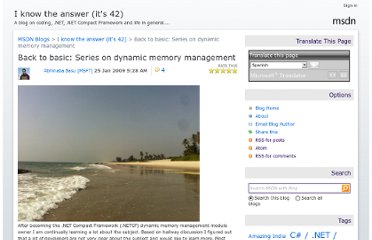 Hello BonGGeek, hopefully you could help me with advice regarding some detailos of GC behaviour. Please let me explain the motivation (the problem background) first : For my NET CF application, I would like to implement cache of object used by User Interface; in this particular case cache of bitmaps which are created by loading and my custom-processing of PNG images.
This page, and the pages it links to, contain text of the Common Lisp book Practical Common Lisp published by Apress These pages now contain the final text as it appears in the book. If you find errors in these pages, please send email to book@gigamonkeys.com . These pages will remain online in perpetuity—I hope they will serve as a useful introduction to Common Lisp for folks who are curious about Lisp but maybe not yet curious enough to shell out big bucks for a dead-tree book and a good Common Lisp tutorial for folks who want to get down to real coding right away. However, don't let that stop you from buying the printed version available from Apress at your favorite local or online bookseller.
This chapter covers two topics: How to put comments in your code such that doxygen incorporates them in the documentation it generates. This is further detailed in the next section . Ways to structure the contents of a comment block such that the output looks good, as explained in section Anatomy of a comment block . A special comment block is a C or C++ style comment block with some additional markings, so doxygen knows it is a piece of structured text that needs to end up in the generated documentation.
A suite of eleven principles, conceived by people such as RobertCecilMartin , BertrandMeyer , BarbaraLiskov , etc. and compiled by RobertCecilMartin . There are six papers that describe all of these principles. They can be found in the resources section of http://www.objectmentor.com/ . The first four papers are named for the first four principles, the final papers cover the remaining two principles: "Granularity" and "Stability". There are five principles of class design (aka SOLID): There are three principles of package cohesion There are three principles of package coupling -- RobertCecilMartin 19990907 Other OoDesignPrinciples :