Fashion
How to tie a Scarf | Coldwatercreek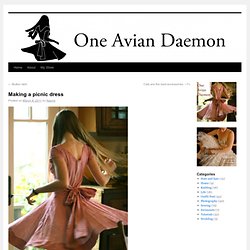 Making a picnic dress | One Avian Daemon
Several people have asked me how to make my Picnic Dress . It's a bit too complicated for the step by step instruction on how to draft a pattern I gave for the draped t-shirt , but I hope this will be enough detail for anyone who is familiar with how dresses are made. You will need 4 yards of 45″ fabric and an 18″ zipper. These are the pieces of the pattern. Mark out the measurements listed and the distances between them. For example, on the waistband measure out the distance between your underbust/ribcage and your waist, then measure half your ribcage measurement at one side and half your waist measurement at the other.
ASOS | Shop women's fashion & men's clothing | Free Shipping & Returns
LittleFashionisto
Beautiful/Decay Cult of the Creative Arts
SmarmyClothes.com, one of a kind diy punk clothing
Unicorn T Shirts
Cool T-Shirts DesignByHumans | Buy T Shirts Graphic T-Shirts Cool Tees
weardrobe | who's wearing what
Hide & Seek Clothing — Love V
DRESSES
Welcome to Spicy Brown! Maker of cute yummy kawaii t-shirts, toys and accessories.
Shop American Apparel Online | United Kingdom
:: VampireFreaks Store :: Gothic Clothing, Cyber-goth, punk, metal, alternative, rave, freak fashions
Polyvore
Filthy Nasty - Filthy Nasty Clothing Store