Math
Students Speak Up in Class, Silently, via Social Media
All | Books | Bookstore | Autism books, research, conferences | Autism Asperger Publishing | asperger.net
" Golden" Mega-sites for School-Based Clinicians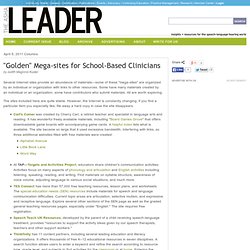 by Judith Maginnis Kuster Judith Maginnis Kuster, MS, CCC-SLP, is a professor in the Department of Speech, Hearing, and Rehabilitation Services at Minnesota State University, Mankato.
Mozilla Firefox
Speech Teach UK downloads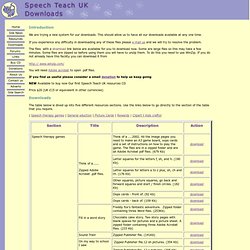 Introduction We are trying a new system for our downloads. This should allow us to have all our downloads available at any one time. If you experience any difficulty in downloading any of these files please e-mail us and we will try to resolve the problem. The files with a download link below are available for you to download now.
Home.htm
TAP Communication Activities for Children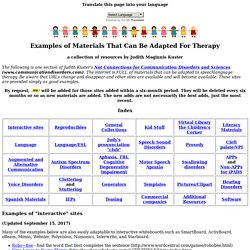 Translate this page into your language Fourni par Traduire a collection of resources by Judith Maginnis Kuster
Circuit Publications, Inc.
Lesson Question: How can identifying key words help students solve mathematical word problems? Applicable Grades: Lesson Overview: In this lesson, students will take turns acting as "math coaches" who will assist other students in solving word problems by identifying key words that usually indicate specific mathematical operations. Length of Lesson: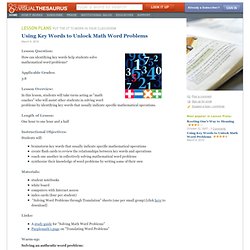 Using Key Words to Unlock Math Word Problems : Lesson Plans