baking
Get flash to fully experience Pearltrees
I'm sorry. I know it's Monday morning and you probably came here for some pretty pictures of food that you could glance at, and then move on with your day… and here I go thrusting warm, soft cinnamon sugar bread in your face. It's not fair.
I'm sorry for doing this to you. I really am.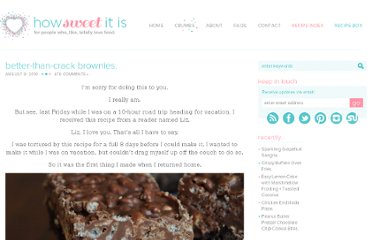 It doesn't matter what season it is.
I'm guessing that you have caught on to the fact that I am not a big fan of beer; however, toss in some sugar and chocolate and I am all about it.
As I mentioned on Friday, I have been doing some experimentation with the beer and chocolate combination. The Guinness-chocolate ice cream that I made totally kicked butt, so I couldn't wait to see how I liked beer and chocolate in my cake.
March 7, 2011 Greek Inspired Slow Cooker Chicken As my kids get older, the amount of time I have to cook dinner seems to be less and less.
Do you have a favorite kind of bread?