Teaching Texas
CROCKETT, DAVID. CROCKETT, DAVID (1786–1836).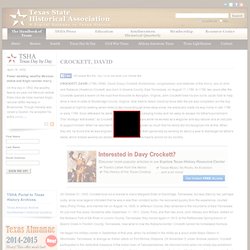 David (Davy) Crockett, frontiersman, congressman, and defender of the Alamo, son of John and Rebecca (Hawkins) Crockett, was born in Greene County, East Tennessee, on August 17, 1786. In 1798, two years after the Crocketts opened a tavern on the road from Knoxville to Abingdon, Virginia, John Crockett hired his son out to Jacob Siler to help drive a herd of cattle to Rockbridge County, Virginia. Siler tried to detain David by force after the job was completed, but the boy escaped at night by walking seven miles in two hours through knee-deep snow. He eventually made his way home in late 1798 or early 1799.
Texas State Historical Association - Education - Student Guides. TOPIC LISTS with links to Handbook of Texas Online articles (To locate a specific topic, click on Edit, Click on Find (ctrl + F), then type your topic in the field provided.) 1.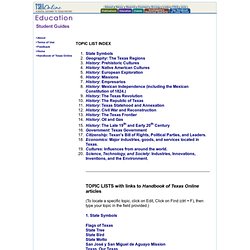 State Symbols Flags of Texas. FLAGS OF TEXAS. FLAGS OF TEXAS.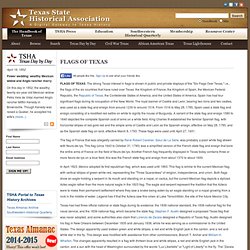 The strong Texas interest in flags is shown in public and private displays of the "Six Flags Over Texas," i.e., the flags of the six countries that have ruled over Texas: the Kingdom of France, the Kingdom of Spain, the Mexican Federal Republic, the Republic of Texas, the Confederate States of America, and the United States of America. Spain has had four significant flags during its occupation of the New World. Texas-rivers-map. Map of Texas - Texas Map, TX map, Map of TX, Texas Maps, Texas Map of Houston Facts, Texas Attractions History.
1 | 2 Description (Page 1) Texas History The first inhabitants of this land now called Texas arrived here around 10,000 B.C; they hunted giant bison and mammoths, and over many centuries a wide variety of Indian cultures developed and prospered.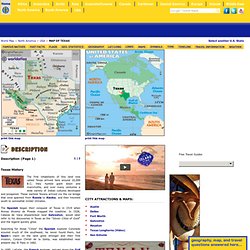 The Six National Flags of Texas. Six national flags have flown over Texas since the first European exploration of the region by Cortez in 1519.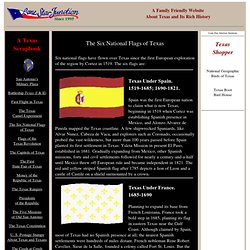 The six flags are: Texas Under Spain. 1519-1685; 1690-1821. Spain was the first European nation to claim what is now Texas, beginning in 1519 when Cortez was establishing Spanish presence in Mexico, and Alonzo Alvarez de Pineda mapped the Texas coastline. THE WEST - Sam Houston. A sometimes volatile and often contradictory man, Sam Houston played a crucial role in the founding of Texas.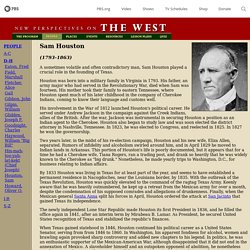 Houston was born into a military family in Virginia in 1793. His father, an army major who had served in the Revolutionary War, died when Sam was fourteen. His mother took their family to eastern Tennessee, where Houston spent much of his later childhood in the company of Cherokee Indians, coming to know their language and customs well. TBH Lesson Plan. Lesson Title: Ft.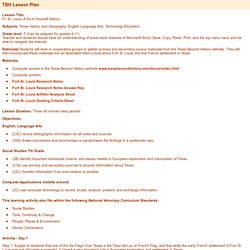 St. Louis: A Do-It-Yourself History Subjects: Texas History and Geography, English Language Arts, Technology Education Grade level: 7 (Can be adapted for grades 4-11) Teacher and students should have an understanding of some basic features of Microsoft Word (Save, Copy, Paste, Print, and the top menu bars) and be able to navigate the Internet. Rationale:Students will work in cooperative groups to gather primary and secondary source materials from the Texas Beyond History website.
THE WEST - Antonio López de Santa Anna. The dominant figure in Mexican politics for much of the 19th century, Antonio López de Santa Anna left a legacy of disappointment and disaster by consistently placing his own self-interest above his duty to the nation.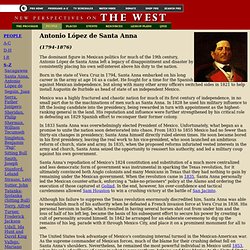 Born in the state of Vera Cruz in 1794, Santa Anna embarked on his long career in the army at age 16 as a cadet. He fought for a time for the Spanish against Mexican independence, but along with many other army officers switched sides in 1821 to help install Augustin de Iturbide as head of state of an independent Mexico. Mexico was a highly fractured and chaotic nation for much of its first century of independence, in no small part due to the machinations of men such as Santa Anna.
In 1828 he used his military influence to lift the losing candidate into the presidency, being rewarded in turn with appointment as the highest-ranking general in the land.
---