China Business News
ChinaTrade.com
Business Daily
Ministry of Commerce
BANK OF CHINA
WorldBank China
Business china.org
Development Gateway
China Business News
ChinaEconomic Review
China Briefing
This week, China Briefing is featuring a series of specially-commissioned articles from prominent China-based writers regarding their thoughts on the key developments in the country during 2013, and what lies ahead in 2014. Today's article is written by Malcolm Moore, the Beijing correspondent of the Daily Telegraph. Jan. 9 – It was another twisting, turning year of surprises and reversals in China, and 2014 promises more of the same.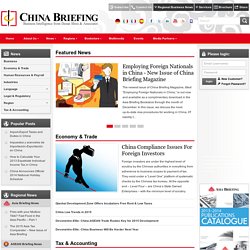 IBTimes
Caijing
21cbh
China Perspective
Economic Observer
Inside China Today
PMR
China Venture News
Surging China demand buoys US pork US pork exports will jump 23 percent or more this year because of surging demand and prices in China, the world's top consumer, according to Brett Stuart, the co-founder of farm-industry researcher Global AgriTrends. Zhejiang's SMEs quickening pace of stock listings Private enterprises in Zhejiang province, especially small and mid-sized enterprises (SMEs), are speeding up their migration to listed status, said Ernst &Young (E&Y), a leading global tax and transaction service provider. Hong Kong's liquefied petroleum gas prices to fall in August Hong Kong's liquefied petroleum gas (LPG) ceiling prices at LPG stations will range from 4.44 HK dollars (0.57 U.S. dollars) to 4.86 HK dollars per liter in August, down 25 to 26 cents per liter, the city's Electrical and Mechanical Services Department said here on Thursday.
ChinaBiz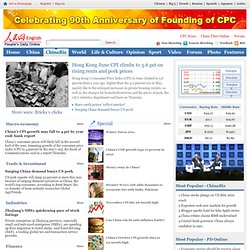 China Securities Journal
China TechNews
Environmental News Digest
Wsj
All Things Digital
Bloomberg
Asia News
Forbes
July 16, 2012 The latest global sentiment figures reflect a slowing global economy and this is being felt in revised employment expectations as well as corporate earnings season that kicks into high gear this week with more than 80 of the S&P 500 companies sharing their results this week. China is building out its cloud infrastructure at a torrid pace, building on their great advantage in long-term low-cost electric grid that is utterly coal dominated. week I'll be in China for our second annual customer meeting. One of the things that makes this event special is we didn't try to export the US version to China but rather built an event ground up for China .
Reuters
TheEcomomist
Country Briefings
FT
China Confidential
EuroInvestor