China Business News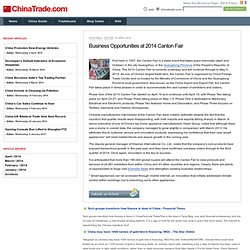 One of the latest developments for the new Shanghai free trade zone is the lifting of a ban on foreign-made arcade and home entertainment gaming consoles imposed in 2000. For an unspecified trial period Chinese authorities are permitting the manufacture and sale of games consoles within the Shanghai free trade zone, while importing these entertainment systems remains restricted. The official statement announcing the decision noted that the relaxing of the rule was an "experiment" aimed at exploring the experience of reform.
ChinaTrade.com
Business Daily
Ministry of Commerce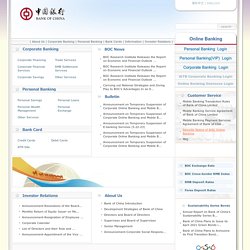 | Corporate Banking | Personal Banking | Bank Cards | Information | About Us | Investor Relations | 简体中文 | 繁体中文 | ENGLISH Online Banking Corporate Financing
BANK OF CHINA
WorldBank China
Business china.org
Development Gateway
China Business News
Structured Settlements in Asia Parties Who Purchase Structured Settlements There are a lot of companies and corporations that will purchase structured settlements not only in Canada and the United States wherein such… HK's forex reserves reach $281b in Oct Hong Kong's foreign currency reserve assets reached $281.7 billion by the end of October, 2011, up $4.1 billion compared to the end of September, the Hong Kong Monetary… Reports of 800b yuan railways fund 'untrue'
ChinaEconomic Review
China Briefing
This week, China Briefing is featuring a series of specially-commissioned articles from prominent China-based writers regarding their thoughts on the key developments in the country during 2013, and what lies ahead in 2014. Today's article is written by Malcolm Moore, the Beijing correspondent of the Daily Telegraph. Jan. 9 – It was another twisting, turning year of surprises and reversals in China, and 2014 promises more of the same.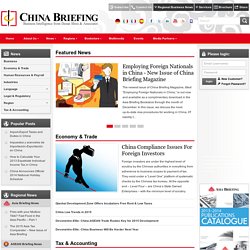 IBTimes
Caijing
21cbh
China Perspective
Economic Observer
Inside China Today
PMR
China Venture News
Surging China demand buoys US pork US pork exports will jump 23 percent or more this year because of surging demand and prices in China, the world's top consumer, according to Brett Stuart, the co-founder of farm-industry researcher Global AgriTrends. Zhejiang's SMEs quickening pace of stock listings Private enterprises in Zhejiang province, especially small and mid-sized enterprises (SMEs), are speeding up their migration to listed status, said Ernst &Young (E&Y), a leading global tax and transaction service provider. Hong Kong's liquefied petroleum gas prices to fall in August Hong Kong's liquefied petroleum gas (LPG) ceiling prices at LPG stations will range from 4.44 HK dollars (0.57 U.S. dollars) to 4.86 HK dollars per liter in August, down 25 to 26 cents per liter, the city's Electrical and Mechanical Services Department said here on Thursday.
ChinaBiz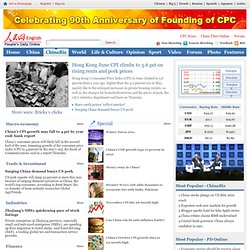 China Securities Journal
China TechNews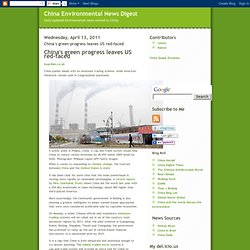 Environmental News Digest
Link to this video The jungles of the Diaolou Mountains do not, at first sight, appear a very inviting location for a golf resort. Leeches and spiders drop through the Jeep windows as we jolt along an overgrown logger's track to reach this remote corner of Hainan, the tropical island that marks the south-eastern extremity of China. On one side lies a pristine tropical rainforest with 1,000-year-old trees; on the other, a thick tangle of bamboo, cedar and palm has reclaimed an abandoned betel nut plantation. Until now, this national park has been a rare conservation success story in China.
Wsj
All Things Digital
Bloomberg
Asia News
Forbes
July 16, 2012 The latest global sentiment figures reflect a slowing global economy and this is being felt in revised employment expectations as well as corporate earnings season that kicks into high gear this week with more than 80 of the S&P 500 companies sharing their results this week. China is building out its cloud infrastructure at a torrid pace, building on their great advantage in long-term low-cost electric grid that is utterly coal dominated. week I'll be in China for our second annual customer meeting. One of the things that makes this event special is we didn't try to export the US version to China but rather built an event ground up for China .
Reuters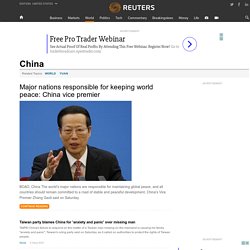 VW braces for market challenges as posts 2013 record sales BERLIN/FRANKFURT - Europe's largest automaker Volkswagen is bracing for challenging markets as it posted record 2013 sales with demand from China and North America more than offsetting declining deliveries in core European markets. 6:49am EST White House weighs in on Jimmy Kimmel China controversy WASHINGTON - The White House has weighed in on a petition calling for the government to crack down on "Jimmy Kimmel Live," a television talk show that sparked a furor in China in October with a joke about killing Chinese people to avoid paying down U.S. debt to the country.
TheEcomomist
Country Briefings
FT
China Confidential
EuroInvestor