Reference and Info
Get flash to fully experience Pearltrees
How to Make a Catchy Flyer Visual impression determines whether the reader will decide to read more. Successful flyers engage the eye and capture the imagination before passing... How to Make Catchy Flyers for a Restaurant Catchy flyers can go a long way towards building up a reputation for your restaurant. Make catchy flyers for a restaurant with... Sales Flyer Ideas Use a catchy phrase for your flyer, one that will stick in the minds of future customers.
Netscape was the first to deploy a library of color names (originally adopted from the X Window System palette known as X11 color names) that could be used as attribute and scripted object property color values in place of hexadecimal triplet values. Virtually all modern browsers support the use of these values, and CSS Level 3 puts the list into a published standard. Color names in both tag attributes, scripts, and CSS properties are case-insensitive. Typically, if you set a color attribute or property to one of the named colors, the object property is reflected in scripts as the hexadecimal triplet value for that color. For additional convenience, the following table also shows the decimal equivalents of the RGB value in case you use these color values in style sheet rules.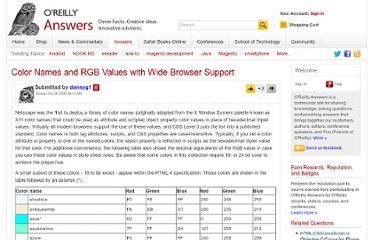 Quick links About codes and colors and how to apply Major hexadecimal color codes Color Code Chart Top 50 most viewed colors HTML help About color codes and how to apply HTML color codes are hexadecimal triplets representing the colors red, green, and blue (#RRGGBB). For example, in the color red, the color code is #FF0000, which is '255' red, '0' green, and '0' blue.