Restaurants
Boopshi's | Schnitzel & Spritz
Mobile Site Preview
We love the Spanish culture of eating either standing up or on stools at bar level. We think it creates an upbeat, relaxed environment that you don't get in a restaurant a lot of the time. Copita is a venue that reflects this. However, just because it is a bar environment doesn't mean the food is secondary to the drink offering, on the contrary, food is a matter of life and death. Our menu is constantly evolving with a particular focus on sourcing great ingredients. All our wines are served by the glass, half bottle carafe and bottle.
pita - Copita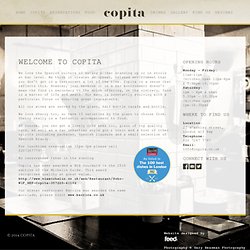 Toast Dulwich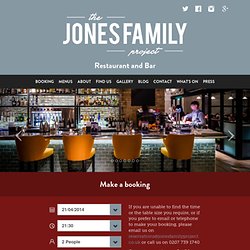 The Jones Family Project - Food, Drink and Great Times - The Jones Family Project
Our weekend brunch menu is available in both our café/bar and restaurant on Saturday and Sunday. We have assorted pastries, French toasts, eggs benedict (with bacon, spinach, steak or salmon), salads, sandwiches and our own very popular Jones Baked Eggs (served in a terracotta pan with Chorizo, red peppers, shallots, white wine, tomatoes & rosemary, Butternut squash & Gruyère cheese, caramelised red onions, white wine, tomatoes & sage or Smoked haddock, spinach, Godminster vintage cheddar cheese sauce and nutmeg.) Full Weekend Brunch Menu Our Weekend brunch menu is available from 10am - 5pm on Saturdays and Sundays.
The Empress | 130 Lauriston Road, Victoria Park, London E9 7LH T | 0208 533 5123
This site uses cookies to store information on your computer. Some cookies on this site are essential, and the site won't work as expected without them. These cookies are set when you submit a form, login or interact with the site by doing something that goes beyond clicking on simple links. We also use some non-essential cookies to anonymously track visitors or enhance your experience of the site.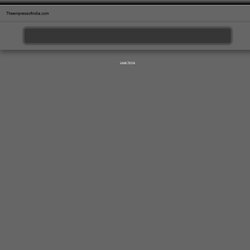 Salt Yard - Charcuterie Bar & Restaurant
About Smiths of Smithfield "Smiths" of Smithfield is the Grade II listed four-floor restaurant in the heart of Smithfield Market – London's only working meat market. The restaurant's priority has always been to serve simple food made from the finest ingredients, served in a friendly way in a relaxed atmosphere. The impressive building was lovingly restored by the "Smiths" team with architects Wells Mackereth, having stood empty for over 40 years.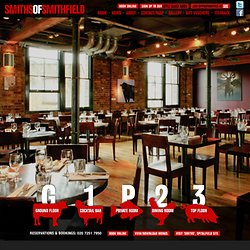 Smiths of Smithfield
menu
—Starters— Devilled kidneys on toast Penny buns, squash, salsify & roasted garlic
The Chancery Restaurant | About | +44(0)20 7831 4000 | British Fine Dining | No.9 Cursitor Street, Chancery Lane, London, EC4A 1LL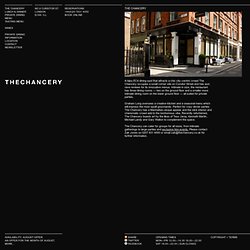 A bijou EC4 dining spot that attracts a chic city–centric crowd The Chancery occupies a small corner site on Cursitor Street and has won rave reviews for its innovative menus. Intimate in size, the restaurant has three dining rooms — two on the ground floor and a smaller more intimate dining room on the lower ground floor — all suited for private parties. Liam Murray oversees a creative kitchen and a seasonal menu which will impress the most spoilt gourmands. Perfect for cosy dinner parties The Chancery has a Manhattan–esque appeal, and the slick interior and charismatic crowd add to the bonhomous vibe. Recently refurbished, The Chancery boasts art by the likes of Tess Jaray, Kenneth Martin, Michael Landy and Gary Walton to complement the space. The Chancery can cater for groups for all sizes; from intimate gatherings to large parties and exclusive hire events.
THE QUALITY CHOP HOUSE
92-94 Farringdon RoadLondon EC1R 3EA To book:0207 278 1452or online reservations Dining RoomMonday – Saturday 12–3pm, 6–10.30pm Wine BarMonday – Saturday 12–midnight (reduced menu 3-6pm) Butchers & ShopMonday-Friday10am-7pmSaturday 9am-6pmSunday 9am-5pm0203 490 6228 The Quality Chop House is a Dining Room, Wine Bar & Wine Shop on Farringdon Road just around the corner from Exmouth Market.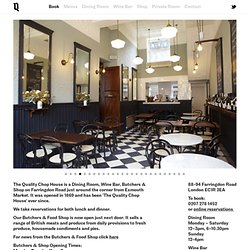 TOZI Restaurant & Bar | London Victoria
40 Maltby Street
Located in the warehouse of Gergovie Wines we sell wines produced by a handful of wine-makers who eschew the use of chemical fertilizers and pesticides in favour of letting the land and the grape speak. At 40 Maltby Street you can buy these wines to take home or to drink by the glass or bottle at our bar. Our kitchen serves food made with the same consideration as our winemakers take with their wine. Our menu changes through the week and reflects the seasonality of our island and its proximity to the continent.
A.Wong - "Bringing a little bit of China's kitchens to the capital."
sticks'n'sushi : Restaurant and takeaway in Wimbledon London
Simple & Fresh Our intention at 3Course is to cook inspiring simple & fresh dishes for each day part using familiar sourced ingredients. Dishes are inspired with a blend of Scandinavian influences together with a focus on the Japanese ethos of a balanced diet, which is clearly visible, paired with ingredients so good and simple they really speak for themselves.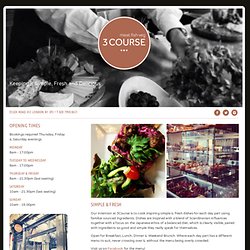 3 COURSE meat fish veg
The Smokehouse Islington - Home |
Food | Duke's Head Highgate
Bell & Brisket: New opening times: now every day! Mon-Fri 12-3pm, 6-10pm, Sat 12-10pm, Sun 12-6pm With a menu that stretches the conventional boundaries of the salt beef sandwich, The Bell & Brisket will present The Salt Beef Aristocracy with landed gentry The Lord Rupert – salt beef, pickled cabbage, melted cheddar & mustard.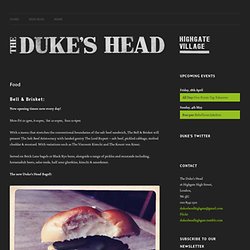 Drinks — Jones & Sons
Every month we ask one of our friends in the industry to choose a few of their favourite bottles of wine. Who's your hero? What's he/she like? Most of you won't be able to answer at least one of those questions, but we can.
Foxlow
Gallery - Welcome to Wing Tai Restaurant
Elliot's Café - Borough market
About / Food & Drinks / Menu / Reservations / Jobs / Twitter / Facebook Being based in the inspiring environment that is Borough Market, our menu is created using the diverse ingredients available and in season. We have a simple but mindful approach to our cooking that allows the ingredients to dictate the menu but to be prepared in such a way as to show them at their absolute best. We cook our food over a wood fired grill, respecting the simplicity of this method encourages us to focus on the ingredient being cooked with it and the flavours that can develop as a result. General Opening Hours: 12 Stoney St, Borough Market, SE1 9AD (Map).
Peckham Refreshment Rooms
Hutong – Northern Chinese Restaurant and Bar in The Shard, London
Sushi Tetsu - Traditional Japanese Sushi Bar
Flat Iron Steak
KOYA — Home
HOME | KIRAZU - Japanese Tapas and Takeaway -
Launceston Place - D&D London - Michelin Star Restaurant in Kensington - W8
Andina | Peruvian Kitchen in London | Breakfast | Lunch | Dinner
Duke's Head Highgate | Craft beer, Real Ale
Mayfields | 52 Wilton Way
Portal Restaurant and Bar | 88 St John Street | London | T +44 (0)20 7253 6950
Gallery | Pollen Street Social
Pitt Cue Co. London
emberyard.co
MerchantsTavern
BEAGLE LONDON
Gremio de Dalston tapas bar to open on Dalston Square | dalstonist
Home — Peckham Bazaar
Blackfoot • Pork Restaurant • Exmouth Market
White Rabbit Dalston
Hoi Polloi at the Ace Hotel | Shoreditch, Clerkenwell | Restaurant Reviews | Hot Dinners
Mishkins - a kind-of jewish deli with cocktails - 25 Catherine Street, London. WC2B 5JS
Polpo - A Venetian bàcaro in Soho, Covent Garden and Smithfield
Jose Pizarro
Karol the baker produces fresh loaves and manchets daily | Quo Vadis
Food & Drink | Caravan
House of Wolf | House of WolfHouse of Wolf | House of Wolf is a multi-functional, multi-sensory pleasure palace, dedicated to the creative pursuits of dining, drinking, art and entertainment
Grain Store - King's Cross, London, UK - Restaurant & Bar from Chef Bruno Loubet & The Zetter
Mes Amis - About - Google+
Trangallán - Home
Dabbous - 39 Whitfield Street, London, W1T 2SF
Brawn
Hedone Restaurant Michelin Star 2013
LARDO Pizzeria, Hackney | 205 Richmond Road. E8 3NJ T: 020 8985 2683
Introduction » Nobu Restaurants
Beard To Tail | Meat & Whiskey & Bar & Restaurant
Tramontana Brindisa - Speciality dishes from the Spanish Mediterranean
Menus — AD12 atT42