Restaurants
64 Degrees. Boopshi's | Schnitzel & Spritz. Mobile Site Preview. Pita - Copita. We love the Spanish culture of eating either standing up or on stools at bar level.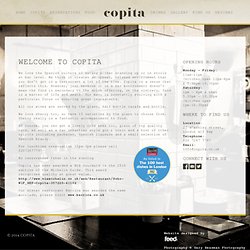 We think it creates an upbeat, relaxed environment that you don't get in a restaurant a lot of the time. Copita is a venue that reflects this. Toast Dulwich. The Jones Family Project - Food, Drink and Great Times - The Jones Family Project. The Empress | 130 Lauriston Road, Victoria Park, London E9 7LH T | 0208 533 5123. Salt Yard - Charcuterie Bar & Restaurant. Smiths of Smithfield. The Chancery Restaurant | About | +44(0)20 7831 4000 | British Fine Dining | No.9 Cursitor Street, Chancery Lane, London, EC4A 1LL. A bijou EC4 dining spot that attracts a chic city–centric crowd The Chancery occupies a small corner site on Cursitor Street and has won rave reviews for its innovative menus.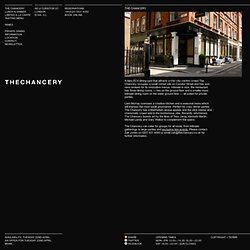 Intimate in size, the restaurant has three dining rooms — two on the ground floor and a smaller more intimate dining room on the lower ground floor — all suited for private parties. Liam Murray oversees a creative kitchen and a seasonal menu which will impress the most spoilt gourmands. THE QUALITY CHOP HOUSE. TOZI Restaurant & Bar | London Victoria. 40 Maltby Street. A.Wong - "Bringing a little bit of China's kitchens to the capital." Sticks'n'sushi : Restaurant and takeaway in Wimbledon London. 3 COURSE meat fish veg. The Smokehouse Islington - Home | Food | Duke's Head Highgate. Bell & Brisket: New opening times: now every day!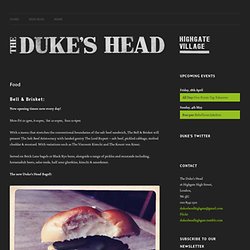 Mon-Fri 12-3pm, 6-10pm, Sat 12-10pm, Sun 12-6pm With a menu that stretches the conventional boundaries of the salt beef sandwich, The Bell & Brisket will present The Salt Beef Aristocracy with landed gentry The Lord Rupert – salt beef, pickled cabbage, melted cheddar & mustard. Drinks — Jones & Sons. Foxlow. Gallery - Welcome to Wing Tai Restaurant. Elliot's Café - Borough market. Peckham Refreshment Rooms. Hutong – Northern Chinese Restaurant and Bar in The Shard, London. Sushi Tetsu - Traditional Japanese Sushi Bar. Flat Iron Steak. KOYA — Home. HOME | KIRAZU - Japanese Tapas and Takeaway -
Launceston Place - D&D London - Michelin Star Restaurant in Kensington - W8. Andina | Peruvian Kitchen in London | Breakfast | Lunch | Dinner. Duke's Head Highgate | Craft beer, Real Ale. Mayfields | 52 Wilton Way. Portal Restaurant and Bar | 88 St John Street | London | T +44 (0)20 7253 6950. Gallery | Pollen Street Social. Pitt Cue Co. London. Emberyard.co. MerchantsTavern. BEAGLE LONDON. Gremio de Dalston tapas bar to open on Dalston Square. Gremio de Brixton A Spanish-themed tapas bar is to open on Dalston Square courtesy of the owners of the Dogstar Brixton and the White Hart in Stoke Newington.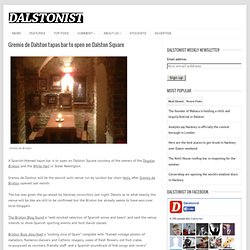 Gremio de Dalston will be the second such venue run by London bar chain Antic after Gremio de Brixton opened last month. The bar was given the go-ahead by Hackney councillors last night. Details as to what exactly the venue will be like are still to be confirmed but the Brixton bar already seems to have won over local bloggers. The Brixton Blog found a "well-stocked selection of Spanish wines and beers" and said the venue intends to show Spanish sporting events and host dance classes.
Home — Peckham Bazaar. Blackfoot • Pork Restaurant • Exmouth Market. White Rabbit Dalston. To reserve a table please use our online booking system.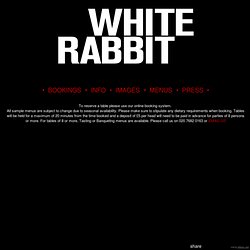 All sample menus are subject to change due to seasonal availability. Please make sure to stipulate any dietary requirements when booking. Tables will be held for a maximum of 20 minutes from the time booked and a deposit of £5 per head will need to be paid in advance for parties of 8 persons or more. For tables of 8 or more, Tasting or Banqueting menus are available. Hoi Polloi at the Ace Hotel | Shoreditch, Clerkenwell | Restaurant Reviews | Hot Dinners. 100 Shoreditch High St, London E1 6JQ Latest critic review: March 02, 2014 The Ace hotels are always huge wherever they open, the New York one has April Bloomfiled in the house, and have a distinct hipsterish/trendy vibe about them.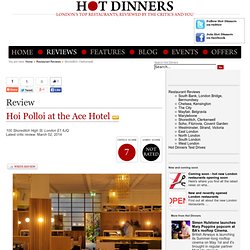 This Shoreditch outpost sees them bringing in the people behind Bistrotheque and Shrimpy's to run the restaurant, which will serve seasonal English food. Reviews Critic Reviews. Mishkins - a kind-of jewish deli with cocktails - 25 Catherine Street, London. WC2B 5JS. Polpo - A Venetian bàcaro in Soho, Covent Garden and Smithfield. Jose Pizarro. Karol the baker produces fresh loaves and manchets daily | Quo Vadis. Food & Drink | Caravan. Mon—Fri 12noon—10.30pm, Sat 5pm—10.30pm Snacks Small Plates Large Plates Sides — All 3.00 Pudding.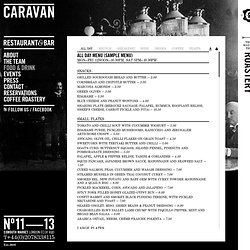 House of Wolf | House of WolfHouse of Wolf | House of Wolf is a multi-functional, multi-sensory pleasure palace, dedicated to the creative pursuits of dining, drinking, art and entertainment. Grain Store - King's Cross, London, UK - Restaurant & Bar from Chef Bruno Loubet & The Zetter. Mes Amis - About. Trangallán - Home. Dabbous - 39 Whitfield Street, London, W1T 2SF. Brawn. Hedone Restaurant Michelin Star 2013.
LARDO Pizzeria, Hackney | 205 Richmond Road. E8 3NJ T: 020 8985 2683. Introduction » Nobu Restaurants. Nobu Berkeley ST is located at 15 Berkeley Street in the heart of Mayfair.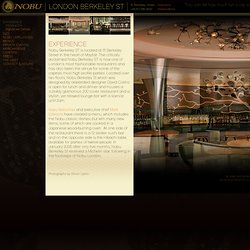 The critically acclaimed Nobu Berkeley ST is now one of London's most fashionable restaurants and has also been the venue for some of the capitals most high profile parties. Located over two floors, Nobu Berkeley St which was designed by celebrated designer David Collins is open for lunch and dinner and houses a suitably glamorous 200 cover restaurant and a stylish, yet relaxed lounge bar with a licence until 2am. Nobu Matsuhisa and executive chef Mark Edwards have created a menu, which includes the Nobu classic dishes, but with many new items, some of which are cooked in a Japanese wood-burning oven. At one side of the restaurant there is a 12 seater sushi bar and on the opposite side is the Hibachi table, available for parties of twelve people.
In January 2006 after only five months, Nobu Berkeley St received a Michelin star, following in the footsteps of Nobu London. Beard To Tail | Meat & Whiskey & Bar & Restaurant. Tramontana Brindisa - Speciality dishes from the Spanish Mediterranean.
---