Spotify Tools
Helps you find new Spotify music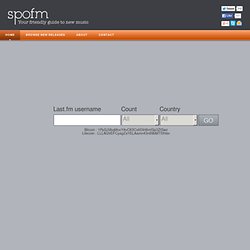 Bitcoin : 1PpSJVbqMocY4vCK3Cs6DiH8mfSp3ZtSwz Litecoin : LLLAQVEFCyagZaYELAamn43n89bMT5fHav Fetching some fresh music for you, this will take some time. Go and hug someone while you wait. Mashup using your last.fm username to fetch new releases added to Spotify. This product uses a SPOTIFY API but is not endorsed, certified or otherwise approved in any way by Spotify.
If you can build it yourself then the code is here: [github.com] Instructions for building for Linux and Windows are in the ReadMe Otherwise I think that we're just going to have to be patient. There won't be a spotify addon for XBMC until it supports binary addons (all are python at the moment). That feature is due in the next release of XBMC (Eden), but that isn't due until sometime around the end of the year.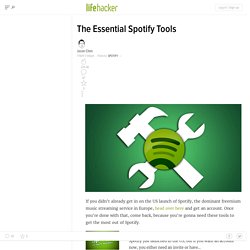 Vote TEED, Gold Panda, Azure Blue, The New Division, We Have Band, The Drums, M83, Miami Horror, Neon Indian, Blackbird Blackbird, Dye, TV on The Radio, Tesla Boy, Thieves Like Us and much more... :) Nice, pleasant and enjoyable music :) read more » Add this link to... Bury Add to: | Bookmarks Jazz musicians performes/improvise on pop, rock, soul and blues melodies, in jazz style.
Spotifylists.com - Playlists for Spotify Lovers by Spotify Lovers / The spotify social playlists sharing site for music lovers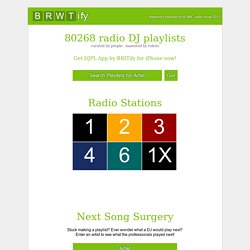 BRITify - Daily Spotify Playlists from Awesome BBC Radio
59571 radio DJ playlists curated by people - mastered by robots Radio Stations Useful
biblify.com - the latest album reviews for new spotify releases
About | Press | API | The Blog | The Directory search » Watch the pitch (5 min).
truShuffle (beta) - Better shuffling for Spotify
Parallels is a worldwide leader in virtualization and automation software that optimizes computing for consumers, businesses, and Cloud services providers across all major hardware, operating systems, and virtualization platforms. For the Cloud, Parallels automation and virtualization software enables cloud services providers to rapidly and profitably deliver the widest range of cloud services that small businesses want and need. Our software includes key building blocks of cloud service delivery - self service control panels, billing, cloud service provisioning and virtualization.