Fun
Best Online Videos | Wimp.com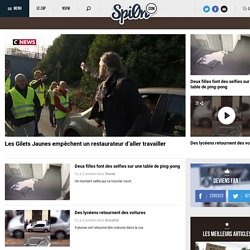 Jaden Newman, prodige du basket à 9 ans Jaden Newman est une basketteuse de 9 ans, surdouée dans cette discipline sportive. Malgré son jeune âge et sa petite taille, elle tient tête à ses adversaires bien plus grandes qu'elle. Elle tourne à 14.8 points et 7.5 passes lors des compétitions. Battle de Twerk entre danseuses Aux États-Unis, un groupe de filles d'un club de danse de twerking font une compétition où elles passent les unes après les autres en train de danser le twerk.
Spi0n.com : L'actualité et l'insolite du web
Pourquoi je pirate ?
10minutesaperdre, Vidéos drôles, Photos amusantes, Liens cool!
GraphJam: Music and Pop Culture in Charts and Graphs. Let us explain them.
theCHIVE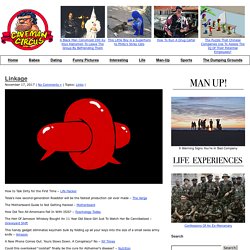 Story Time, Children. Gather Round. April 5, 2014 | 0 Comments | Topics: main | Many years ago, when I was in high school, I worked at a movie theater. Allow me to preface the story by saying that I pride myself on my ability to accomplish tasks that I find unpleasant. My parents own several section 8 rental properties around Youngstown, and I had been roped into innumerable "This house is a mess, we're not paying anyone to clean it, we feed you, here's a bucket, get started" adventures in my short life.
Caveman Circus: The Most Awesome Men's Entertainment Site On The Internet
Odd, Weird, Strange and Bizarre Things From Around The World. Uphaa.com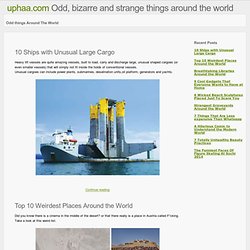 10 Ships with Unusual Large Cargo Heavy lift vessels are quite amazing vessels, built to load, carry and discharge large, unusual shaped cargoes (or even smaller vessels) that will simply not fit inside the holds of conventional vessels. Unusual cargoes can include power plants, submarines, desalination units,oil platform, generators and yachts. Continue reading Top 10 Weirdest Places Around the World
Sites in the glorious Cheezburger family
Scribol
Weird Palace
Do While - Best photos from Art, Life, Misc, Weird, etc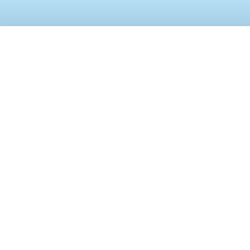 Armed with only an airbrush, Cory Saint Clair rewrote the book on automotive artwork. He has decided not to follow the rules, to escape from cliche and implement a fine art into his line of work. "I would rather punch myself in the face than paint more flames and skulls" he says.
Don't Panic
Mankiller Boot for Prisoners Patented by Warden, J.C Gardner in 1866, the Oregon Boot or Gardner Shackle was manufactured at the Oregon state penitentiary by prisoners. A heavy iron band locked around the ankle and was attached to the heel of the boot by an iron ring. Weighing between 5 and 28 pounds each, the boot was designed as a way of dealing with escape attempts and was fitted to every inmate. When Gardner left the prison, he demanded payment for the use of the design.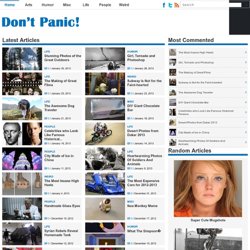 Home
Vie de merde : Vos histoires de la vie quotidienne
Videos humour en streaming
Delirenstock, le site qui a plus d'un gag dans son sac: Videos , images , audios et blagues délires!
Tendances, loisirs et actualité insolite avec Zigonet
A Blog on Oddities: the odd, bizarre and strange things of our world! | Oddee.com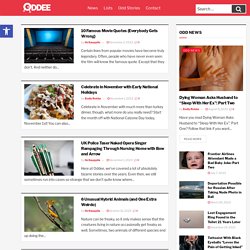 Topics Hot: Facebook NSFW Tattoo Photoshop
Failbook - Funny Facebook Status Messages ( Failbooking )
Epic Fail Funny Videos and Funny Pictures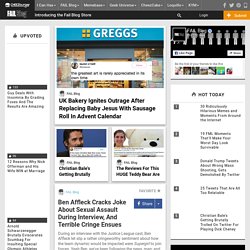 Most Upvoted 293 votes TARDIS App? 76 votes Granbull the Fairy 65 votes
Une carte interactive des pires rappeurs de France ! "La Carte aux Rappeurs" est sans doute la plus belle des façons de terminer la semaine ! Un site complètement WTF qui recense sur une carte... BEAUTY – Les chefs d'oeuvre de la peinture prennent vie dans une vidéo incroyable "BEAUTY", ou quand les chefs d'oeuvre de la peinture prennent vie dans une vidéo magnifique imaginée par le réalisateur italien Rino...
Ufunk.net - Gadgets japonais et Arts insolites
2leep.com: Connecting Bloggers
Topito : le site des petits tops et classements - humour, insolite, utile, et découverte !
Powered by Unruly Media
ALT-TAB.ORG
Vidéos Buzz, Jeux Flash et Images sur Koreus.com
Sur le blog → Commentaires Derniers ajouts
Derniers ajouts DTC