Fun
Best Online Videos | Wimp.com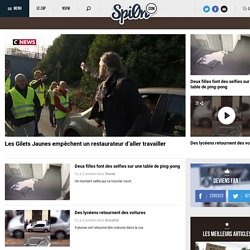 Le Zap de Spi0n.com n°215 Le 215ième Zap du site avec 95 vidéos ! C'est le zapping du web où vous trouverez une compilation de vidéos étonnantes et insolites qui ont circulé cette semaine sur internet. 3 jeunes graffeurs taguent un train en marche En Australie, trois jeunes vandales ont été filmés par un passager, en train de taguer à la bombe de peinture, l'extérieur d'un train Hitachi qui roule à très faible vitesse. Plusieurs passagers ont alors ouvert leur fenêtre pour leur jeter des bouteilles afin de les faire partir.
Spi0n.com : L'actualité et l'insolite du web
Pourquoi je pirate ?
10minutesaperdre, Vidéos drôles, Photos amusantes, Liens cool!
GraphJam: Music and Pop Culture in Charts and Graphs. Let us explain them.
theCHIVE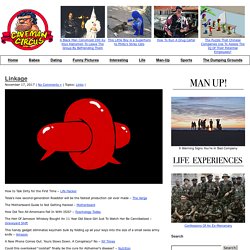 Story Time, Children. Gather Round. April 5, 2014 | 0 Comments | Topics: main | Many years ago, when I was in high school, I worked at a movie theater. Allow me to preface the story by saying that I pride myself on my ability to accomplish tasks that I find unpleasant. My parents own several section 8 rental properties around Youngstown, and I had been roped into innumerable "This house is a mess, we're not paying anyone to clean it, we feed you, here's a bucket, get started" adventures in my short life.
Caveman Circus: The Most Awesome Men's Entertainment Site On The Internet
Odd, Weird, Strange and Bizarre Things From Around The World. Uphaa.com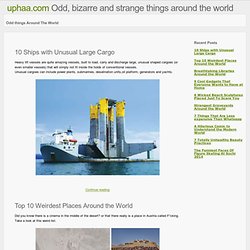 10 Ships with Unusual Large Cargo Heavy lift vessels are quite amazing vessels, built to load, carry and discharge large, unusual shaped cargoes (or even smaller vessels) that will simply not fit inside the holds of conventional vessels. Unusual cargoes can include power plants, submarines, desalination units,oil platform, generators and yachts. Continue reading Top 10 Weirdest Places Around the World
Sites in the glorious Cheezburger family
Scribol
Weird Palace
Do While - Best photos from Art, Life, Misc, Weird, etc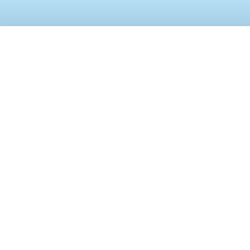 Armed with only an airbrush, Cory Saint Clair rewrote the book on automotive artwork. He has decided not to follow the rules, to escape from cliche and implement a fine art into his line of work. "I would rather punch myself in the face than paint more flames and skulls" he says.
Don't Panic
Mankiller Boot for Prisoners Patented by Warden, J.C Gardner in 1866, the Oregon Boot or Gardner Shackle was manufactured at the Oregon state penitentiary by prisoners. A heavy iron band locked around the ankle and was attached to the heel of the boot by an iron ring. Weighing between 5 and 28 pounds each, the boot was designed as a way of dealing with escape attempts and was fitted to every inmate. When Gardner left the prison, he demanded payment for the use of the design.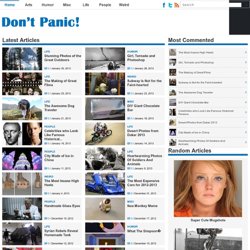 Home
Vie de merde : Vos histoires de la vie quotidienne
Videos humour en streaming
Delirenstock, le site qui a plus d'un gag dans son sac: Videos , images , audios et blagues délires!
Tendances, loisirs et actualité insolite avec Zigonet
A Blog on Oddities: the odd, bizarre and strange things of our world! | Oddee.com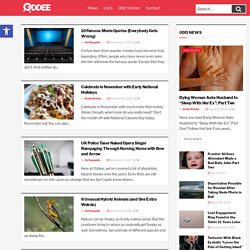 Topics Hot: Facebook NSFW Tattoo Photoshop
Failbook - Funny Facebook Status Messages ( Failbooking )
Epic Fail Funny Videos and Funny Pictures
[62 images] UFUNK – La Sélection du Week End n°84 Comme les oeufs en chocolat cachés au fond du jardin, c'est maintenant l'heure de découvrir la Sélection du Week end n°84 ! Comme chaque... Couchers de Soleil et Miroirs brisés – 13 photographies étonnantes de Bing Wright "Broken Mirror/Evening Sky", une magnifique série du photographe Bing Wright, qui capture les lumières envoutantes des couchers de soleil... Marshmallow Cat – Des sucreries japonaises adorables… Voici les "CafeCat", des marshmallows adorables en formes de petits chatons et de pattes de chat, imaginés par le confiseur japonais Marshmallow... 24 nouveaux portraits vintages de Super Héros Une nouvelle sélection des créations des artistes italiens Marvellini Brothers, basés à Milan, qui réalisent des portraits de super héros et de...
Ufunk.net - Gadgets japonais et Arts insolites
2leep.com: Connecting Bloggers
Topito : le site des petits tops et classements - humour, insolite, utile, et découverte !
Powered by Unruly Media
ALT-TAB.ORG
Vidéos Buzz, Jeux Flash et Images sur Koreus.com
Sur le blog → Commentaires Derniers ajouts
Derniers ajouts DTC