Movies
Alice in Wonderland is a 1951 American animated fantasy comedy-adventure film produced by Walt Disney Productions and based primarily on Lewis Carroll's Alice's Adventures in Wonderland with a few additional elements from Through the Looking-Glass. The 13th in the Walt Disney Animated Classics series, the film was released in New York City and London on July 26, 1951.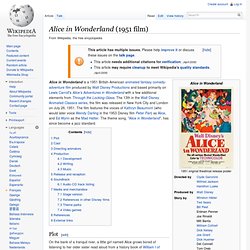 Alice in Wonderland (1951 film) - Wikipedia, the free encycloped
After more than two decades as a prolific director of short films, Alice became Švankmajer's first venture into feature-length filmmaking.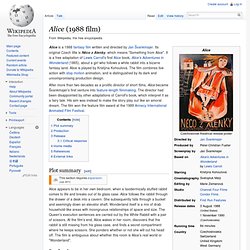 Alice (1988 film)
Jan Švankmajer (Czech: [ˈjan ˈʃvaŋkmajɛr]; born 4 September 1934) is a Czech filmmaker and artist whose work spans several media. He is a self-labeled surrealist known for his surreal animations and features, which have greatly influenced other artists such as Terry Gilliam, the Brothers Quay, and many others.[1]
Jan Švankmajer
Coraline is a 2009 American stop-motion 3D fantasy film based on Neil Gaiman's 2002 novel of the same name.
Coraline (film)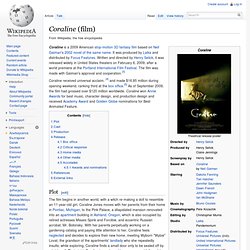 Alice in Wonderland is an American live action/computer-animated fantasy film[5] directed by Tim Burton and written by Linda Woolverton. Released by Walt Disney Pictures, the film stars Mia Wasikowska as Alice Kingsleigh with Johnny Depp, Anne Hathaway and Helena Bonham Carter. The film was shot in the United Kingdom and the United States.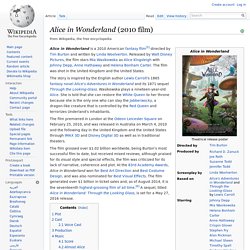 Alice in Wonderland (2010 film) - Wikipedia, the free encycloped