Movies
Alice in Wonderland is a 1951 American animated fantasy comedy-adventure film produced by Walt Disney Productions and based primarily on Lewis Carroll's Alice's Adventures in Wonderland with a few additional elements from Through the Looking-Glass. The 13th in the Walt Disney Animated Classics series, the film was released in New York City and London on July 26, 1951. The film features the voices of Kathryn Beaumont (who would later voice Wendy Darling in the 1953 Disney film Peter Pan) as Alice, and Ed Wynn as the Mad Hatter. The theme song, "Alice in Wonderland", has since become a jazz standard. Plot[edit] On the bank of a tranquil river, a girl called Alice grows bored of listening to her older sister read aloud from a history book of William I of England.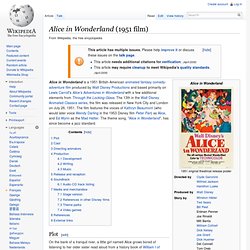 Alice in Wonderland (1951 film) - Wikipedia, the free encycloped
After more than two decades as a prolific director of short films, Alice became Švankmajer's first venture into feature-length filmmaking. The director had been disappointed by other adaptations of Carroll's book, which interpret it as a fairy tale. His aim was instead to make the story play out like an amoral dream. The film won the feature film award at the 1989 Annecy International Animated Film Festival. Alice appears to be in her own bedroom, when a taxidermically stuffed rabbit comes to life and breaks out of its glass case.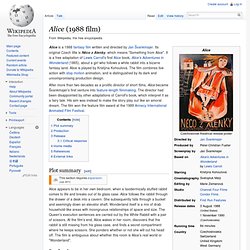 Alice (1988 film)
Jan Švankmajer (Czech: [ˈjan ˈʃvaŋkmajɛr]; born 4 September 1934) is a Czech filmmaker and artist whose work spans several media. He is a self-labeled surrealist known for his surreal animations and features, which have greatly influenced other artists such as Terry Gilliam, the Brothers Quay, and many others.[1] Life and career[edit] Jan Švankmajer was born in Prague. An early influence on his later artistic development was a puppet theatre he was given for Christmas as a child. He studied at the College of Applied Arts in Prague and later in the Department of Puppetry at the Prague Academy of Performing Arts.
Jan Švankmajer
Coraline received universal acclaim. [4] and made $16.85 million during opening weekend, ranking third at the box office.[5] As of September 2009, the film had grossed over $120 million worldwide. Coraline won Annie Awards for best music, character design, and production design and received Academy Award and Golden Globe nominations for Best Animated Feature. Despite warnings of possible danger from her neighbors, Coraline continues to venture to the Other World at night to escape the doldrums of her real life, and is entertained by button-eyed "Other" versions of her neighbors, including a mute Other Wybie, a fun Mr.Bobinsky who runs a mouse circus and young Miss Spink and Miss Forcible who are great actresses. Back in the real world, while shopping for school clothes, Coraline asks her mom for mittens, only to be rejected. Angry with her mom, Coraline returns to the Other World.
Coraline (film)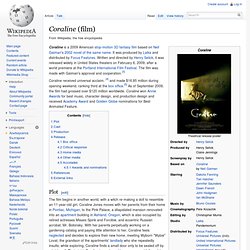 Alice in Wonderland is an American live action/computer-animated fantasy film[5] directed by Tim Burton and written by Linda Woolverton. Released by Walt Disney Pictures, the film stars Mia Wasikowska as Alice Kingsleigh with Johnny Depp, Anne Hathaway and Helena Bonham Carter. The film was shot in the United Kingdom and the United States.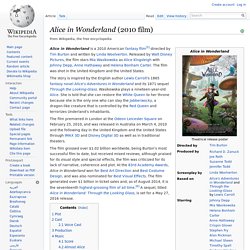 Alice in Wonderland (2010 film) - Wikipedia, the free encycloped