Movies
Alice in Wonderland (1951 film) - Wikipedia, the free encycloped. The Cheshire Cat appears again and pulls a trick on the Queen which she accuses Alice of doing, and Alice is put on trial.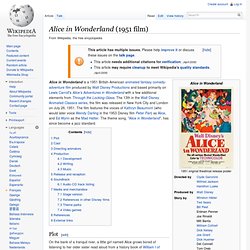 Just then, she remembers that she still has the remains of the Caterpillar's mushroom. She eats it and grows to an enormous height which the King claims is forbidden in court. Now a gigantic size, Alice feels free to speak her mind and in doing so she openly insults the Queen. However, she had hastily eaten both sides of the mushroom and shrinks to her normal size. She is forced to flee after the Queen orders her execution. Alice (1988 film) After more than two decades as a prolific director of short films, Alice became Švankmajer's first venture into feature-length filmmaking.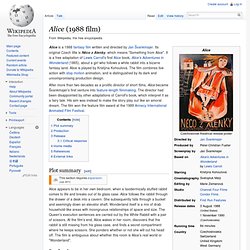 The director had been disappointed by other adaptations of Carroll's book, which interpret it as a fairy tale. His aim was instead to make the story play out like an amoral dream. The film won the feature film award at the 1989 Annecy International Animated Film Festival. Alice appears to be in her own bedroom, when a taxidermically stuffed rabbit comes to life and breaks out of its glass case. Jan Švankmajer. Jan Švankmajer (Czech: [ˈjan ˈʃvaŋkmajɛr]; born 4 September 1934) is a Czech filmmaker and artist whose work spans several media.
He is a self-labeled surrealist known for his surreal animations and features, which have greatly influenced other artists such as Terry Gilliam, the Brothers Quay, and many others.[1] Life and career[edit] Jan Švankmajer was born in Prague. An early influence on his later artistic development was a puppet theatre he was given for Christmas as a child. He studied at the College of Applied Arts in Prague and later in the Department of Puppetry at the Prague Academy of Performing Arts.
Coraline (film) Coraline received universal acclaim. [4] and made $16.85 million during opening weekend, ranking third at the box office.[5] As of September 2009, the film had grossed over $120 million worldwide.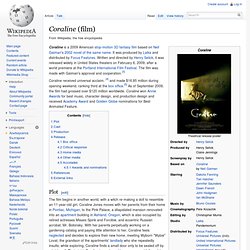 Coraline won Annie Awards for best music, character design, and production design and received Academy Award and Golden Globe nominations for Best Animated Feature. Despite warnings of possible danger from her neighbors, Coraline continues to venture to the Other World at night to escape the doldrums of her real life, and is entertained by button-eyed "Other" versions of her neighbors, including a mute Other Wybie, a fun Mr.Bobinsky who runs a mouse circus and young Miss Spink and Miss Forcible who are great actresses.
Back in the real world, while shopping for school clothes, Coraline asks her mom for mittens, only to be rejected. Angry with her mom, Coraline returns to the Other World. Alice in Wonderland (2010 film) - Wikipedia, the free encycloped. The film premiered in London at the Odeon Leicester Square on February 25, 2010, and was released in Australia on March 4, 2010 and the following day in the United Kingdom and the United States through IMAX 3D and Disney Digital 3D as well as in traditional theaters.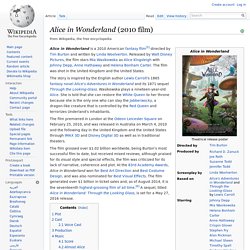 Despite its short theatrical release window and mixed reviews, the film grossed over $1.02 billion worldwide. At the 83rd Academy Awards, Alice in Wonderland won for Best Art Direction and Best Costume Design, and was also nominated for Best Visual Effects.
---