Movies
Alice in Wonderland is a 1951 American animated feature produced by Walt Disney Productions and based primarily on Lewis Carroll 's Alice's Adventures in Wonderland with a few additional elements from Through the Looking-Glass . The 13th in the Walt Disney Animated Classics series , the film was released in New York City and London on July 26, 1951.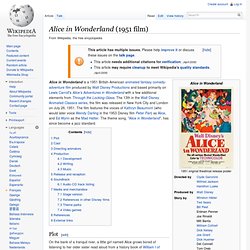 Alice in Wonderland (1951 film) - Wikipedia, the free encycloped
Alice is a 1988 fantasy written and directed by Jan Švankmajer .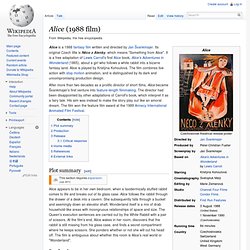 Alice (1988 film)
Jan Švankmajer ( Czech: [ˈjan ˈʃvaŋkmajɛr] ; born 4 September 1934) is a Czech filmmaker and artist whose work spans several media. He is a self-labeled surrealist known for his surreal animations and features, which have greatly influenced other artists such as Terry Gilliam , the Brothers Quay , and many others. [ 1 ]
Jan Švankmajer
Coraline is a 2009 British-American stop-motion 3D horror / fantasy film based on Neil Gaiman 's 2002 novel of the same name .
Coraline (film)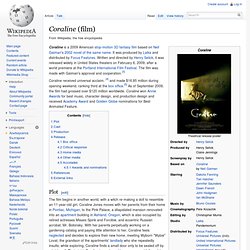 Alice in Wonderland is a 2010 American computer-animated and live action fantasy film [ 5 ] directed by Tim Burton , written by Linda Woolverton , and released by Walt Disney Pictures . The film stars Mia Wasikowska as Alice Kingsleigh , as well as Johnny Depp , Anne Hathaway , and Helena Bonham Carter . The film was shot in the UK and the US.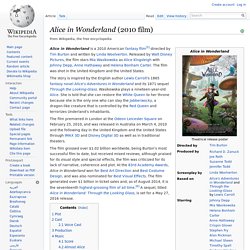 Alice in Wonderland (2010 film) - Wikipedia, the free encycloped