Cherry73
Cherry
A nice woman .
The True Love Tarot: Secrets of Dating, Mating and Relating (9780312337568): Monte Farber, Amy Zerner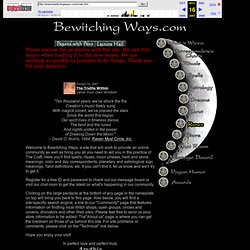 Welcome to Bewitching Ways
October 10, 2007 The Truths Within Value Your Own Wisdom "Ten thousand years, we've struck the fire Creation's music freely sung With magick joined, we've praised the stars Since the world first begun. Our spirit lives in timeless dance, The tarot and the runes And nights united in the power of Drawing Down the Moon." -- David O.
ciromarchetti
Inspirational Messages, Poems, Stories, Humor, Quotes, Cartoons