Oklahoma
Oklahoma City Bombing | NewsOK.com. Oklahoma City Bombing Families Believe FBI Knew; Evans-Pritchard. In his new book The Secret Life of Bill Clinton: The Unreported Stories, just published by Regnery, renowned investigative reported Ambrose Evans-Pritchard alleges massive corruption and cover-ups in the Clinton Administration in connection with many incidents, including the death of Vincent Foster, drug dealing in Arkansas, and the Paula Jones case.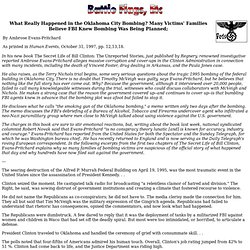 He also raises, as the Terry Nichols trial begins, some very serious questions about the tragic 1995 bombing of the federal building in Oklahoma City. There is no doubt that Timothy McVeigh was guilty, says Evans-Pritchard, but he believes that nothing like the full story has ever come out. Why? Because the government, although it interviewed over 20,000 people, failed to call many knowledgeable witnesses during the trial, witnesses who could discuss collaborators with McVeigh and Nichols.
A Noble Lie: Oklahoma City 1995 (2011. Edit Storyline The 1995 bombing in Oklahoma City was a direct blow to the heart of America. 168 people were killed, including nineteen children.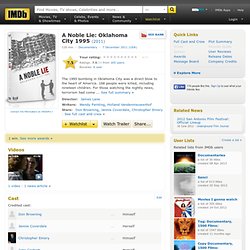 For those watching the nightly news, terrorism had come home. For years following the bombing, countless victims' family members, survivors, rescuers, and ordinary Americans, have questioned the official accounts about that fateful day. Hoping to shed light on answers long ignored and censored, both by prominent media outlets and the U.S. government, A Noble Lie peels back what we thought we knew about the bombing and it's perpetrators. Oklahoma City bombing. The Oklahoma City bombing was a domestic terrorist bomb attack on the Alfred P.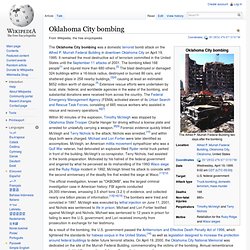 Murrah Federal Building in downtown Oklahoma City on April 19, 1995. It remained the most destructive act of terrorism committed in the United States until the September 11 attacks of 2001. Noble lie. Plato's Republic[edit] Plato presented the Noble Lie (γενναῖον ψεῦδος, gennaion pseudos) in a fictional tale, wherein Socrates provides the origin of the three social classes who compose the republic proposed by Plato; Socrates speaks of a socially stratified society, wherein the populace are told "a sort of Phoenician tale": . . . the earth, as being their mother, delivered them, and now, as if their land were their mother and their nurse, they ought to take thought for her and defend her against any attack, and regard the other citizens as their brothers and children of the self-same earth. . .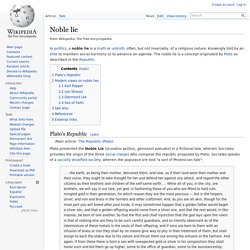 Holland Vandennieuwenhof & James Lane - Hour 1 - A Noble Lie: Oklahoma City 1995.
---