Objectivity in Journalism
Objectivity in Journalism has been lost over recent years. Objectivity is so important in Journalism. Dec 10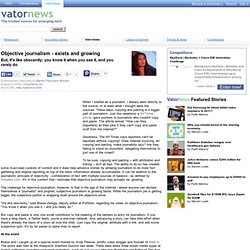 Objective journalism - exists and growing
When I started as a journalist, I always went directly to the source, or at least what I thought were the sources. These days, copying and pasting is a bigger part of journalism. Just this weekend, a NYTimes article, gave pointers to journalists who couldn't copy and paste. The article asked: "How can they [reporters] do their jobs if they can't copy and paste stuff from the Internet?"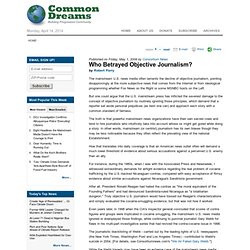 The mainstream U.S. news media often laments the decline of objective journalism, pointing disapprovingly at the more subjective news that comes from the Internet or from ideological programming whether Fox News on the Right or some MSNBC hosts on the Left. But one could argue that the U.S. mainstream press has inflicted the severest damage to the concept of objective journalism by routinely ignoring those principles, which demand that a reporter set aside personal prejudices (as best one can) and approach each story with a common standard of fairness. The truth is that powerful mainstream news organizations have their own sacred cows and tend to hire journalists who intuitively take into account whose ox might get gored while doing a story. In other words, mainstream (or centrist) journalism has its own biases though they may be less noticeable because they often reflect the prevailing view of the national Establishment.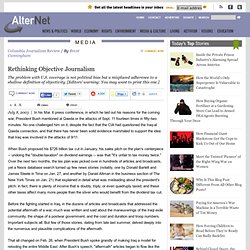 July 8, 2003 | Like this article?
Mental Blabberings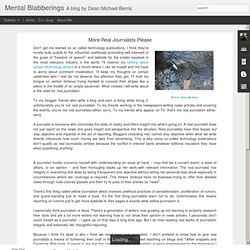 Don't get me started on so called technology publications. I think they're mostly bully pulpits to the influential unethically promoting self interests in the guise of "freedom of speech" and tabloids for the insider baseball in the most nebulous industry in the world. I'll reserve my ranting about certain technology writers to a forum where I can be myself and not have to worry about comment moderation.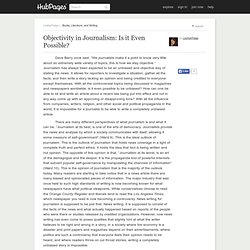 Dave Barry once said, "We journalists make it a point to know very little about an extremely wide variety of topics; this is how we stay objective." Journalism has always been expected to be an unbiased and objective way of stating the news. It allows for reporters to investigate a situation, gather all the facts, and then write a story lacking an opinion and being credited to everyone except themselves. With all the controversial topics being discussed in magazines and newspapers worldwide, is it even possible to be unbiased? How can one be able to sit and write an article about a recent law being put into effect and not in any way come up with an approving or disapproving tone?
Objectivity in Journalism: Is it Even Possible?
Should journalists convey emotion when covering crisis events?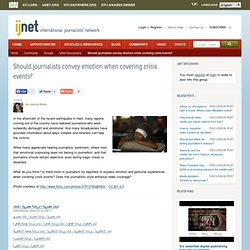 In the aftermath of the recent earthquake in Haiti, many reports coming out of the country have featured journalists who were outwardly distraught and emotional. And many broadcasters have provided information about ways viewers and listeners can help the victims. While many appreciate hearing journalists' sentiment, others hold that emotional outpouring does not belong in journalism, and that journalists should remain objective, even during tragic crises or disasters. What do you think?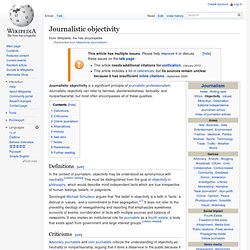 "Journalistic objectivity" redirects here. Parent article: Journalism ethics and standards Objectivity is a significant principle of journalistic professionalism . Journalistic objectivity can refer to fairness , disinterestedness , factuality , and nonpartisanship , but most often encompasses all of these qualities.
The Handbook of Global Communication ... - Robert S. Fortner, P. Mark Fackler
What the Spot.Us Community Thinks of Objectivity | Spot Us - "Community Funded Reporting"
Chapter 57: Fairness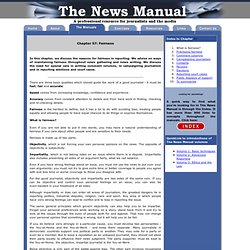 In this chapter, we discuss the reasons for fairness in reporting. We advise on ways of maintaining fairness throughout news gathering and news writing. We discuss the need for special care in writing comment columns, in campaigning journalism and in reporting elections and court cases. There are three basic qualities which should guide the work of a good journalist - it must be fast , fair and accurate : Speed comes from increasing knowledge, confidence and experience.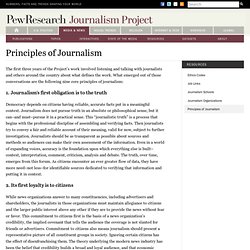 In 1997, an organization then administered by PEJ, the Committee of Concerned Journalists, began a national conversation among citizens and news people to identify and clarify the principles that underlie journalism. After four years of research, including 20 public forums around the country, a reading of journalism history, a national survey of journalists, and more, the group released a Statement of Shared Purpose that identified nine principles. These became the basis for The Elements of Journalism, the book by PEJ Director Tom Rosenstiel and CCJ Chairman and PEJ Senior Counselor Bill Kovach. Here are those principles, as outlined in the original Statement of Shared Purpose. A Statement of Purpose After extended examination by journalists themselves of the character of journalism at the end of the twentieth century, we offer this common understanding of what defines our work.
You hear it all the time – reporters should be objective and fair. Some news organizations even use these terms in their slogans, claimed that they are more "fair and balanced" than their competitors. But what is objectivity, and what does it mean to be fair and balanced? Objectivity