Wedding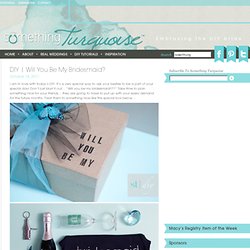 I am in love with today's DIY. It's a very special way to ask your besties to be a part of your special day! Don't just blurt it out… "Will you be my bridesmaid!!??"
San Diego Wedding by Le Chic Wedding Consulting
Location Categories Tags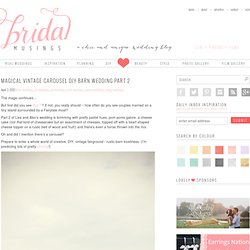 The magic continues… But first did you see Part 1? If not, you really should ~ how often do you see couples married on a tiny island surrounded by a Fairytale moat? Part 2 of Lisa and Alex's wedding is brimming with pretty pastel hues, pom poms galore, a cheese cake (not that kind of cheesecake but an assortment of cheeses, topped off with a heart shaped cheese topper on a rustic bed of wood and fruit!)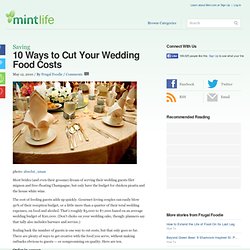 photo: absolut_xman Most brides (and even their grooms) dream of serving their wedding guests filet mignon and free-floating Champagne, but only have the budget for chicken picatta and the house white wine.
10 Ways to Cut Your Wedding Food Costs
Talk about making a statement from floor to ceiling… While a ceiling may not be the first thing in your wedding décor list, it presents a unique blank canvas for you to transform. Like the rest of your venue it can be customized to suit your wedding. Hanging decorations can add light or simply be that perfect addition to create the ambiance you are hoping for.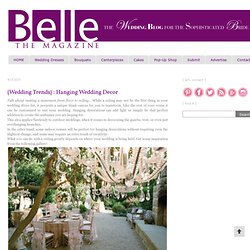 I feel like I'm a little late in joining the rustic chic party but hey better late than never right? In celebration of my latest project in the works which I shared a bit with you here, I thought I'd give these twine-wrapped mason jars a try. After all I certainly love wrapping and gluing anything I can around vases. This project was so easy peasy that you too can create your own with whatever kind of jar, twine and ribbon you want to use. The supplies are few as all you need is some glue (either crazy glue or you can use a glue gun), ribbon, mason jars, flowers and of course, lots and lots of the good stuff. Also known as twine.
DIY Twine-Wrapped Mason Jars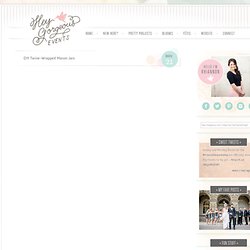 Ok, mason lovers!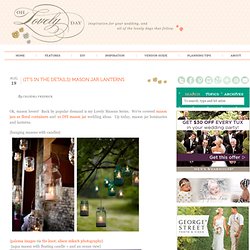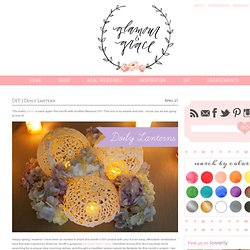 The lovely Sarah is back again this month with another fabulous DIY! This one is so simple and chic, I know you all are going to love it! Happy spring, readers! I have been so excited to share this month's DIY project with you!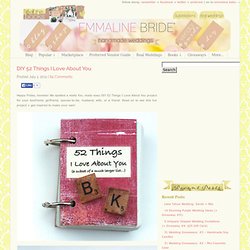 Posted July 1, 2011 | ♥ 74 Comments Happy Friday, lovelies! We spotted a really fun, reallllly easy DIY 52 Things I Love About You project for your spouse-to-be.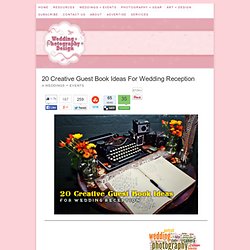 Stay Updated to the Latest Blog Post!SUBSCRIBE NOW FOR FREE! Wedding guest books are invariably a terrific way to perhaps recall the special time you had with your guests at your wedding. It's the first things about the wedding celebration your guest would probably see and give you a brief remark that you will appreciate everyday for a long time to come. Think about matching the theme of the guest book with the total theme of the wedding event.
Lisa + Drew's Outdoor Real Wedding with Thiebaud Cake
You're going to love today's DIY project so much that you're going to want to start tearing pages out from old books tonight! Remember the storybook roses in Shanna + Richard's wedding? Sweet, right? Floral designer, Cathy Brim of Bloom Floral Design created the elegant branch bouquets seen in their ceremony using Valerie Lloyd's paper roses design, and now we're jumping-out-of-the-pages excited that Valerie is sharing her DIY secrets with you! Craft Supplies:Paper Grosgrain Ribbon, ½ Width cut to 4 inch lengths 16 Gauge Wire cut to 15 inch lengths Glue Gun Glue Sticks (low temp) Scissors Wire Cutters
According to TheWeddingReport.com, 'Rustic Weddings' are the new trending wedding theme! It seems that brides-to-be are in love with the charm, vintage feel and simple elegance of barn yard venues and wildflower bouquets that embody this theme. Think natural elements mixed with a western vibe and bring that all together with fun DIY crafting sessions.