writing
Get flash to fully experience Pearltrees
Nothing defines a culture as distinctly as its language, and the element of language that best encapsulates a society's values and beliefs is its proverbs. The graphic to the right shows the words that are used in English proverbs, with the size of each word indicating how often it occurs ( click for a bigger image ). It's interesting to note that the two most common words in English proverbs are 'good' and 'never'.
Young King Arthur was ambushed and imprisoned by the monarch of a neighboring kingdom. The monarch could have killed him but was moved by Arthur's youth and ideals.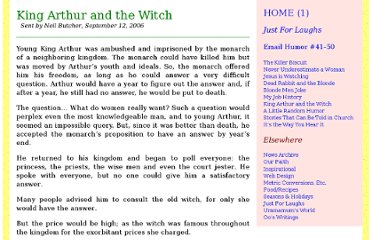 Internet Anagram Server in News: New York Times Sydney Morning Herald Globe and Mail Jerusalem Post D id you know that parliament is an anagram of partial men ? Or, Clint Eastwood an anagram of Old West Action ? Someone once said, "All the life's wisdom can be found in anagrams. Anagrams never lie." Here is your chance to discover the wisdom of anagrams.
English 50 – Intro to Creative Writing: Exercises for Story Writers More Exercises: Write the first 250 words of a short story, but write them in ONE SENTENCE. Make sure that the sentence is grammatically correct and punctuated correctly. This exercise is intended to increase your powers in sentence writing. Write a dramatic scene between two people in which each has a secret and neither of them reveals the secret to the other OR TO THE READER.
There are "Law & Order" addicts everywhere who think they could get a perp to confess. A little glaring, some getting in the guy's face, a revelation that his fingerprints are all over the murder weapon and voilà! He's recounting his crime. In real life, police interrogation requires more than confidence and creativity (although those qualities do help) -- interrogators are highly trained in the psychological tactics of social influence. Getting someone to confess to a crime is not a simple task, and the fact that detectives sometimes end up with confessions from the innocent testifies to their expertise in psychological manipulation. No two interrogations are alike, but most exploit certain weaknesses in human nature.