#NewhouseSM6
Google Chrome: Lady Gaga. Niche Social Networks Deliver Big Results. This post originally appeared on the American Express OPEN Forum, where Mashable regularly contributes articles about leveraging social media and technology in small business.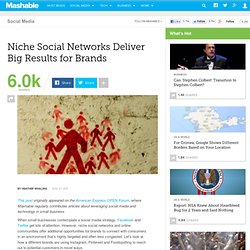 When small businesses contemplate a social media strategy, Facebook and Twitter get lots of attention. However, niche social networks and online communities offer additional opportunities for brands to connect with consumers in an environment that's highly targeted and often less congested. Let's look at how a different brands are using Instagram, Pinterest and Foodspotting to reach out to potential customers in novel ways. 1.
How to Hold a Google+ Hangout and Why You Should. As Google's latest foray into social media, Google+ has brought some new tools to the digital table.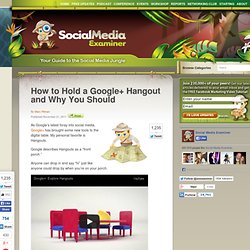 My personal favorite is Hangouts. Google describes Hangouts as a "front porch." Anyone can drop in and say "hi" just like anyone could drop by when you're on your porch. The 1% pro bono design program of Public Architecture - Home. Chelsea @ #NewhouseSM6. San Francisco's Alternative Online Daily News » Occupy Movement Enlists New Activists for Social Change Struggles. I visited Occupy Wall Street last week.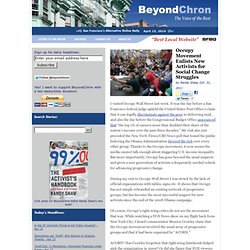 It was the day before a San Francisco federal judge upheld the United States Post Office's claim that it can legally discriminate against the poor in delivering mail, and also the day before the Congressional Budget Office announced that "the top 1% of earners more than doubled their share of the nation's income over the past three decades." My visit also just preceded the New York Times/CBS News poll that found the public believing the Obama Administration favored the rich over every other group. Thanks to the Occupy movement, it now seems the media cannot talk enough about staggering U.S. income inequality. But more importantly, Occupy has gone beyond the usual suspects and given a new generation of activists a desperately needed vehicle for advancing progressive change.
NBA Lockout Forces Fans to Tweet Weird Sports Reactions. The latest NBA lockout news is definitely hopeful.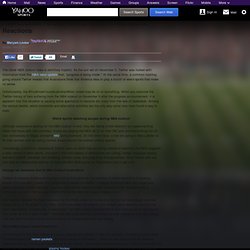 As the sun set on November 5, Twitter was rocked with information from the NBA labor update that, "progress is being made. " At the same time, a common hashtag going around Twitter reveals that Australians think that America likes to play a bunch of weird sports that make no sense. Unfortunately, the #YouKnowYoureAustralianWhen crowd may be on to something. When you examine the Twitter history of fans suffering from the NBA lockout on November 5 after the progress announcement, it is apparent that this situation is causing some spectators to become stir crazy from the lack of basketball.
Among the various tweets, weird comments and alternative activities are the only way some fans have found a way to cope. Social Media Users In Love: Romance Update [INFOGRAPHIC] How do you meet people you'd like to get to know better?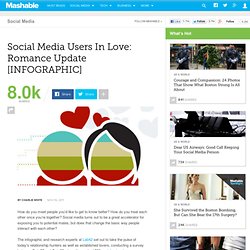 How do you treat each other once you're together? Social media turns out to be a great accelerator for exposing you to potential mates, but does that change the basic way people interact with each other? Here's why all Twitter users should tweet with accountability and without the delete button. I recently had a very short conversation with a very well known journalist on Twitter.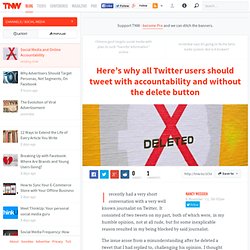 It consisted of two tweets on my part, both of which were, in my humble opinion, not at all rude, but for some inexplicable reason resulted in my being blocked by said journalist. The issue arose from a misunderstanding after he deleted a tweet that I had replied to, challenging his opinion. I thought that he had deleted it because he was embarrassed by the idea that it conveyed, and the fact that the idea was now associated with his very public persona. I took a screenshot of his deleted tweet and posted it in my reply to him, only to have him respond to me saying that he deletes all of his replies, that clearly I can't read, and that I would promptly be blocked. True to his word, I found that I was no longer following him, and that he had indeed blocked me. Chelseaaures. Is Mark Zuckerberg's New Puppy The Most Popular Pet With A Facebook Page? It's rather humiliating when you find that a puppy has more fans on its Facebook page than you do.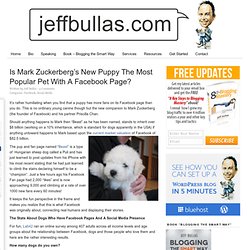 This is no ordinary young canine though but the new companion to Mark Zuckerberg (the founder of Facebook) and his partner Priscilla Chan. Should anything happens to Mark then "Beast" as he has been named, stands to inherit over $8 billion (working on a 10% inheritance, which is standard for dogs apparently in the USA) if anything untoward happens to Mark based upon the current market valuation of Facebook of $82.5 billion. Learn More | www.onedaywithoutshoes.com. What Google+ Brand Pages Could Look Like [PICS]
A few weeks ago, Mashable contacted some ad agencies and asked them to imagine how brand pages on could change in light of that platform's planned redesign.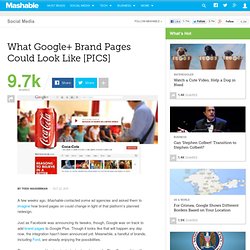 Just as Facebook was announcing its tweaks, though, Google was on track to add brand pages to Google Plus. Though it looks like that will happen any day now, the integration hasn't been announced yet. Meanwhile, a handful of brands, including Ford, are already enjoying the possibilities. There are several barriers to designing brand pages for Plus. Pinterest stands out in crowded social media field. It's bad for a tech startup when the founder wakes up to a barrage of emails saying the website crashed, or some part of it is broken.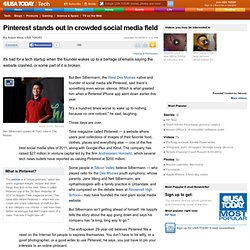 But Ben Silbermann, the West Des Moines native and founder of social media site Pinterest, said there's something even worse: silence. Which is what greeted him when a Pinterest iPhone app went down earlier this year. "It's a hundred times worse to wake up to nothing, because no one noticed," he said, laughing. Those days are over. Feedly. feed your mind. Syracuse University posts on Twitter more than any other college [Infographic] Best Education Sites screenshotBest Education Sites singled out Syracuse University as the most heavy Twitter user.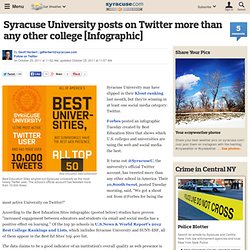 The school's official account has tweeted more than 10,000 times. Syracuse University may have slipped in their Klout ranking last month, but they're winning in at least one social media category: Twitter. Forbes posted an infographic Tuesday created by Best Education Sites that shows which U.S. colleges and universities are using the web and social media the best. Facebook Friend Count Linked to Brain Structure [STUDY] All those hours you spend on Facebook may be adding grey matter, signifying greater density, to the part of your brain linked to social skills.
Or, perhaps, people with larger areas of the brain for social skills may just have higher than average Facebook friend counts. That's the chicken-and-egg problem researchers at University College London are grappling with after finding a connection between brain structure and Facebook activity. The study, published in Proceedings of the Royal Society B, was based on MRIs of a group of 165 adults who were asked to report the number of Facebook friends they have.
(The study doesn't delineate what is considered "high," though it refers to Dunbar's Number, which postulates 150 friends is the limit of the average person's social circle.) LinkedIn Launches "Classmates" for Alumni Networking. LinkedIn has launched Classmates, a professional networking tool that gives college graduates a high-level look at where their fellow alumni work and live, and what they do. Classmates is designed to help LinkedIn users make and renew professional connections based on their college and university affiliations. The interactive graphs atop Classmates provide a top-level view of what your fellow alumni are up to. You can click on any of the blue bars to drill down and get a more intimate look at a particular subsection of an alumni group. Twitgoo. NFL Next 10 | NFL symposium. Twitgoo.
13 Ways for Bloggers to Make Money with Advertising. Trends: Social Media Advertising. Study shows how we've been sharing content for the last 5 years. Introducing a 10,000 square foot QR code - The world's biggest. Linked Influence. Pearltrees.
Resources. Classmates. Inspiring & Funny Interview With Comedian / Actor Dane Cook on Storytelling & Social Media In AtGoogleTalks.
---