Classmates
Brian Moritz (bpmoritz) Brian Moritz (brianmoritz. What they told me: Newspapers are dying.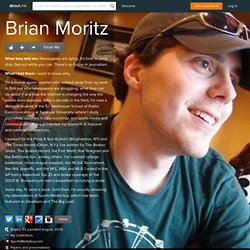 It's time to jump ship. Get out while you can. There's no future in journalism. Laura Miley (@LCMiley) sur Twitter. A Creative Mind. Twitter. MaloryAnne. Lately.
And because Facebook won't let me post any photos. Posted on 24 March, 2014Reblogged from pitchfork 52reasonswhyilivehere: Reason #10: Chances to play basketball in shorts and a tank top in the middle of February. Twitter. Twitter. Twitter. Kiersten Wing (KierstenWing)
Ammy Sriyunyongwat (ammysri) Twitter. Twitter. Grace Marie Johnson. My first attempt at TweetChat could probably be compared to my first day here at Newhouse: scary and overwhelming.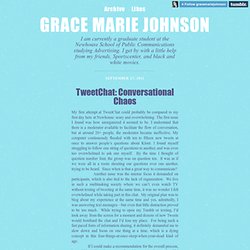 The first issue I found was how unorganized it seemed to be. I understand that there is a moderator available to facilitate the flow of conversation, but at around 20+ people, the moderator became ineffective. My computer continuously flooded with ten to fifteen new tweets at once to answer people's questions about Klout. I found myself struggling to follow one string of questions to another, and was even too overwhelmed to ask one myself. Qianxing Lu (qlu_online) Dee Cater (deecater) Lynessa Williams (lynessamarie)
Lynessamarie. Twitter. Twitter.
---