Dexter general info
Dexter. Dexter: Morning Routine. Dexter on TV.com. Important: You must only upload images which you have created yourself or that you are expressly authorised or licensed to upload.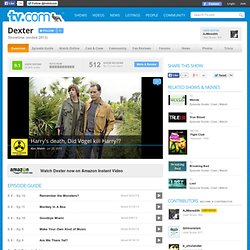 By clicking "Publish", you are confirming that the image fully complies with TV.com's Terms of Use and that you own all rights to the image or have authorization to upload it. Please read the following before uploading Do not upload anything which you do not own or are fully licensed to upload. The images should not contain any sexually explicit content, race hatred material or other offensive symbols or images. Remember: Abuse of the TV.com image system may result in you being banned from uploading images or from the entire site – so, play nice and respect the rules!
Dexter (TV Series 2006–  Edit Storyline Meet Dexter Morgan.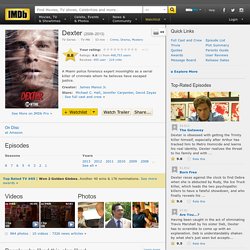 By day he's a blood spatter pattern expert for the Miami Metro police department. But by night - he takes on an entirely different persona: serial killer. Watch Dexter on Showtime: New Season, Episodes, Schedules, Mobile Apps. He's smart, he's good looking, and he's got a great sense of humor.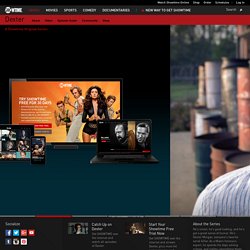 He's Dexter Morgan, everyone's favorite serial killer. As a Miami forensics expert, he spends his days solving crimes, and nights committing them. Dexter (TV series) In April 2013, Showtime announced that Season Eight would be the final season of Dexter.[4] The Season Eight premiere was the most watched Dexter episode with more than 3 million viewers total for all airings that night.[5] The original broadcast of the series finale — shown at 9 p.m. on September 22, 2013 — drew 2.8 million viewers, the largest overall audience in Showtime's history.[6] Orphaned at the age of three and harboring a traumatic secret, Dexter (Michael C.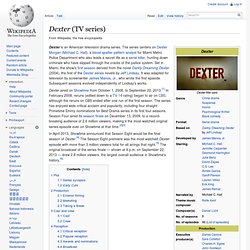 Hall) was adopted by Miami policeman, Harry Morgan (James Remar), who recognized his homicidal tendencies and taught him to channel his gruesome passion for human dissection in a "constructive" way — by killing only heinous criminals (such as child molesters, mob assassins, and serial killers of the innocent) who have slipped through the justice system.
---