Cool links & news
True Blood Season 5 Preview. True Blood Season 5 Character Posters: Look Who's Included... The last teaser released for the upcoming fifth season of True Blood gave us our first look of former Law & Order star Chris Meloni with fangs.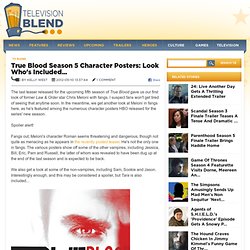 I suspect fans won't get tired of seeing that anytime soon. In the meantime, we get another look at Meloni in fangs here, as he's featured among the numerous character posters HBO released for the series' new season. Spoiler alert! Fangs out, Meloni's character Roman seems threatening and dangerous, though not quite as menacing as he appears in the recently posted teaser. Video - Breaking News Videos. Lunar eclipse in 45 sec Drug cartels show force on social media Israel launches spy satellite Bubba Watson wins the Masters again Prosecution of Oscar Pistorius continues Boston: Running to heal heartache Is that a cricket bat or gunshot?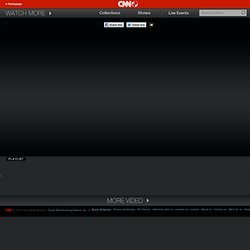 Reeva's last words to Oscar: I love you Pistorius cross-examination highlights Pistorius cross-examination continues Pistorius: 'I did not fire at Reeva' Pistorius grilled on Day 5 of trial Social media reacts to Pistorius trial Phillip de Wet on Oscar Pistorius trial Pistorius cross examination gets combative Prosecutor to Pistorius: You scared Reeva Prosecutor to Pistorius: You're lying Pistorius has hostile cross-examination Drone sub searches for Flight MH370 Sonar sub's first search cut short How low was Flight 370 flying?
Co-pilot's cell signal reached tower AUV aborted mission, returns early Search for MH370 goes underwater Search area tightens to smallest yet Flight 370 families hold on to hope Could the debris from MH370 have sunk? 'True Blood's' Rutina Wesley talks Sunday's shocking finale. Rutina Wesley plays Tara on "True Blood.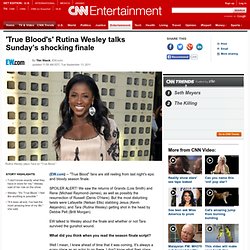 " "I don't know exactly what they have in store for me," Wesley said of her role on the showWesley: "It's 'True Blood.' I feel like anything is possible. ""If it does all end, I've had the most amazing time of my life," she said. (EW.com) -- "True Blood" fans are still reeling from last night's epic and bloody season finale. SPOILER ALERT! 'True Blood' Episode 4.6 Review – Witches Dominate in Bon Temps. It was a full moon on last night's episode of True Blood and only some of the animals came out to play.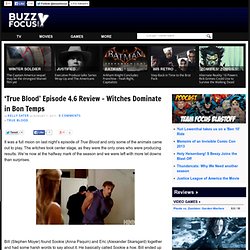 The witches took center stage, as they were the only ones who were producing results. We're now at the halfway mark of the season and we were left with more let downs than surprises. Bill (Stephen Moyer) found Sookie (Anna Paquin) and Eric (Alexander Skarsgard) together and had some harsh words to say about it. He basically called Sookie a hoe. Bill ended up arresting Eric and requesting for his execution, which is a little much. True Blood's season premiere sneaks up on you from behind. She did!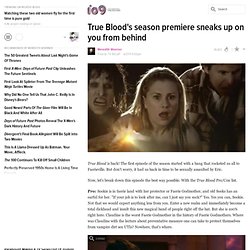 They were runny just like he asked for! Jessica is asleep all day. In the summer she would not probably up til hours after he gets home. Since sunset is around 6:30p or so (I think that's what Sookie said) so she still probably doesn't have time to get dinner ready before he gets back. 'True Blood' does the time warp. There's only one word to describe the first few minutes of last night's "True Blood" premiere: woof.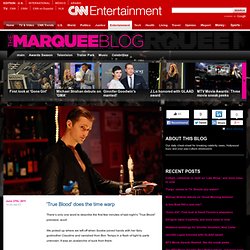 We picked up where we left off when Sookie joined hands with her fairy godmother Claudine and vanished from Bon Temps in a flash of light to parts unknown. It was an avalanche of suck from there. Video - Breaking News Videos. Pistorius trial cross-examination ends Jewish center shooting suspect identified Day care hit-and-run suspect in custody Girl unwraps soldier dad for birthday What is Bitcoin?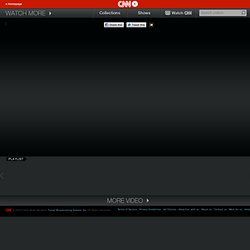 What politicians get wrong about women Expert: Suspect hated by supremacists Fareed Zakaria: Putin is playing a game The race for new black box patents is on Mom 'felt God immediately' after shooting Sheryl Sandberg: Not running for office How are underwater pings triangulated? Sources: Malaysia plane dropped altitude Hear police radio call after stabbing Students stabbed at Pennsylvania school Zakaria: Russia's trying to create chaos Piecing together a plane accident puzzle Nancy Grace: Regret doesn't excuse deed.
Spoilers for True Blood Season 4 are announced - National True Blood. There is lots of news floating around about the upcoming season of HBO's vampire show, True Blood.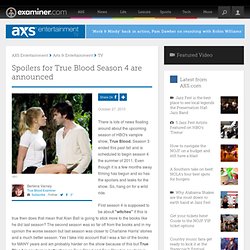 Season 3 ended this past fall and is scheduled to begin season 4 the summer of 2011. Even though it is a few months away filming has begun and so has the spoilers and leaks for the show. So, hang on for a wild ride. First season 4 is supposed to be about "witches" if this is true then does that mean that Alan Ball is going to stick more to the books like he did last season? The second season was so far off from the books and in my opinion the worse season but last season was closer to Charlaine Harris' stories and a much better season. Alexander Skarsgard on that bloody Rolling Stone cover. Most celebrity photo shoots take weeks of planning, but that controversial Rolling Stone cover featuring a nude and bloodied trio of "True Blood" stars?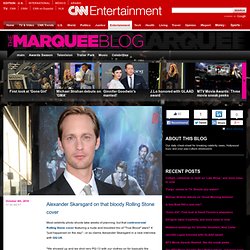 It "just happened on the day" - or so claims Alexander Skarsgård in a new interview with GQ UK. "We showed up and we shot very PG-13 with our clothes on for basically the whole day, like six or seven hours," says Skarsgård, who posed alongside co-stars Anna Paquin and Stephen Moyer. "Then towards the end the photographer said, 'I have this, these shots are beautiful and the magazine is going to be happy with them, but I'd like to try something if you guys are game.'
" After the photographer explained his concept, Skarsgård says, "It was just one of those things in the moment where we all looked at each other, we'd spent all day with the photographer, we felt comfortable with him, we knew that he was great and the atmosphere was right, and we were like, '[Expletive] it, let's do it.' " Bloodcopy: The Official True Blood Conversation.
Watch True Blood Episodes Streaming Online for Free | Watch-True-Blood.com. 'True Blood': That's all? Really? - It Happened Last Night. " True Blood " says goodbye to season three with an episode that's everything the show is not: tame, lame...and frankly, kind of boring.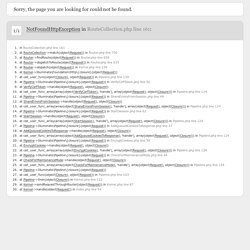 We pick things up where we very tensely left off two weeks ago, with Russell and Eric in the parking lot of Fangtasia getting ready to meet the sun. In his delirious state, Eric sees a vision of Godric who encourages him to end the hate and forgive Russell for his past transgressions. While Eric is getting toasty outside, Sookie wakes up inside and immediately does two amazing things: slaps Bill and tries to save Eric, using her magic lightning hand powers in the process. She manages to drag Eric back inside and then uses her own blood to help him heal. Bill has to watch all of this transpire, which honestly is all sorts of triangle-y fun.
Before They Were True Blood Stars. 'True Blood' sprints towards season finale. Editor's Note: This post contains spoilers for the Sunday, August 29 episode of HBO's "True Blood." Welcome back, "True Blood" fans. The bulk of last night's episode was devoted to setting up the season finale and, if we're lucky, plotlines for the fourth season that already feels like a lifetime away.
Anna Paquin and Stephen Moyer Get Married - Weddings, True Blood, Anna Paquin, Stephen Moyer. By Sarah Michaud 08/22/2010 at 11:45 AM EDT From True Blood to true love – Anna Paquin and Stephen Moyer have tied the knot. "Stephen Moyer and Anna Paquin were married on Saturday evening in Malibu surrounded by their family and friends," the couple's reps tell PEOPLE.
Paquin – wearing a white halterneck gown and Neil Lane jewelry with her hair in an updo – and Moyer, clad in a dark suit, exchanged vows at sunset under a white tent at a beachside villa. "It was a beautiful evening to get married and the sunset was gorgeous. 'True Blood' starts tying up loose ends. Editor's Note: This post contains spoilers for the Sunday, August 22 episode of HBO's "True Blood." Two things: First, this was far and away the best episode of the season so far. Second, I'd sell my soul for a t-shirt from the "True Blood" Confessions and Revelations Tour. With the season finale fast approaching, many of our questions were answered this week, so let's get started! Everyone was in the mood to share, so let's begin with the news we've all been on the edge of our seats for: Sookie's a fairy. 'True Blood' hits social networks. By Mike Snider, USA TODAY The new True Blood Season 2 Blu-ray Disc has a social networking feature that fans of the HBO series can really sink their teeth into: automatic updates to their Facebook and Twitter accounts.
Described as the most extensive Facebook-linking feature in a Blu-ray Disc so far, the True Blood Live Feed sends updates to Facebook and Twitter as viewers watch the episodes. 'True Blood' news bites: Sneak peeks, finale revealed, Sam Trammell's crew crush, more. Forbidden love seems to be the theme of this edition of " True Blood" news bites - onscreen and off. Check out the latest news headlines and a couple sneak peek clips that will make you scream, "Waiting sucks! " Fresh 'Blood': Meet the new addition to Merlotte's main menu [New York Post] Note: Spoilers below! True-Blood.net (TrueBloodDotNet) Obsessions: 10 reasons we're excited for 'True Blood's' return. True Blood Net (truebloodnet) Questions surround 'True Blood' finale.
This Week's Cover: Behind the scenes of the wild and witchy new season of 'True Blood' True-Blood.net | True Blood season 3 spoilers, news, photos. True Blood - Season 3 Reviews. True Blood Review: Breaking, Bloody News! Alexander Skarsgard, Fellow 'True Blood' Stars Reveal Season Four Wishes » Hollywood Crush. True Blood News, Pictures, Merchandise & T-Shirts. 'True Blood' Premiere: EP Alan Ball on the Big 'Gay' Reveal, 'It Was Time' 'True Blood' & Rolling Stone - Idol Chatter. 'True Blood' season 4 episode 2 recap | Season 4 Episode 02.
'True Blood's baby vamp is Charlaine Harris' favorite departure. True Blood recap: The Walking Dead | Season 4 Episode 07. Obsessions: 10 reasons we're excited for 'True Blood's' return. 'True Blood': Season 5 trailer. True Blood Presents at the Emmys 2010. 2010 Emmys: True Blood Love, Glee's Britney Buzz, Red Carpet Couples, & More! Ryan Kwanten at the 2010 Emmy Awards. Emmys 2010 Carrie Preston of True Blood amp Michael Emerson of Lost. Mariana Klaveno aka Lorena from HBO's 'True Blood' on the red carpet of the 2010 Primetime Emmys. Emmys 2010: Rutina Wesley of True Blood. True Blood: Anna Paquin Talks Sex Scenes with Stephen Moyer. Ask 'True Blood' cast members: News & Videos about Ask 'True Blood' cast members.
---