TEACHING TECHNOLOGY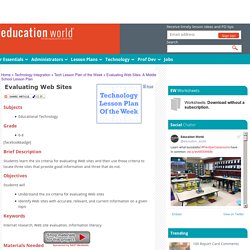 Subjects Educational Technology Grade Brief Description Students learn the six criteria for evaluating Web sites and then use those criteria to locate three sites that provide good information and three that do not. Objectives
Evaluating Web Sites: A Middle School Lesson Plan
Subjects Educational Technology Mathematics --Measurement --Process Skills Grade Brief Description This lesson plan helps classroom teachers introduce basic Excel skills to students in elementary and middle school. Students rank their opinions of menu items from fast food restaurants, add their answers to the spreadsheet, and then create a simple graph of the results.
Tasty Tech Activity With Excel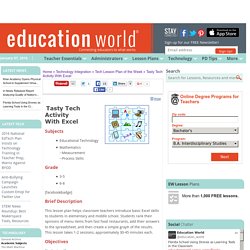 Plag Tracker is a service that students can use to check their essays for possible plagiarism. To use the service students simply copy and paste text into Plag Tracker. Plag Tracker then scans it to find sentences and phrases that appear in other works on the web. If Plag Tracker detects a possible incidence of plagiarism, the link or links to the source is listed for students.
Free Technology for Teachers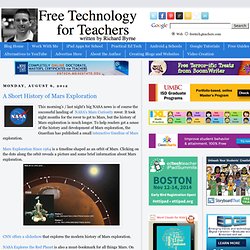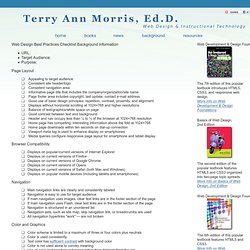 Web Design Best Practices Checklist
WoodingtonComputerEd-Boney - home
www.crews.org/curriculum/ex/compsci/syllabus/syllabus6th_gen.pdf
How to Build a Standards-Based Unit of Study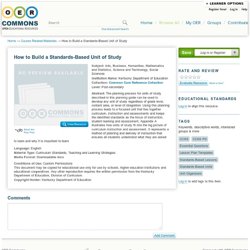 Subject: Arts , Business , Humanities , Mathematics and Statistics , Science and Technology , Social Sciences Institution: Kentucky Department of Education
Content | Gateway to 21st Century Skills
Keyboarding This course is designed to teach middle grades students basic keying skills, which consist of fluent manipulation of letter, figure/symbol, and basic service keys by touch. Emphasis is on daily use of a computer system and appropriate software to provide integrated training through a learn/practice/sustain/assess plan of skill building. Communication skills are reinforced as students format, compose, and proofread. Work-based learning strategies appropriate for this course are service learning, field trips, and job shadowing. Simulations, projects, teamwork, and FBLA leadership activities, meetings, conferences, and competitions provide opportunities for application of instructional competencies.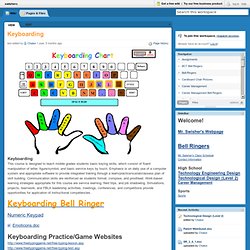 swisherc-Keyboarding
swisherc-WORD PROCESSING
Alice Mercer's Slideshows on SlideShare
The Journey Inside: Explore the Curriculum
Fast Food Fun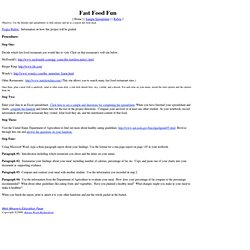 Objective: Use the Internet and spreadsheets to find calories and fat in a typical fast food meal.
Education - For K12 Education
This post is part of my continuing series of weekly lesson summaries. My goal is to give parents & caregivers in our school community the resources needed to extend student learning at home, and to share my professional practice with teacher colleagues around the world in the interest of improving my craft. Week ending 04/06/12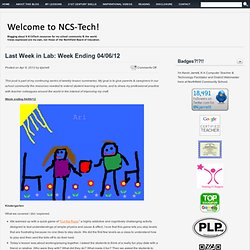 Last Week in Lab: Week Ending 04/06/12
K-8 Computer Lab Teachers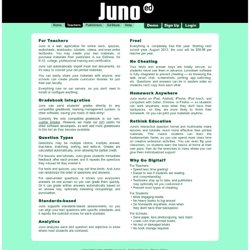 Juno
For Teachers Juno is a web application for online tests, quizzes, worksheets, workbooks, tutorials, videos, and even entire textbooks. You may create your own materials, or purchase materials from publishers in our EdStore, for K-12, college, professional training and certification. Juno can automatically import most text documents, so it's easy to convert your old printed materials. You can easily share your materials with anyone, and schools can create private curriculum libraries for just their own faculty. Everything runs on our servers, so you don't need to install or configure anything.
Kids Online
Content | Gateway to 21st Century Skills