typography
Get flash to fully experience Pearltrees
Using color gradients as a type treatment is a very popular technique for creating captivating text in a web design. They're used in many situations: for site logos, introductory text, visual elements, and more. But be cautious: the only thing that separates stylish and tacky is a few mistakes in your Photoshop settings.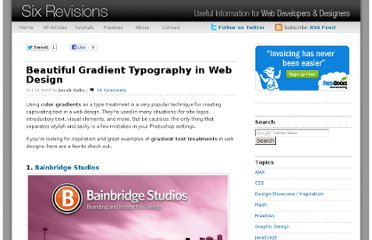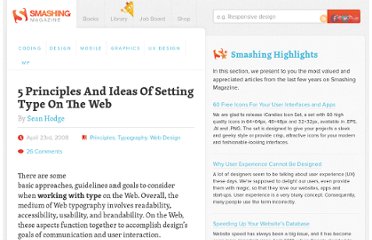 There are some basic approaches, guidelines and goals to consider when working with type on the Web.
Typography has gained a lot of attention in the recent years of web design — as it should have.
Many people, designers included, think that typography consists of only selecting a typeface, choosing a font size and whether it should be regular or bold.
This website, which contains the material of the course VA312, taught at Sabanci University , Istanbul, Turkey; attempts to walk you through the long and diverse history of a particular aspect of human endeavour: The translation of ideas, stories and concepts that are largely textual and/or word based into a visual format, i.e. visual communication. Wikipedia defines visual communication as: The primary tool by which man has visualised ideas is through the usage of writing and, by extension, type: Writing/type is the visual manifestation of the spoken word.