Freelancing 2
7 Great Rip-offs—and How to Avoid Them! [Work Smarter]
Almost all web developers find themselves chasing payments from certain clients in any given year. Some circumstances I've endured more often than others. In this article, I've identified seven of the most common ways web professionals fall into the payment trap, and suggest ways of overcoming these pitfalls. The Problematic Payment Equation (or Half + Half = Half) Common—and commonly frustrating—payment terms for site builders usually consist of this equation: half the total amount up-front, and the other half paid at the completion of the project. The trouble with these terms is that it's often the client, rather than the developer, who determines when the project is approved and concluded.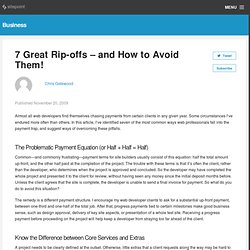 Nov 10 2009
Ultimate Guide To Grid-Based Web Design: Techniques and Tools -
Advertisement A defining factor in any freelancer or agency's success in gaining new business is their ability to market their skills effectively.
Getting Clients: Approaching The Company - Smashing Magazine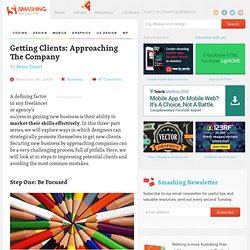 The 4 Key Elements of Successful Ad Copy
10 Awesome Techniques and Examples of Animation with jQuery
jQuery can pretty much do anything you can think of.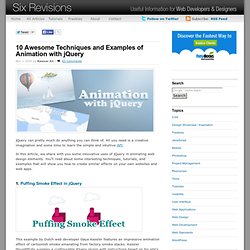 SEO (Search Engine Optimisation) & Internet Marketing - Firs
Alastaire Allday - Creative Communication
Advertisement Call to action in web design — and in user experience (UX) in particular — is a term used for elements in a web page that solicit an action from the user. The most popular manifestation of call to action in web interfaces comes in the form of clickable buttons that when clicked, perform an action (e.g.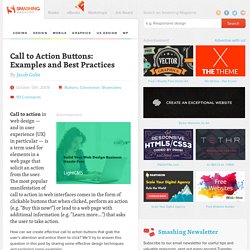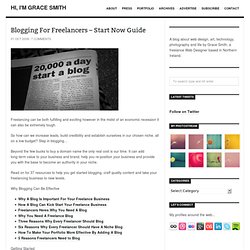 Grace Smith is a seasoned Freelance Web Designer, based in Northern Ireland.
Blogging For Freelancers – Start Now Guide | Hi, I'm Grace
Black business card - Design Templates - GraphicRiver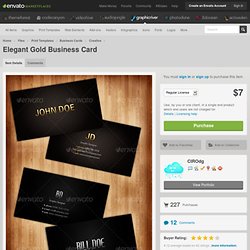 Elegant Gold Business Card - Design Templates - GraphicRiver
Home \ Files \ Print Templates \ Business Cards \ Creative\ Elegant Gold Business Card
Understanding The Concept Of Search Engine Marketing The concept of search engine marketing is slightly different from traditional marketing. A business that wants to take advantage of marketing potential of search engines need to understand various techniques used for this purpose. Marketing for search engines involves a combination of different types of marketing, advertising and optimization methods. Even website optimization is placed under this category. In simple terms, any type of marketing, promotion and advertising that can be noticed by search engine bots can be placed in this category.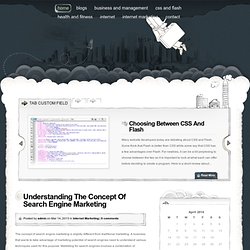 Great Portfolio! One Page Portfolio
How To Be a Consultant, a freelancer or an independent contracto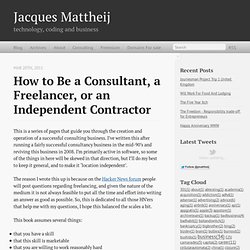 This is a series of pages that guide you through the creation and operation of a successful consulting business. I've written this after running a fairly successful consultancy business in the mid-90's and reviving this business in 2008.
The letterpress type treatment (or as I call it, inset text treatment) can be easily done in Photoshop. In this article, you'll find a collection of tutorials from various parts of the web that will teach you how to create this awesome text effect using common graphics applications (and a couple using just CSS). Check out my own tutorial here on Six Revisions called How to Create Inset Typography in Photoshop.
10 Wonderful Letterpress Type Tutorials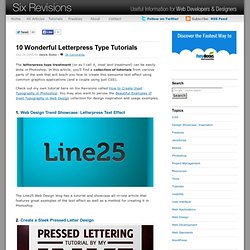 Welcome / Indianapolis Web & Graphic Designer / Photographer
CSS: Design Out Of The Box
Are you tired of your typical columned and boxed layout? It is time to learn how to break out of the box and do something creative. In this post, I've collected some of the best examples that are designed out of the box. I've also provided some quick CSS tips with demo files on how to break out of the box by creatively using background images and the CSS position property.
How to Create Inset Typography in Photoshop
In this beginning-level design tutorial, I'll show you how to apply a beautiful and super-easy text treatment in Photoshop: the inset text effect. It's also often called the letterpress effect because it looks similar to text created by a Letterpress printer.
online portfolio of freelance web designer Cristiana Bardeanu
How to Get Web Design Clients: Five Factors You Must Address - W
The first thing you notice when you become a freelance web designer is how quickly you also need to become a salesman.