Computer
SWOT analysis. A SWOT analysis, with its four elements in a 2×2 matrix.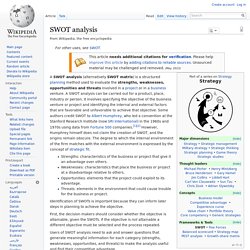 A SWOT analysis (alternatively SWOT matrix) is a structured planning method used to evaluate the strengths, weaknesses, opportunities, and threats involved in a project or in a business venture. A SWOT analysis can be carried out for a product, place, industry or person. It involves specifying the objective of the business venture or project and identifying the internal and external factors that are favorable and unfavorable to achieve that objective.
The technique is credited to Albert Humphrey, who led a convention at the Stanford Research Institute (now SRI International) in the 1960s and 1970s using data from Fortune 500 companies.[1][2] The degree to which the internal environment of the firm matches with the external environment is expressed by the concept of strategic fit.
G
Download Mendeley Desktop - Manage and Share Research Papers. Free Collaborative Writing Tool. SyncToy. SyncToy is a freeware tool in Microsoft's PowerToys series that provides an easy-to-use graphical user interface for synchronizing files and folders.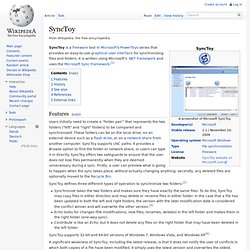 It is written using Microsoft's .NET framework and uses the Microsoft Sync Framework.[1] Features[edit] SyncToy defines three different types of operation to synchronize two folders:[2] Free backup software: SyncBack Freeware | free data backup software. FreeCommander - freeware file manager.
---