Music
Home | Modest Mouse. YouTube - Brasileirinho - Waldir de Azevedo (Bico da Coruja) YouTube - Brasileirinho - Waldir Azevedo. Jean-Marc Onkelinx - En avant la musique ! - Blog de Jean-Marc O. Année Richard Wagner oblige, je me plonge depuis quelques temps déjà dans un énorme travail qui va m'occuper tout l'été.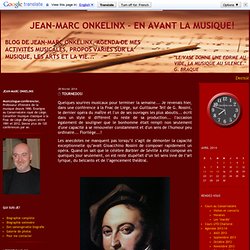 En effet, le Cercle belge francophone Richard Wagner m'a fait l'honneur de me charger de rédiger les textes qui illustreront le numéro spécial de la revue anniversaire. Lourde tâche, vu l'abondance des écrits spécialisés en la matière, que je veux mener avec mon esprit didactique et pédagogique. Daft Punk. Deep Elm Records. Deep Elm Records is pleased to announce that we are now offering downloads of every album in our catalog (200+) on a Name Your Price basis.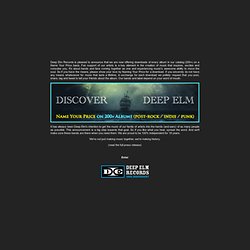 Fan support of our artists is a key element in the creation of music that inspires, excites and consoles you. It's about bands and fans coming together as one and experiencing music's awesome ability to move the soul. First Listen: The Flaming Lips, 'Embryonic' Pitchfork: Album Reviews: The xx: xx. The xx are four 20-year-olds from South London who make predominantly slow, furtive pop music, mostly about sex.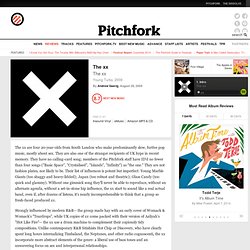 They are also one of the stranger recipients of UK hype in recent memory. They have no calling-card song; members of the Pitchfork staff have ID'd no fewer than four songs ("Basic Space", "Crystalised", "Islands", "Infinity") as "the one. " They are not fashion plates, nor likely to be. Pitchfork: Track Reviews: Ola Podrida - "Your Father's Basement" "Your Father's Basement" is part 400 Blows, part Ice Storm, but with the stakes of neither.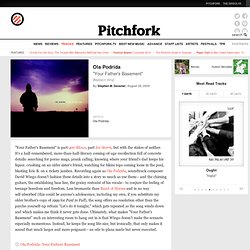 It's a half-remembered, more-than-half-literary coming-of-age recollection full of concrete details: searching for porno mags, prank calling, knowing where your friend's dad keeps his liquor, crushing on an older sister's friend, watching for bikini tops coming loose in the pool, blasting Eric B. on a rickety jambox. Recording again as Ola Podrida, soundtrack composer David Wingo doesn't fashion these details into a story so much as use them-- and the chiming guitars, the establishing bass line, the grainy restraint of his vocals-- to conjure the feeling of teenage boredom and freedom. Pitchfork: Track Reviews: Hudson Mohawke - "Rising 5" Hudson Mohawke is not afraid to go lowbrow.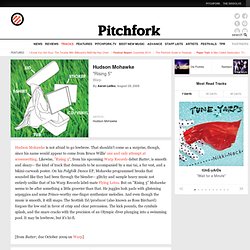 That shouldn't come as a surprise, though, since his name would appear to come from Bruce Willis' one and only attempt at screenwriting. Likewise, "Rising 5", from his upcoming Warp Records debut Butter, is smooth and sleazy-- the kind of track that demands to be accompanied by a mai tai, a fur vest, and a bikini-carwash poster. On his Polyfolk Dance EP, Mohawke programmed breaks that sounded like they had been through the blender-- glitchy and sample heavy music not entirely unlike that of his Warp Records label-mate Flying Lotus. But on "Rising 5" Mohawke seems to be after something a little groovier than that.
He juggles lush pads with glistening arpeggios and some Prince-worthy one-finger synthesizer melodies.
Unnamed collection
YouTube - GENERAL ELEKTRIKS "Take Back The Instant" MUSiC SNiTCH / MP3 & Music Blog Tracks Posted / The Hype Machine. Electro. SoundsHunter | MSTRKRFT. Rn'B/Soul/Hip Hop. Mysoul.fr: Mitchell Brothers, Michael Jackson (video) We've already blogged a lot about all the Michael Jackson tributes that have popped on the Internet since his passing, so why not focus, for a change, on the marks of affection and support the King of Pop received while he was still alive ?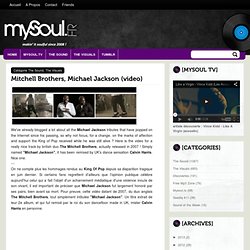 Here is the video for a really nice track by british duo The Mitchell Brothers, actually released in 2007 ! Simply named "Michael Jackson", it has been remixed by UK's dance sensation Calvin Harris. Nice one. FaisTourner: Best Hip Hop video ever by Technics (?) D'obscures et populaires pensées prédisent que les hommes seront un jour à la solde des machines.Mais même dans ce décor futuriste, aseptisé et déshumanisé, l'homme reste au centre de la création : les sons proviennent de bouches d'hommes, contrôlées par leurs copains, du genre humain également.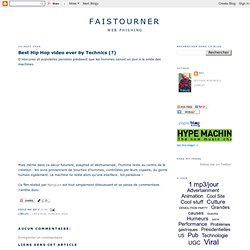 La machine ne reste alors qu'une interface. Joli paradoxe ! Ce film réalisé par NangLee est tout simplement éblouissant et se passe de commentaire. J'arrête donc. YouTube - Freestlye Rap Battle: Translated.
Unnamed collection
Welcome To The Essential Guitar Guide. YouTube - Brand New 'The National' Song on Q TV. Pitchfork: Track Reviews: Frida Hyvönen - "Jesus Was a Cross Mak. Frida Hyvรถnen is not the first singer to reinterpret Judee Sill's debut single from 1971, but she is almost certainly the best.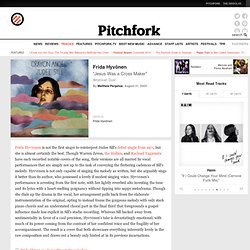 Though Warren Zevon, the Hollies, and Rachael Yagamata have each recorded notable covers of the song, their versions are all marred by vocal performances that are simply not up to the task of conveying the fluttering cadences of Sill's melody. Hyvรถnen is not only capable of singing the melody as written, but she arguably sings it better than its author, who possessed a lovely if modest singing voice. Hyvรถnen's performance is arresting from the first note, with her lightly reverbed alto investing the tune and its lyrics with a heart-melting poignancy without tipping into sappy melodrama. Pitchfork: Track Reviews: Small Black - "Despicable Dogs" Production-wise, "Despicable Dogs" is a little masked and faint (how bedroom), but it tugs at you so sweetly and sorrowfully that it begins to feel overwhelmingly huge.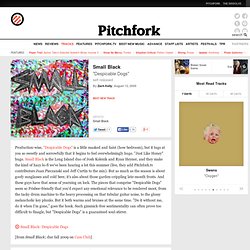 "Just Like Honey" huge. Small Black is the Long Island duo of Josh Kolenik and Ryan Heyner, and they make the kind of hazy lo-fi we've been hearing a lot this summer (live, they add Pitchfork.tv contributors Juan Pieczanski and Jeff Curtin to the mix). Pitchfork: Album Reviews: Wild Beasts: Two Dancers. In a day where Hot Topic peddles guyliner to millions of male teenage mallrats, it's hard to imagine a time when glam-rock was truly shocking.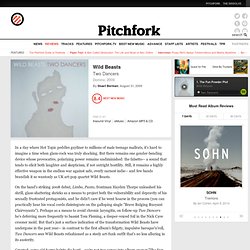 But there remains one gender-bending device whose provocative, polarizing power remains undiminished: the falsetto-- a sound that tends to elicit both laughter and skepticism, if not outright hostility. Still, it remains a highly effective weapon in the endless war against safe, overly earnest indie-- and few bands brandish it so wantonly as UK art-pop quartet Wild Beasts. On the band's striking 2008 debut, Limbo, Panto, frontman Hayden Thorpe unleashed his shrill, glass-shattering shrieks as a means to project both the vulnerability and depravity of his sexually frustrated protagonists, and he didn't care if he went hoarse in the process (you can practically hear his vocal cords disintegrate on the galloping single "Brave Bulging Buoyant Clairvoyants").
Rock n' Roll
Alternative Music, Hard to Find Music, Rare CDs, LPs - Alternati. Bob Gruen, Rock and Roll Photographer - The Files. YouTube - The xx - Teardrops. Musique, technologies and more par Benoit Darcy. 1984 sur MySpace Music - Ecoute gratuite de MP3, Photos et clips. YouTube - swollen members - RPM feat. Iriscience, DJ Bab - Bad D. WAINES sur MySpace Music - Ecoute gratuite de MP3, Photos et cli. The Coronas sur MySpace Music - Ecoute gratuite de MP3, Photos e. LR ROCKETS sur MySpace Music - Ecoute gratuite de MP3, Photos et. BEATBOUNCERS sur MySpace Music - Ecoute gratuite de MP3, Photos. KN | Kitsune Noir » Kitsune Noir's Favorite Albums of 2009. Comment devenir un artiste en 2009_v1.2.pdf (Objet application/p. Miike Snow / Silvia - BOOOOOOOM! - CREATE * INSPIRE * COMMUNITY. White Denim et le garage se barre. Vous n'imaginez pas l'orgasme sonore que j'ai éprouvé à la première écoute de "I Start To Run" de ce trio salement rock'n'roll; un des seuls groupe qu'on peut aujourd'hui taper comme groupe rock.
Leur style est un garage choux fleurs qui suinte la négligence adolescente où vont se caler un peu de punk, un peu de psyché tourbillonnant,un peu de hip hop claqué. Un marasme aussi brut & limpide que violent & crachoteux. Et c'est souvent sur les chansons les plus simples qu'on claque le meilleur trip. Alors go on. White Denim - I Start To RunWhite Denim - Paint Silver Gold. Gaston-With_LES_Kids.mp3 (Objet audio/mpeg)
Good shoes sur MySpace Music - Ecoute gratuite de MP3, Photos et. THE SHOES sur MySpace Music - Ecoute gratuite de MP3, Photos et. SKIP THE USE sur MySpace Music - Ecoute gratuite de MP3, Photos. Filter Stream Select the types of content you would like to see. Bio & Contact Top 8 Top Tracks / View All Top Fans / View All.
---
PED Jul 22 2009

Bonjour Matthieu, bienvenue chez pearltrees et félicitations pour tes premières cartes ! Ici tu peux gérer, discuter et communiquer tes passions sur Internet grâce à des cartes Web.Par exemple, tu peux créer des cartes sur ce qui t'intéresse ; disons "la musique". pearltrees va alors connecter ta carte aux cartes d'autres passionnés dont tu pourras découvrir les cartes et avec qui tu pourras échanger. En fait, pearltrees est un réseau d'intérêts humain et social. Si tu as besoin de plus d'informations clique sur "help" ou laisse une note sur mon compte. Bonne découverte ! PED
---