USC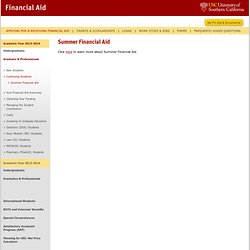 Financial Aid - Applying & Receiving Financial Aid - Graduates & Professionals - Summer Financial Aid
general information A limited amount of financial aid is available for the summer session. To qualify, you must meet all general financial aid eligibility requirements, as well as the conditions described on this page. Some academic departments also offer financial assistance for summer enrollment. Contact your department directly for more information. applying for summer financial aid
www.wrnmmc.capmed.mil/ResearchEducation/GME/Shared Documents/Pre-Doctoral Internships Complete.pdf
Mediasite Catalog
Useful Academic Links
FBS - sfs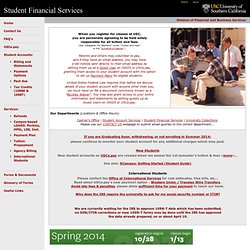 FALL 2013 - Financial dates & deadlines (see Schedule of Classes for complete information) Tuition & fees unpaid by the term settlement deadline (5pm PST on Friday, 8/23) may be assessed weekly late fees. Students who drop/add classes after the settlement deadline must settle all charges in full, on Friday during the week in which the change took place. If any portion remains unpaid, late fees will be assessed according to the late fee schedule ($100 per week).Sign up for USC_epay or USC_payplan 'reminder' tweets:
In addition to loan programs administered by the USC Financial Aid Office, we also encourage you to explore the following scholarship and loan forgiveness resources. School of Social Work Scholarships The USC School of Social Work offers supplemental financial assistance to students whose financial need cannot be adequately met through need-based loans. To apply for any of these school scholarships, please complete the Virtual Academic Center scholarship application at the time you apply for admission. Virtual Academic Center Dean's Leadership Scholarship Scholarship awards of $23,000 for incoming full-time Virtual Academic Center students with demonstrated leadership capacity and experience. All interested and eligible students must have a minimum 3.0 GPA, with two or more years of human/social service and leadership experience.
Master in Social Work Scholarships & Loan Forgiveness | MSW@USC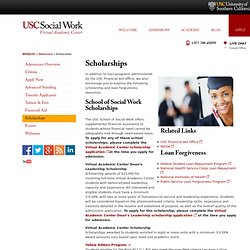 Student Activities Director: Lily Chowana-Bandhu (213) 740-5693 Tutor Campus Center 330sait.usc.edu/ca The Office of Campus Activities believes the unique Trojan experience is enhanced by activities and programs outside of the classroom. Our role is to provide a link between students' classroom experiences to activities beyond the classroom. The Office of Campus Activities sponsors services, programs and events to educate, advocate, entertain and challenge students.
Activities, Campus // SCampus 2011-12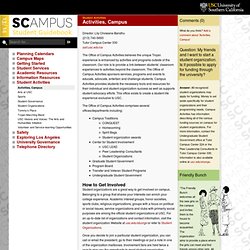 Clothing & Gifts | USC Bookstores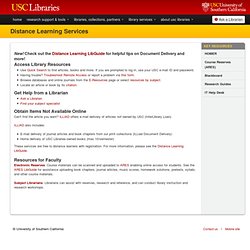 Libraries :: Distance Learning Services
New! Check out the Distance Learning LibGuide for helpful tips on Document Delivery and more! Access Library Resources Use Quick Search to find articles, books and more.
Home - Social Work * - LibGuides at University of Southern California
There are LOTS of different types of information, and nearly just as many places to look for it. When doing social work research, you'll likely need to use multiple sources of information and multiple types of search engines. So how do you know where to go? Ask yourself: what kind of information do I need?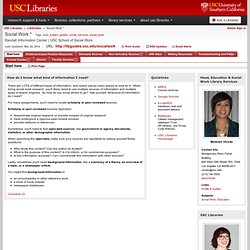 Libraries
Our philosophy. We aim to make better writers, not just better papers. We approach writing as a process, not a product. Our aim is to help student writers focus on the process of critical thinking, drafting, and revision that leads to clearly expressed ideas, coherent argument, and persuasive reasoning. Our job is to facilitate—to make easier. We do this by asking questions more than by offering answers.
The Writing Center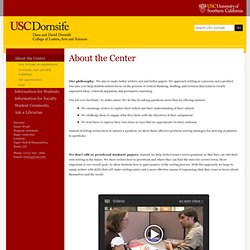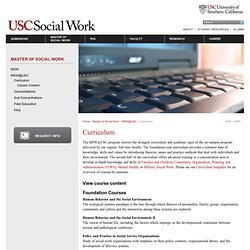 Curriculum | USC | School of Social Work
The MSW@USC program mirrors the stringent curriculum and academic rigor of the on-campus program delivered by our regular, full-time faculty. The foundation-year curriculum provides a common base of knowledge, skills and values by introducing theories, issues and practice methods that deal with individuals and their environment. The second half of the curriculum offers advanced training in a concentration area to develop in-depth knowledge and skills in Families and Children; Community Organization, Planning and Administration (COPA); Mental Health; or Military Social Work.
SHIRTs.docx