Side dishes
Roasted Baby Potatoes with Soy, Butter and Parsley. I needed a good side dish to accompany a roasted pork tenderloin and I was craving potatoes.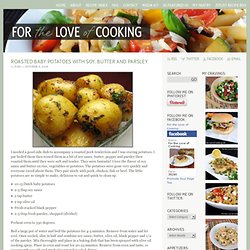 I par boiled them then tossed them in a bit of soy sauce, butter, pepper and parsley then roasted them until they were soft and tender. They were fantastic! I love the flavor of soy sauce and butter on rice, vegetables or potatoes. Parmesan Roasted Potatoes. I wanted a simple side dish for a roasted chicken.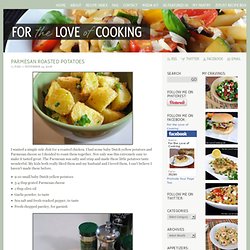 I had some baby Dutch yellow potatoes and Parmesan cheese so I decided to roast them together. Not only was this extremely easy to make it tasted great. Crispy Oven-Baked Garlic Parmesan Fries. By brooklynsupper | While it's available year round, when you start to see garlic scapes, green garlic, and young garlic arriving at the farmer's market, you know spring has arrived.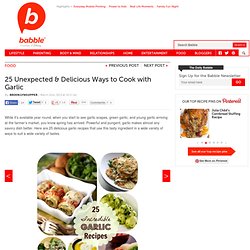 Powerful and pungent, garlic makes almost any savory dish better. Here are 25 delicious garlic recipes that use this tasty ingredient in a wide variety of ways to suit a wide variety of tastes. nggallery id='131282′ Recipe for Cheesy Roasted Garlic Potato Balls at Life. I think I have discovered the ultimate way to use up leftover mashed potatoes and the perfect appetizer for New Year's Eve cocktail parties.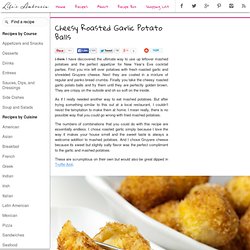 First you mix left over potatoes with fresh roasted garlic and shredded Gruyere cheese. Next they are coated in a mixture of regular and panko bread crumbs. Finally you take the cheesy roasted garlic potato balls and fry them until they are perfectly golden brown. Fusilli with Spinach and Asiago Cheese. Crispy Roasted Potatoes. I've wanted to make this Crispy Roasted Potato recipe ever since I first set eyes on it at Teri Lynn Fisher's Fish Food blog.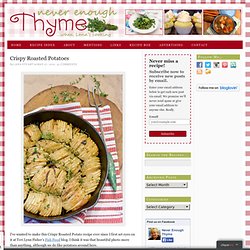 I think it was that beautiful photo more than anything, although we do like potatoes around here. BeeBop, being the meat and potatoes guy that he is, declared it a huge success. Chicken Egg Rolls. Cilantro Lime Rice. Cilantro Lime Rice We got invited to our friend's birthday party and were asked to bring a Mexican side dish.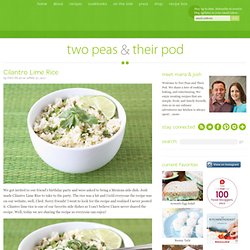 Josh made Cilantro Lime Rice to take to the party. The rice was a hit and I told everyone the recipe was on our website, well, I lied. Sorry friends! I went to look for the recipe and realized I never posted it. Bean Salad. Roasted Tomato Risotto | shabbottshabits.com. Pasta Salad with Tomatoes, Zucchini, and Feta. Yesterday, after a weekend of brisket, chocolate cake, and innumerable other naughty delights, suddenly all I wanted was a cold, healthy salad.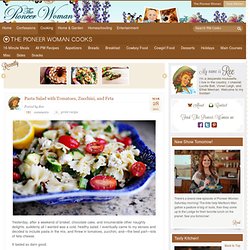 I eventually came to my senses and decided to include pasta in the mix, and threw in tomatoes, zucchini, and—the best part—lots of feta cheese. It tasted so darn good. There's nothing simpler than this salad; the only thing I dressed it with was olive oil and lemon juice (and salt, pepper, and parsley), proving once again that some of the most pared-down foods are some of the most delicious. Make this after your hectic, calorie-filled weekend! Spinach Casserole Recipe - Spinach Casserole Recipe with Brown Rice and Cheese.
---