Music
Talking Drums "Courage"
This video is currently unavailable. Sorry, this video is not available on this device. Video player is too small. Normal quality
DJ Mix Podcast - Space Dimension Controller
Gusgus - Over (Official Video) [HD]
Mr. Scruff Vs Kirsty Almeida 'Pickled Spider' (OFFICIAL)
Bon Iver - Minnesota, WI (Deluxe)
deadmau5 - aural psynapse (Cover Art)
Electric Egypt - The Invisible Spectrum
Jigmastas - Beyond Real
Bedroom Constellation
Little People - Unsaid
SBTRKT - Pharaohs ft. Roses Gabor
Jamie xx Essential Mix by Young Turks on SoundCloud
Hot Chip — Colours
Free: bit.ly/celistaep bit.ly/celistaep1 soundcloud.com/celista Warm autumn, fall, warm, swimming endless, endless day. How often we do please ignore the beauty of a summer cold.
EP | Celista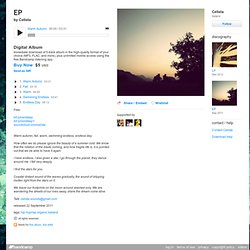 NOISIA - Tommy's Theme
Morcheeba - "Enjoy The Ride" (with lyrics)
Handsome Boy Modeling School - The Truth Feat Roisin & J-Live - So...How's Your Girl?
Lykke Li - Possibility
Hiatus & Shura - Fortune's Fool
iTAL tEK feat. Anneka - Restless Tundra
the Q4 - look again (dday one remix)
Thrupence - Stop Using Logic
Phanes ≈ Lucky Woman
Brokenchord - Orion (2011)
Thrupence - Nintysix
Gotye Hearts a Mess
Glisk - Emlin
Aphex Twin - Nannou (high quality)
Bibio - Lovers' Carvings (Letherette remix)
Youth Lagoon - Montana (Official video)
Clara Moto - Deer And Fox (feat. Mimu)
Pleq and Marihiko Hara - One Last Dream Of Being On This Universe on Vimeo
Gabriel (featuring Valentina) - Joe Goddard on Vimeo
Alpines - Cocoon
Brokenchord - A Girl Of 13 Summers
Charlie - Spacer Woman (1983)
Röyksopp - So Easy
Zeds Dead - Coffee Break
Soul II Soul - Back To Life
Dauwd "Shimmer" on Vimeo
Ricardo Villalobos - Dexter
Thrupence's sounds on SoundCloud
You - EP by Planète on SoundCloud
Clara Moto - Silently feat Mimu (Original Mix).avi
Blown Glass Typewriter par mountains sur Myspace Music