Videos
Open Thinking Wiki. The following list of videos was first compiled March 21st at Open Thinking.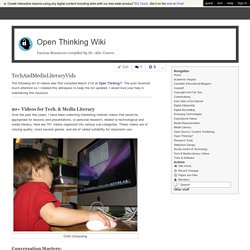 The post received much attention so I created this wikispace to keep the list updated. I would love your help in maintaining this resource. 90+ Videos for Tech. & Media Literacy Over the past few years, I have been collecting interesting Internet videos that would be appropriate for lessons and presentations, or personal research, related to technological and media literacy. Here are 70+ videos organized into various sub-categories.
Symphony | buzz museum. Leave me. Leave Me from Daros Films on Vimeo.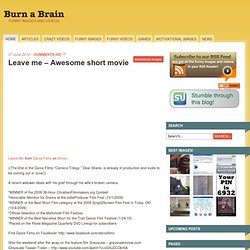 ((The 2nd in the Daros Films "Camera Trilogy," Dear Shane, is already in production and looks to be coming out in June!)) A recent widower deals with his grief through his wife's broken camera. *WINNER of the 2009 36-Hour ChristianFilmmakers.org Contest *Honorable Mention for Drama at the indieProducer Film Fest (10/1/2009) *WINNER of the Best Short Film category at the 2009 Script2Screen Film Fest in Tulsa, OK! (10/4/2009) *Official Selection of the Mammoth Film Festival *WINNER of the Best Narrative Short for the Trail Dance Film Festival (1/24/10) *Placed on the Paste Magazine Quarterly DVD Lineup for subscribers.
15 Amazing Animated Shorts. We all love short animated films, but creating short film is very hard task.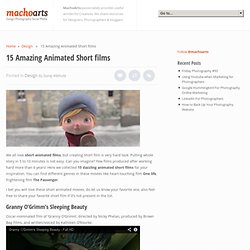 Putting whole story in 5 to 10 minutes is not easy. Can you imagine? Bobby McFerrin hacks your brain with music. The Majestic Plastic Bag. Brian Greene on string theory. Lady Gaga Acapella Cover. Sarah Kay: If I should have a daughter. Musical glasses. Shake the Dust. A poem that will shake you… "Do not let one moment go by that doesn't remind you that your heart beats 900 times a day, and there are enough gallons of blood to make everyone of you oceans" ~ Anis Mojgani In the back of a large room at Powel's Bookstore I was half-heartedly listening to a poet I had never heard of.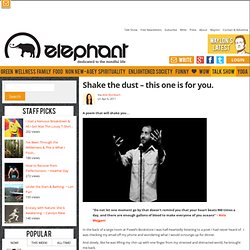 CDC - Cracow Dance Connection 29.04.2011 - Dance Flash Mob Kraków. Spike Jonze - Yo-Yo Ma - Lil Buck. Filmmaker Spike Jones says of this incredible piece of video :The other day, I was lucky enough to be at an event to bring the arts back into schools and got to see an amazing collaboration between Yo-Yo Ma and a young dancer in LA, Lil Buck.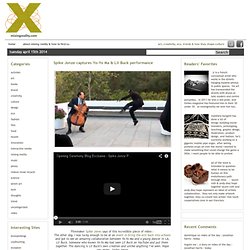 Someone who knows Yo-Yo Ma had seen Lil Buck on YouTube and put them together. The dancing is Lil Buck's own creation and unlike anything I've seen. What can you learn on youtube? - Tomash.soup. Eve Ensler on security. Bonny Lovy Hola Que Tal.
Marijuana Prohibition is Unconstitutional. Biology That Makes Us Tick. First thing you need to know: Before doing anything else, you should simply click "play" and start watching the video above.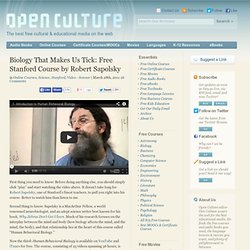 It doesn't take long for Robert Sapolsky, one of Stanford's finest teachers, to pull you right into his course. Better to watch him than listen to me. Second thing to know: Sapolsky is a MacArthur Fellow, a world renowned neurobiologist, and an adept science writer best known for his book, Why Zebras Don't Get Ulcers. Much of his research focuses on the interplay between the mind and body (how biology affects the mind, and the mind, the body), and that relationship lies at the heart of this course called "Human Behavioral Biology."
Girl Does Animal Impressions. Forever's Not So Long. Slow Motion Dancing. This completely mesmerizing dance video was created by the music/dance group World Order which is led by former martial artist Genki Sudo.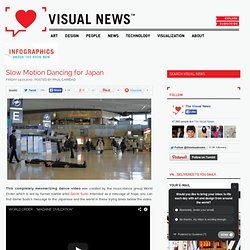 Intended as a message of hope, you can find Genki Sudo's message to the Japanese and the world in these trying times below the video. "The unprecedented disasters unfolding in Japan; earthquakes, tsunami, and nuclear explosions, will somehow change things to come. And to send my message about this, I have expressed it here with WORLD ORDER. These disasters can be interpreted as a turning point for civilization. Life is like Coffee. Hamlet. The Ventures-Wipeout.
---