Games
Get flash to fully experience Pearltrees
At the start of this year, we decided to come up with a list of Flash casual games with a philosophical bent. To be honest, we struggled. After days of research, we could only find a handful of games that had the thought-provoking depth we were looking for.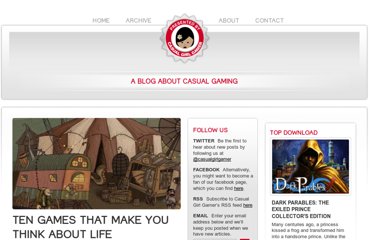 Description Havoc and corruption swarms through the land, and you are one of those few wizards who can put an end to it. Create and combine magic gems, put them into your towers and banish the monsters back to hell! Controls the basics: click on spell buttons to select them drag gems to move, throw or combine them advanced: 1-6 or B/T/C/M/W/G selects spells hold ctrl to create/combine as much gems as possible hold shift to place multiple towers/trenches hold shift to create multiple gems P to pause click/space/enter to close tutor panels
From WikiCheats Altar Cave Luneth Your adventure begins as the orphaned and highly curious Luneth plummets through a hole in the ground and lands at the bottom of the monster-filled Altar Cave. Move forward and two Goblins will attack you, giving you a chance to learn the game's simple combat mechanics.