Marketing project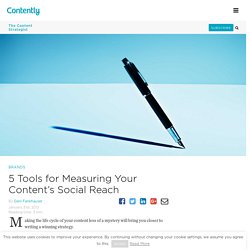 5 Basic Tools for Measuring Your Content's Social Reach
Making the life cycle of your content less of a mystery will bring you closer to writing a winning strategy.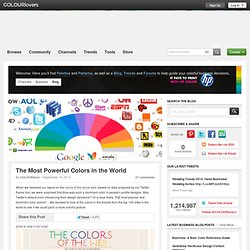 When we released our report on the colors of the social web, based on data analyzed by our Twitter theme tool, we were surprised that blue was such a dominant color in people's profile designs. Was Twitter's default color influencing their design decisions? Or is blue really THE most popular and dominant color online? ...We decided to look at the colors in the brands from the top 100 sites in the world to see if we could paint a more colorful picture.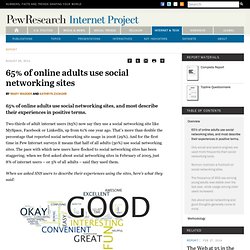 Two-thirds of adult internet users (65%) now say they use a social networking site like MySpace, Facebook or LinkedIn, up from 61% one year ago. That's more than double the percentage that reported social networking site usage in 2008 (29%). And for the first time in Pew Internet surveys it means that half of all adults (50%) use social networking sites.
65% of online adults use social networking sites, and most describe their experiences in positive terms.
New Infographic: The Brandsphere by Brian Solis and JESS3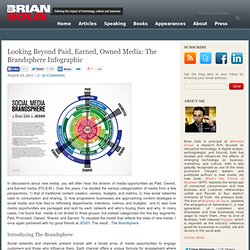 inShare697 In discussions about new media, you will often hear the division of media opportunities as Paid, Owned, and Earned media (P.O.E.M.). Over the years, I've studied the various categorization of media from a few perspectives, 1) that of traditional content creation, owners, budgets, and metrics, 2) how social networks cater to consumption and sharing, 3) how progressive businesses are approaching content strategies in social media and how they're rethinking departments, intentions, metrics, and budgets, and 4) also how media opportunities are packaged and sold by each network and who's buying them and why.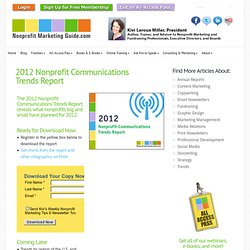 Highlights from the Report In under 140 characters . . .
2012 Nonprofit Communications Trends Report | Nonprofit Marketing Guide
Non Profit Social Media Trends
Non-profits have the same opportunities as businesses when it comes to using social media, but they do have some unique challenges. They often have a group of volunteers who are spread out over a wide geographic area, no steady stream of income, and a wide variety of stake holders to whom they are responsible.
Six Ways Non-Profits Can Use Social Media to Grow