Veggie garden
Farmers' Almanac Gardening Calendar. April 2014 13th-15th Favorable planting days: First two days are good for planting corn, melons, squash, tomatoes, and other aboveground crops.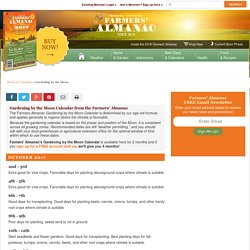 Last day good for planting root crops. All days good for sowing grains, hay, and fodder crops. Plant flowers.16th-17th Good days for planting beets, carrots, radishes, turnips, peanuts, and other root crops. Also good for cabbage, cauliflower, lettuce, kale, celery, and other leafy vegetables. How to Grow 100 Pounds of Potatoes in 4 Square Feet | Apartment Therapy Re-Nest - StumbleUpon. On many occasions, we've been tempted to grow our own potatoes.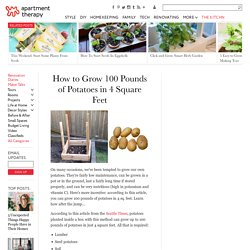 They're fairly low maintenance, can be grown in a pot or in the ground, last a fairly long time if stored properly, and can be very nutritious (high in potassium and vitamin C). Here's more incentive: according to this article, you can grow 100 pounds of potatoes in 4 sq. feet. Learn how after the jump... According to this article from the Seattle Times, potatoes planted inside a box with this method can grow up to 100 pounds of potatoes in just 4 square feet. All that is required: Botanical.com - herbal information, organic herbs, books, & hydr. 36 Do It Yourself Gift Box Tutorials For Your Christmas Presents « PrintRadar - Scanning digital space. Kitchen Garden Planner | Preplanned Vegetable Gardens by Gardeners Supply - StumbleUpon.
---